Can TV Shows Change Health Care?
Physician-writers share secrets of success for telling medical stories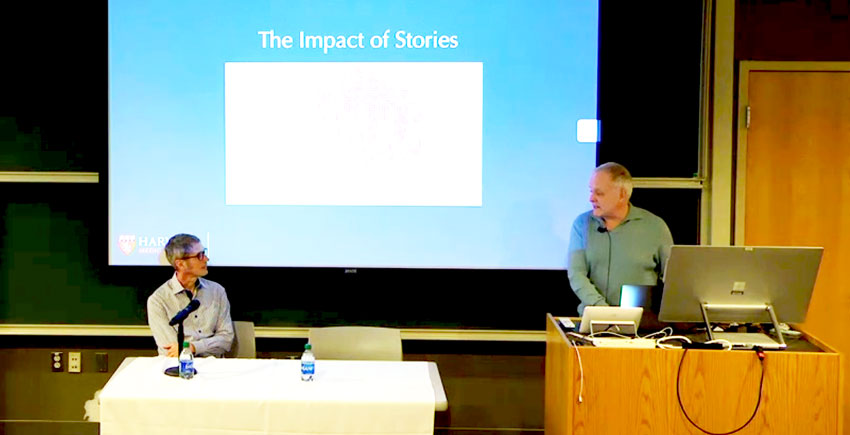 Foster, left, and Baer, speak about medical storytelling for television at a recent spring lecture at HMS. Image: Zoom
Getting treated for rape or reporting that you've been raped. Deciding whether to tell a partner you are HIV positive. Dealing with the sexually transmitted human papillomavirus or cervical cancer. Responding to an epidemic of gun violence. Understanding how climate change is threatening human health.
At first blush, these are not the light topics some viewers might associate with television entertainment, but they are the types of thorny subjects that Harvard Medical School alumni Neal Baer and David Foster have built stories around for decades in several award-winning television series. Their narratives on popular shows such as "ER," "Law and Order SVU," "House," and "New Amsterdam," among others, have won dozens of accolades. In the process they say, they've also educated the public.
"You have to have the knowledge, the awareness, in order to change behavior. If you don't have the awareness, then you're not going to know to use condoms or get a vaccine," said Baer at a recent HMS spring lecture devoted to the art of telling medical stories on television.
Friends since medical school, Baer, MD '96, and Foster, MD '95, are uniquely qualified to talk about how to effectively tell medical stories in compelling ways to large audiences.
Baer has long worked both as a physician and Hollywood writer, showrunner, and producer, and his television work has been recognized with numerous Emmy nominations and other awards over the past 25 years.
Foster practiced at Beth Israel Deaconess Medical Center before relocating to Los Angeles to become a writer, producer, and co-executive producer on "House," winning a Writer's Guild of America Award that he shared with several others for an episode that aired in 2010. He went on to become an executive producer on the NBC drama "New Amsterdam," a show that was inspired by a book set in New York's Bellevue Hospital.
Although Baer told students during the April 14 talk that research data acquired after an "ER" episode on cervical cancer indicated that the viewing public did seek out information and learned about medical conditions and issues addressed in show episodes, show writers don't always start off with a plan to educate viewers.
Science & Medicine, Delivered
Harvard Medicine magazine in your inbox