Make It Matter
Award-winning TV writer, producer Neal Baer, MD '96, asks grads to shine a light on injustice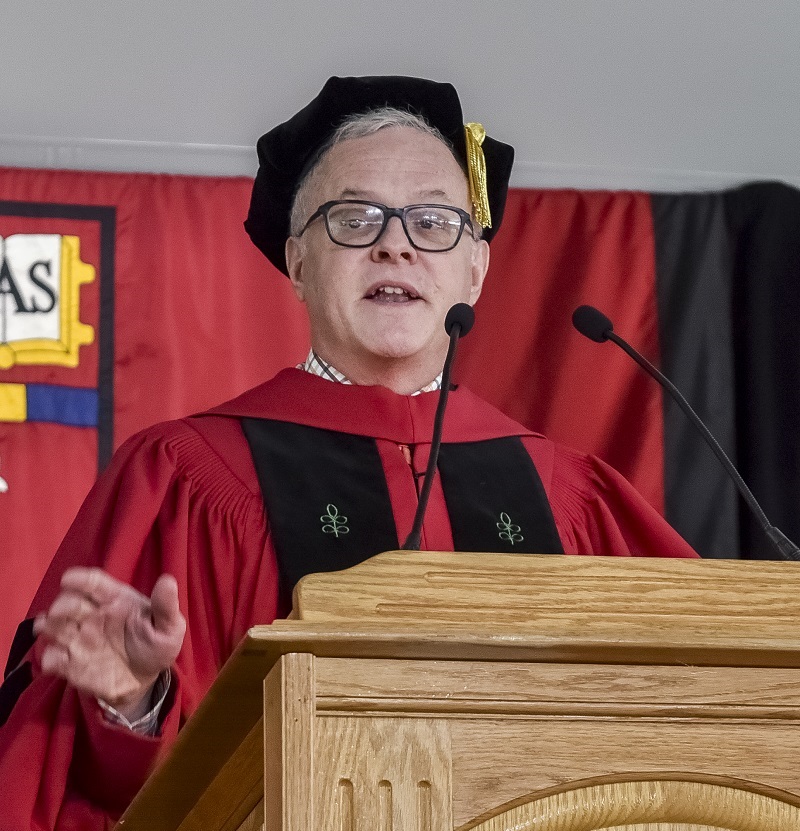 Neal Baer
In his fourth year as a medical student at Harvard Medical School, Neal Baer, MD '96, received a script from a friend and colleague who was the showrunner for a new television series called ER. The friend wanted to hear Baer's thoughts, as the show was attempting something rare for television at the time: to pull the curtain back on the medical profession.
Baer leapt at the chance, helping to point out anachronisms and other issues because the series creator, author Michael Crichton, MD '69, hadn't practiced medicine in decades.
Read more about HMS/HSDM Commencement and Class Day here.
Baer eventually became a writer for ER, leveraging the flexibility of the HMS curriculum to travel back and forth to Los Angeles while finishing his medical degree.
Today, some two decades after graduating from HMS, Baer returned to the Quad to deliver a message drawn from his own experience to the newest graduates of HMS and Harvard School of Dental Medicine: "Tell your stories. Make them matter."
In his Class Day keynote address to the HMS/HSDM Class of 2018, Baer asked many questions of the new physicians and dentists: "What inspires you? What gave you the dream of becoming a doctor? How will you make that dream matter?"
"Health care is not merely a service; health care is not a commodity reserved only for those lucky enough to be able to pay top dollar for the best that medicine has to offer," he said. "People will place their lives and trust, their present pain and future joy, in your hands. What could matter more?"
For all the knowledge the medical community has gained, Baer said, all the new tools and technologies being developed, some 40 percent of adult Americans today are obese, compared to around 15 percent when he graduated. Type 2 diabetes rates have skyrocketed, opioid abuse and addiction have reached epidemic levels, and much more, Baer pointed out.
"You, my new MDs, have your work cut out for you. And it's not just here. Obesity, arguably the biggest health crisis we face, is spinning out of control around the globe. How did this happen with all the bioinformatics, translational science and genetic breakthroughs that have occurred, many of them right here at our medical school?
"When a person is not healthy, he or she isn't able to live life to the fullest. How can you make a difference?
"For me, and I think for you, the answer lies in storytelling," he said.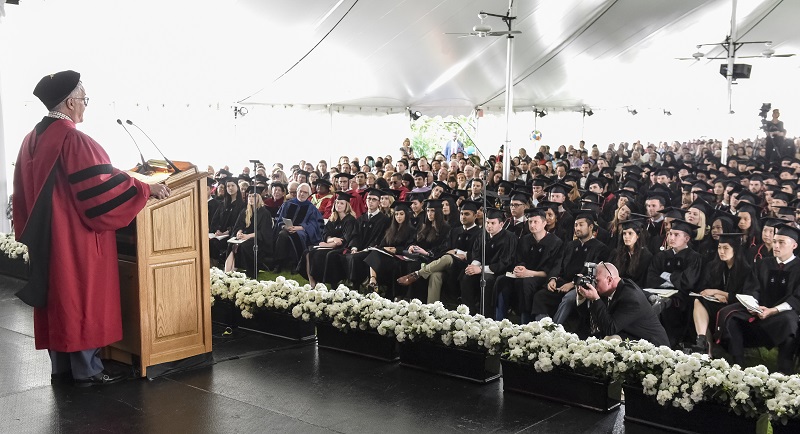 Baer recounted his experiences in Hollywood, including writing, producing and showrunning award-winning series like ER and Law & Order: Special Victims Unit.
By addressing controversial topics in the shows through the struggles and stories of fictional characters, he said the program helped shine a light on a wide range of important public health issues, from gun violence to teen access to abortion, from vaccination to fetal alcohol syndrome, and much more.
Studies supported the impact of these stories, he said. For an episode of ER dealing with HPV as the primary cause of cervical cancer, 60 percent of those surveyed knew this fact after the show aired compared to only 19 percent before.
The reason storytelling can be so powerful, Baer said, is that it reflects one of our greatest and most uniquely human qualities—empathy.
"Think of a time when your own heart changed after you heard a story or saw a movie or play or read a novel," he said. "You carry that story with you. It changes you, just as it has changed others, moving us along, even if it's slowly, toward healthy social change."
"[Stories] shake us up; help us to see other points of view through characters we can identify with. Perhaps we begin to think about things a little differently from the way we had thought about them before. Perhaps we begin to find common ground," he said.
Baer encouraged the graduates to think about their own stories and their patients' stories.
"I believe that our duties as physicians do not lie only in the clinic, on the wards, or in the OR, but in making our private stories public," he said. "Public storytelling requires us to draw on our personal experiences as physicians and to bring them to public attention in order to improve people's health and lives."
Telling stories means that those stories matter and that patients' stories matter, Baer said, and the empathy that arises is critical to changing medicine and health.
"As a gay white man, I don't know what it feels like to be straight, lesbian, or transgender. I don't know how it feels to walk through the world as an African American, Asian American, Native American or Latino man, woman or child.
"But through empathy, ignited by the stories people tell, I can imagine what it's like to be someone different from myself. And that is the beginning of compassion and social justice," he said.
Medicine attracts the naturally curious, and by staying curious—asking questions and allowing those questions to drive empathy—physicians can overcome many of the issues that plague society, Baer said.
"Each of you has your own story to tell, a story that has gripped you, changed the way you thought about the world, or moved you to tears. Take your private stories about domestic violence, drug abuse, HIV, access to health care and family planning clinics, needle exchange, alcohol abuse, victims of torture, food deserts, and make them public. You don't have to be a television writer to have an impact."
"You have so much power in your own stories to do good. Shine an antiseptic light on injustice with your stories. Take your stories and your passions and turn them into potent barbs to fight dogmatism and bigotry. Use your private stories that stir and move you and tell them any way you can. Invent new ways. Speak out. That is your mission: To improve people's lives."
"You've got stories to tell and many new ones will come along that will rankle you and move you and become unforgettable and fill your hearts," Baer concluded. "Now go out there and tell your stories. Make it matter!"
For members of the graduating class, Baer's message will be one that follows them as they begin their journey as physicians and dentists.
"I'm also a member of the LGBTQ community, like Neal," said Andy Nguyen, a graduating MD student from the Peabody Society. "As a member of multiple minority communities, his call to compassion toward marginalized populations who suffer the greatest burden of the most common diseases, really resonated."