Building Equity in Biomedical Research
Intensive program kindles next-gen diversity in clinical, translational sciences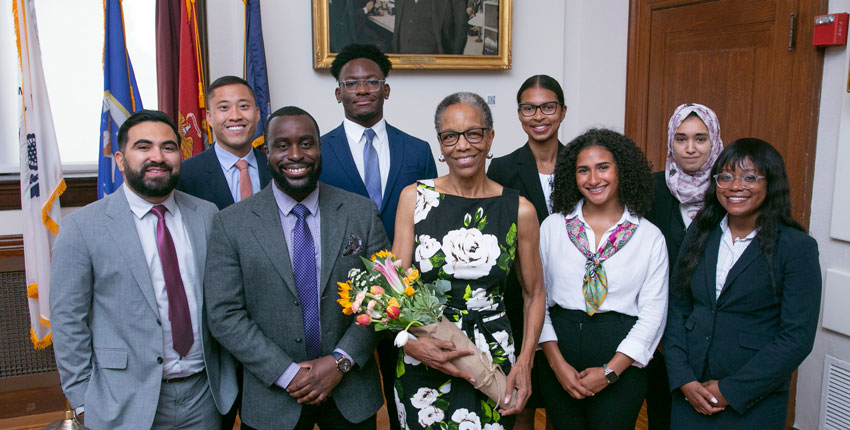 HMS Dean for Diversity and Community Partnership Joan Reede with the 2022 summer interns at the Visiting Research Internship Program's closing ceremony. Image: Jeffrey Thiebauth
As the Supreme Court considers the fate of race-conscious admissions policies at U.S. colleges and universities, efforts to increase diversity and inclusion on many campuses are reflecting a new urgency.
Perhaps nowhere is this more apparent than in academic science and medicine, where diversity is seen not just as an aspirational ideal but as a proven way to increase access to health care and reduce health disparities in communities that have been historically underrepresented in science and medicine.
"The science enterprise has not been welcoming to people on the margins," said Joan Reede, Harvard Medical School dean for Diversity and Community Partnership and a Black woman who has faced both overt and covert discrimination throughout her career in medicine and academia.
"If you look at the literature and the data, it's not unique to any one institution. It's how we have done business in the sciences," Reede said.
Shifting the paradigm of underrepresentation – at Harvard and across the biomedical sciences – is not a one-off effort, Reede said.
True diversity, she explained, "is not about how I change the picture on the wall so everybody feels more comfortable. It's about garnering the full potential that comes with diverse thinking, when people can feel fully engaged, included, and valued; and how that can enable all of us in our quest for excellence."
Promoting recruitment, retention
Since 2002, Reede has been building and leading Harvard's program to promote recruitment, retention, and advancement of underrepresented faculty at all stages of their careers.
The School's Visiting Research Internship Program (VRIP), an eight-week mentored immersion in clinical and translational research, has been an effective tool that HMS has used since 2009 to help bring more diverse voices into medicine and science.
"How do we open our doors and bring into clinical and translational research these individuals who have been largely left out?" asked Reede, who holds professorships at Massachusetts General Hospital and Harvard T.H. Chan School of Public Health. "And not just open our doors, but make them feel welcome and able to truly contribute."  
Science & Medicine, Delivered
Harvard Medicine magazine in your inbox