Bringing 'Pathways' to the Bedside
Medical Education Day 2015 empowers clinical faculty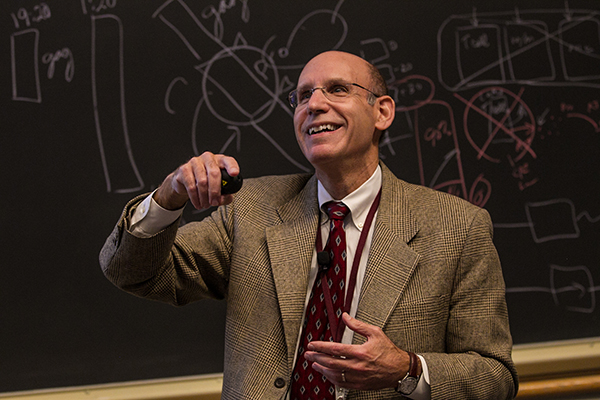 Richard Schwartzstein exhorts HMS faculty to consider how to translate curriculum reforms to the clinic at Medical Education Day 2015. Image: Bethany Versoy
As Harvard Medical School launches its redesigned medical education curriculum, Pathways, entering students are beginning their clinical experiences earlier—in their second rather than their third year of medical school.
That means faculty must shift focus to the question of how to best teach members of the Class of 2019 when they enter clinics next fall.
Pathways "is going to have many ripple effects as it rolls through, and none greater than for the clinical curriculum," said Ed Hundert, dean for medical education and the Daniel D. Federman, M.D. Professor in Residence of Global Health and Social Medicine and Medical Education at HMS.
Leading up to Pathways' launch this past August, curriculum planning and implementation initially focused on basic science and pre-clinical education, but now it will evolve.
"For this curriculum to work, for it to do all the things we want it to do, the clinical faculty who are teaching in the PCE [Principal Clinical Experience] and beyond need to think about how we take the goals and objectives and themes of this curriculum and bring it to the bedside and the care of the patient," said Richard Schwartzstein, director of the HMS Academy and the Ellen and Melvin Gordon Professor of Medical Education at Beth Israel Deaconess Medical Center.
Medical Education Day 2015, held Oct. 27 in the TMEC Amphitheater, invited faculty in the HMS community to consider how to do just that—how to translate the revised educational philosophy of Pathways into the clinical training of students, residents and fellows.
Over the course of six hours, leaders of "Taking Pathways to the Clinical Realm" raised questions, shared pedagogical models and provided skill-building workshops designed to help HMS clinical faculty figure out how to nurture critical thinking and problem-solving skills in students through more active learning rather than through rote memorization.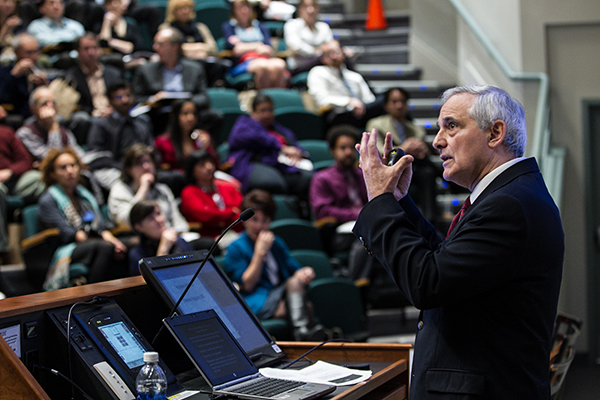 Keynote speaker Thomas Viggiano, associate dean for faculty affairs at Mayo Medical School, discussed how physicians acquire expertise and outlined teaching methods that can lead to the most effective clinical reasoning.
Novices, he said, learn from books and classes, relying on deductive reasoning founded on limited knowledge. Intermediates have goal-directed schemes or algorithms and can use inductive reasoning to progress through narrowing possibilities of the patient's condition.
Seasoned physicians, on the other hand, have developed a deep understanding of the basic science of individual organ systems as well as years of experience with individual cases that allow them to recognize patterns and work from so-called illness scripts. They have gained thorough knowledge of the conditions that give rise to a patient's disease, the precise nature of the fault in the body and the consequences an illness may have on that person's life.
Physicians with expert judgment are able to transition from automatic to analytical mode when assessing a patient, he added. They recognize when something doesn't fit, they slow down when anomalies appear and they use the opportunity to expand their knowledge and employ creative thinking rather than trying to make an unusual scenario fit within a comfortable model.
"We are more than problem solvers," Viggiano said. Recognizing a patient's "functional disturbance, what they're not able to do, what their fears are, what they can expect from having this illness […] makes all the difference in the world."
He proposed that only with a combination of scientific understanding and empathy can physicians practice the art of healing.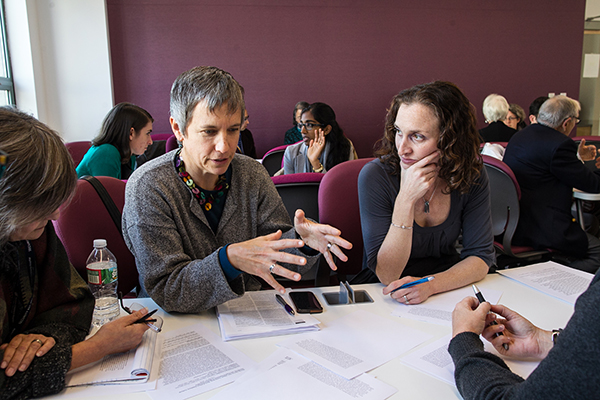 Viggiano then turned to the question of what makes a good clinical teacher. He said the ideal set of traits includes clinical knowledge, critical reasoning abilities, a supportive learning environment, good communication skills, enthusiasm for medicine and teaching, humanism, professionalism and an awareness of the impact of societal issues.
He outlined several evidence-based teaching frameworks that faculty might find useful but concluded that providing positive role models for students is more important than following any particular structure to the letter.
"Treat this new curriculum as if its success depends on you," he said in closing. "We are role models in this medical apprenticeship system, and we must be everything we want our students to become."