Medical Education Day
Medical Education Day 2014
Title/Topic:

Assessment: Getting to the Top of the Pyramid 

Date/Time:

Tuesday, October 28, 2014  ~ 12:15-6:00pm

Location:

Harvard Medical School  -  Tosteson Medical Education Center (TMEC) Amphitheater and Atrium  -  260 Longwood Ave, Boston, MA

RSVP:

Target Audience:

HMS Faculty Members 

Overview:

The goal of medical education is to produce physicians who can provide quality care for their patients. Given the complexity of biomedical science, the need to interact with growing diversity in the patient population, and the rapidly evolving healthcare environment, assessing competence has become increasingly challenging. To the extent that the focus and means by which assessment is performed can have an impact on the approach learners take in courses and clinical settings, teachers must be particularly thoughtful about the interdependence of teaching-learning-assessment.  Utilizing plenary discussions and workshops, this program will explore strategies for assessing medical students and residents as we go from "knowledge," the base of Miller's pyramid, to "demonstrating competence," the top of the pyramid.

Learning Objectives:

Upon completion of this activity, participants will be able to:

Explain the relationship between assessment strategies and learning
Design assessment strategies that address both analytical reasoning and knowledge transfer
Evaluate the advantages and disadvantages of using simulation as an assessment tool
Design a station for an observed structured clinical exam
Determine the elements comprising assessment exercises at the bedside
Schedule of Events
12:45 to 1:05 pm

Putting Assessment into Context

Richard M. Schwartzstein, MD, Barbara Cockrill, MD and Christopher Smith, MD

This session will outline large themes in the cognitive and behavioral sciences as they pertain to the assessment and evaluation of learners, and will demonstrate the relevance of those themes to medical education.  We will make linkages between these theoretical constructs and the new curriculum under development at Harvard Medical School as well as the demand to assess the competencies promulgated by the Accreditation Council on Graduate Medical Education for residents and fellows.

1:05 to 2:00 pm

Keynote Address: Evaluation Drives Learning

Ronald Epstein, MD- Professor of Family Medicine, Psychiatry, Oncology and Nursing- University of Rochester Medical Center

"Evaluation drives learning"- this maxim has guided teachers for decades.  This session will address a number of key questions pertinent to the link between how we observe and test learners and our goals for their development. Theoretical constructs underlying meaningful assessment will also be explored.

 

 
2:10 to 4:00 pm

Workshop Sessions 1 & 2 (options will repeat)  

Simulation Based Assessment

 Ariel Frey-Vogel. MD, Jakob McSparron, MD, Eli Miloslavsky, MD

 As medical educators we share the responsibility of ensuring that our learners are capable of caring for patients in accordance to our high professional standards.  However, because of time constraints or patient safety concerns we are often not able to fully and safely evaluate learners at the bedside.  Simulation not only offers a safe learning environment, but also provides an opportunity to assess learner performance in a variety of standardized settings.  During this workshop participants will explore the role of simulation in learner assessment, including the strengths, limitations, and barriers to simulation-based assessment.  Participants will consider methods to overcoming these barriers and how they might incorporate simulation as an assessment tool in their own teaching environment.   

By the end of this session, attendees will be able to:

Describe the role of simulation in the assessment of learner performance
Identify limitations and strengths of simulation-based assessment
Describe methods to help overcome common barriers to using simulation-based assessment
Delineate opportunities in which simulation can be utilized to assess learner performance in their own teaching environment. 

 

The use of OSCE's as an Assessment Tool 

         Susan Farrell, MD, EdM and David Fessler, MD

Since it was first described in 1975, the Objective Structured Clinical Examination (OSCE) has become a commonly used assessment tool to evaluate clinical skills.  The OSCE has been reported as reliable, valid and objective, and able to cover a broad range of clinical domains such as communication skills, problem solving, and decision-making.  However, OSCEs are difficult to organize and costly to perform, with and intense commitment of human resources, time, materials and space.  During this workshop participants will learn how to design an OSCE, consider the advantages and disadvantages, and discuss how OSCE data might be utilized by various stakeholders.

By the end of the session, attendees will be able to:

Draft an outline of a basic OSCE based on his/her own area of clinical interest
Describe how OSCE data can be understood in order to improve teaching, learning, and curriculum design/implementation

 

Assessing critical thinking  

Richard Schwartzstein, MD and Edward Krupat, PhD

Teaching and assessing thinking skills are among the most important and yet challenging tasks confronting medical educators. This session will provide an overview of both behavioral and cognitive factors that are important in 'critical thinkers' and their associated milestones. In addition, two approaches to assessing cognitive elements of critical thinking (concept mapping and script concordance tests) will be demonstrated and discussed.

By the end of the session, attendees will be able to:

Describe the elements of critical thinking as they apply to clinical reasoning
Link assessment goals to one or more of the core elements of critical thinking
Describe at least two approaches to assessing critical thinking in medical students and/or residents

 

Peer Assessment         

Jeremy Richards, M.D.

As "360" feedback is becoming a part of professional life in medicine, understanding the components of multi-perspective assessments is important.  Academic physicians evaluate students and residents regularly, and increasingly physicians must both give and receive peer evaluations as a component of recertification.  As students learn more effectively when peer feedback is included in their learning activities, this workshop will explore the role and value of peer to peer assessment in medical education.  Participants will identify what is necessary for student preparation for peer assessment in order to implement this powerful strategy in educational setting. In addition, participants will define best practices for implementing and debriefing after peer assessment, and describe how peer assessment can benefit the student doing the assessment, the student being assessed, and the instructor.

By the end of the session, attendees will be able to:

Justify the role of peer assessment of learner performance in medical education
Identify best practices for preparing for, performing, and debriefing after peer assessment
Describe limitations of peer assessment and strategies to overcome those limitations

 

Bedside Observation and Assessment

Nora Osman, MD, and Alberto Puig, MD, PhD

Assessment of clinical competence is challenging, but a critically important task for medical educators.  A number of different assessments using standardized patients—such as Objective Structured Clinical Examinations (OSCEs)--have been used—but these methods are in artificial settings.  Teaching and assessing students successfully in the hospital or clinic setting with real patients is more difficult, but can be very valuable in formative assessments of students.  Standardization of assessment in this setting presents a great challenge, as does the busy nature of the clinic or hospital wards.

By the end of the session, attendees will be able to:

Describe the role of bedside observation in assessment of medical learners.
Identify the value of bedside observation in the assessment of students
Identify limitations and strengths of Bedside Observation and Assessment
Describe methods to help overcome common barriers

 

The Use of Portfolios in Assessment
Susan Frankl, MD and David Rubin, MD

Portfolios have commonly been utilized in undergraduate and postgraduate medical.  Portfolios have the potential to enhance self-reflection and self-directed learning, allowing the learning to reflect upon learning outcomes over an extended period of time.  As such, portfolios have the potential to be an effective formative and summative assessment tool.  During this workshop participants will explore the use of portfolios as an assessment tool, including how to overcome common barriers.

By the end of this session, attendees will be able to:

Describe the role of portfolios in both formative and summative learner assessment
Delineate the benefits and challenges involved in the use of portfolios for assessment
Understand how to design and implement a portfolio as a method of assessment

4:10-4:20 pm

Medical Education Day Abstract Award Ceremony

4:20-5:00 pm

Wrap Up/ Next Steps

5:00-6:00 pm

Poster Session & Reception
 
Course Director:  
Richard M. Schwartzstein, MD, Ellen and Melvin Gordon Professor of Medical Education- BIDMC, Director of the Academy at Harvard Medical School
Course Planners: 
Barbara Cockrill, MD Assistant Professor of Medicine
Christopher Smith, MD Associate Professor of Medicine 
Accreditation
The Harvard Medical School is accredited by the Accreditation Council for Continuing Medical Education to provide continuing medical education for physicians. The Harvard Medical School designates this live activity for a maximum of 3.5AMA PRA Category 1 Credits™. Physicians should claim only the credit commensurate with the extent of their participation in the activity.
---
Past Medical Education Day Pages:
Our
Mission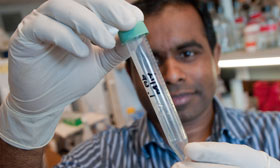 To create and nurture a diverse community
of the best people committed to leadership in alleviating human suffering caused by disease