Medical Education Day
Medical Education Day 2013
Title/Topic:

Transforming the Learning Culture at HMS

Date/Time:

Tuesday, October 22, 2013  -  12:00-6:15pm 

Location:

Harvard Medical School  -  Tosteson Medical Education Center (TMEC) Amphitheater and Atrium  -  260 Longwood Ave, Boston, MA

Booklet

RSVP:

Please click here to register.

Target Audience:

HMS Faculty Members 

Overview:

Medical school makes up a very small fraction of the learning that occurs for a physician over an entire career. By 20 years after graduation, much of what was learned in medical school may have been proven false while new diseases have been described and new treatments discovered. The process by which physicians keep their knowledge and skill-base current is typically referred to as "Lifelong Learning" However, many physicians-in-training and medical students lack the ability to develop and carry out their own lifelong learning curriculum, including identifying their own learning needs and establishing learning goals to meet these needs; this could be due, in part, to the lack of explicit teaching methods that support the skills and behaviors needed to achieve this goal. The standards of the Liaison Committee on Medical Education (LCME) have explicitly required that … "educational programs must include instructional opportunities for active learning and independent study to foster the skills necessary for lifelong learning" (Report of the Council on Medical Education, June 2007). Such opportunities must include methods of instruction and evaluation that provide students with the skills to support lifelong learning, including: 1) self-assessment of learning needs, 2) independent identification, acquisition, analysis and synthesis of relevant information, 3) assessment of information sources and knowledge acquisition, and 4) integration of new knowledge and skills into applicable practice. 

Medical Education Day 2013 will explore the pedagogical strategies that can support the fundamentals of self-directed learning (SDL) as an integral component of successful lifelong learning skills. It will introduce the audience to the necessary steps for independent SDL and explore methods and strategies to facilitate the transformation of the learning culture at HMS from one of a curriculum focused on content transfer to one of active discovery.

With an emphasis on self-directed learning, participants will select from a variety of workshops that will address aspects of SDL, from understanding how we learn and the value of intellectual curiosity in education to the use of learning coaches in medical education.

Learning Objectives:

Upon completion of this activity, participants will be able to:

• identify the components of self-directed learning
• describe how different teaching approaches contribute to developing lifelong learning skills
• construct teaching sessions that build upon and support self-directed learning
• recognize strategies to facilitate acquisition of skills and behaviors needed for lifelong learning
• understand the role of reflection and assessment of learning in the pathway to becoming life-long learners
• understand the role of learning coaches in facilitating and emphasizing self-directed learning in medical education
Schedule of Events
12:00 to 12:20 pm

Self-Directed Learning: The context for change

Richard M. Schwartzstein, MD

Medical education in the 21st century is confronted with multiple challenges including rapidly accelerating growth in knowledge, increasing access to information technology, and increased reliance on teams for the provision of care to patients. These challenges demand that we rethink teaching and learning in both medical school and graduate medical environments. This session will describe some of the key factors contributing to the need for a major re-thinking of our medical education programs, and will provide an overview for the day's activities.

12:20-12:40 pm

Self-Directed Learning: A prerequisite to Life-Long Learning

Randall King, MD, PhD and Alberto Puig, MD, PhD

At the heart of life-long learning is the notion of "self-directed learning." From the analysis of gaps in knowledge and skills, to the identification of learning opportunities, to the evaluation of educational resources, the burden ultimately falls on the individual to maintain his/her expertse after leaving supervised training programs. This session will provide an overview of the elements necessary for self-directed learning.

12:45 to 1:45 pm

Changing the Culture at HMS to Support Lifelong Learning

Edward M. Hundert, MD

The keynote address will be an interactive discussion led by Dr. Edward Hundert on the culture changes that we as a faculty must create for ourselves if we are to create an environment that promotes self-directed learning by our students. As HMS prepares to move to a curriculum involving self-direction not just in the learning of knowledge and skills, but equally in the spheres of continuous self-assessment, curricular integration, team-based collaboration, and more individualized paths for students through their four years with us, we as members of the faculty will need to learn new skills to promote this culture of self-directed learning.  This will be a session where participants are challenged to discuss together what we need to do in order to transform ourselves into facilitators of a self-directed learning culture in all of these spheres as a first step to transforming our curriculum and our learners.
2:00 to 4:10 pm

Workshop Sessions 1 & 2 (options will repeat)  

1.       Learning about learning: foundations for self-directed learning

Lisa Breen, MD and Graham McMahon, MD MMSc

Understanding the learning process can often be the first barrier to acquiring new knowledge and skills. Identifying knowledge and skill gaps, recognizing resources and activities to fill those gaps, assessing remaining gaps and building strategies to allow such gaps to drive future learning are fundamental components of self-directed learning. Participants in this workshop will develop a framework for thinking explicitly about the learning process and strategies to recognize the necessary components to self-directed learning.

By the end of the session, attendees will be able to:

Describe strategies to identify gaps and learners' needs
Delineate approaches to assisting learners in their efforts to effectively utilize resources
Describe the role of reflection and metacognition in life-long learning

 

2.       Encouraging self-directed learning: enhancing curiosity

         Stuart Goldman, MD and Jeremy Richards, MD, MA

Every infant and toddler is inherently curious about the world, yet after many years in school, a significant number of our students and residents seem to lack curiosity; how did the educational system fail them? Curiosity is a necessary component in self-directed learning and a pre-requisite to develop the skills needed to become a lifelong learner. Curiosity drives questions and the "need to know," which can be the most powerful stimulus to learning. During this workshop we will focus on the teacher-learner interaction that fosters an environment of inquiry, of challenging accepted dogma, of healthy skepticism. Participants will explore strategies to create this environment and methods to help the learner formulate hypotheses that drive future learning. 

By the end of the session, attendees will be able to:

Create an environment that supports curiosity and self-directed learning
Describe strategies for setting expectations for the learner that enhance curiosity
Describe the relationship between learner preparation and the ability to formulate hypotheses.

 

3.        The role of self-directed learning in team-based teaching methods

          Dan Hunt MD, and Ken Christopher, MD

The future environment of heath care increasingly requires that we learn to work in teams in order to deliver efficient, high quality care to our patients. The role of team-based learning in medical education has been dramatically expanded over the past decade, but its application and incorporation in an environment that supports self-directed learning remains an elusive target. In this workshop, participants will explore the core principles of team-based education, and will consider ways to apply this learning model in different teaching venues (e.g. pre-clerkship courses, clinical wards, etc.).

By the end of the session, attendees will be able to:

Describe the elements of team-based learning
Identify strategies to ensure adequate learner preparation for team-based learning
Compare and contrast team-based methods for the UME and GME environments

 

4.       Learning coaches: assessment and reflection on learning

         Kerri Palamara, MD and Carol Kaufman, PhD

All great athletes have coaches; what is the role of a "learning coach" for doctors in training? A coach deconstructs skills into their component parts and helps the trainee build a scaffolding on which to add new knowledge and abilities. Participants in this workshop will focus on the fundamentals of building a relationship with trainees as learning coaches. They will identify challenges to the process of self-directed learning and explore strategies to help trainees navigate such challenges, including developing learning goals, setting expectation and promoting reflection. Lessons learned from Coaching Programs currently operation across HMS will be shared with participants.

By the end of the session, attendees will be able to:

Describe the role of a learning coach in the development of a medical student and resident
Identify the barriers confronting the challenged self-directed learner
Describe the role of the coach with respect to a learner's self-reflections

4:15-4:30 pm

Medical Education Day Abstract Award Ceremony

4:30-5:15 pm

Salman Khan, Founder & Executive Director

Khan Academy

We are fortunate to be joined by Sal Khan through direct video link to discuss strategies to encourage lifelong and self-directed learning in medical education.  For those who don't know about Khan Academy or Sal Khan, we would encourage you to watch his TED talk from 2011, or his interview and segment on 60 Minutes (http://www.khanacademy.org/talks-and-interviews/key-media-pieces) and peruse his website which provides free educational modules to "anyone, anytime, anywhere." 

We will be collecting questions for Mr. Khan from attendees prior to the session and will focus on issues related to changing curricula, encouraging innovation, and strategies to enhance self-directed learning.  Please watch for additional requests for questions in future Academy announcements and the HMS Academy Insights.

5:15-6:15 pm

Poster Session & Reception
TMEC Atrium
Course Director:  
Richard M. Schwartzstein, MD, Ellen and Melvin Gordon Professor of Medical Education- BIDMC, Director of the Academy at Harvard Medical School
Course Planners: 
Randall King, MD, PhD, Harry C. McKenzie Professor of Cell Biology, Harvard Medical School
Alberto Puig, MD, PhD, Associate Professor of Medicine, Massachusetts General Hospital
Accreditation
The Harvard Medical School is accredited by the Accreditation Council for Continuing Medical Education to provide continuing medical education for physicians. The Harvard Medical School designates this live activity for a maximum of 3.5AMA PRA Category 1 Credits™. Physicians should claim only the credit commensurate with the extent of their participation in the activity.
---
Past Medical Education Day Pages:
Our
Mission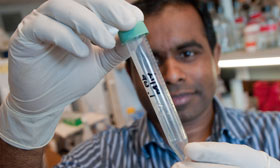 To create and nurture a diverse community
of the best people committed to leadership in alleviating human suffering caused by disease