Blavatnik Harvard Life Lab Longwood Opens
Lab houses workspaces for early-stage, high-potential biotech and life sciences start-ups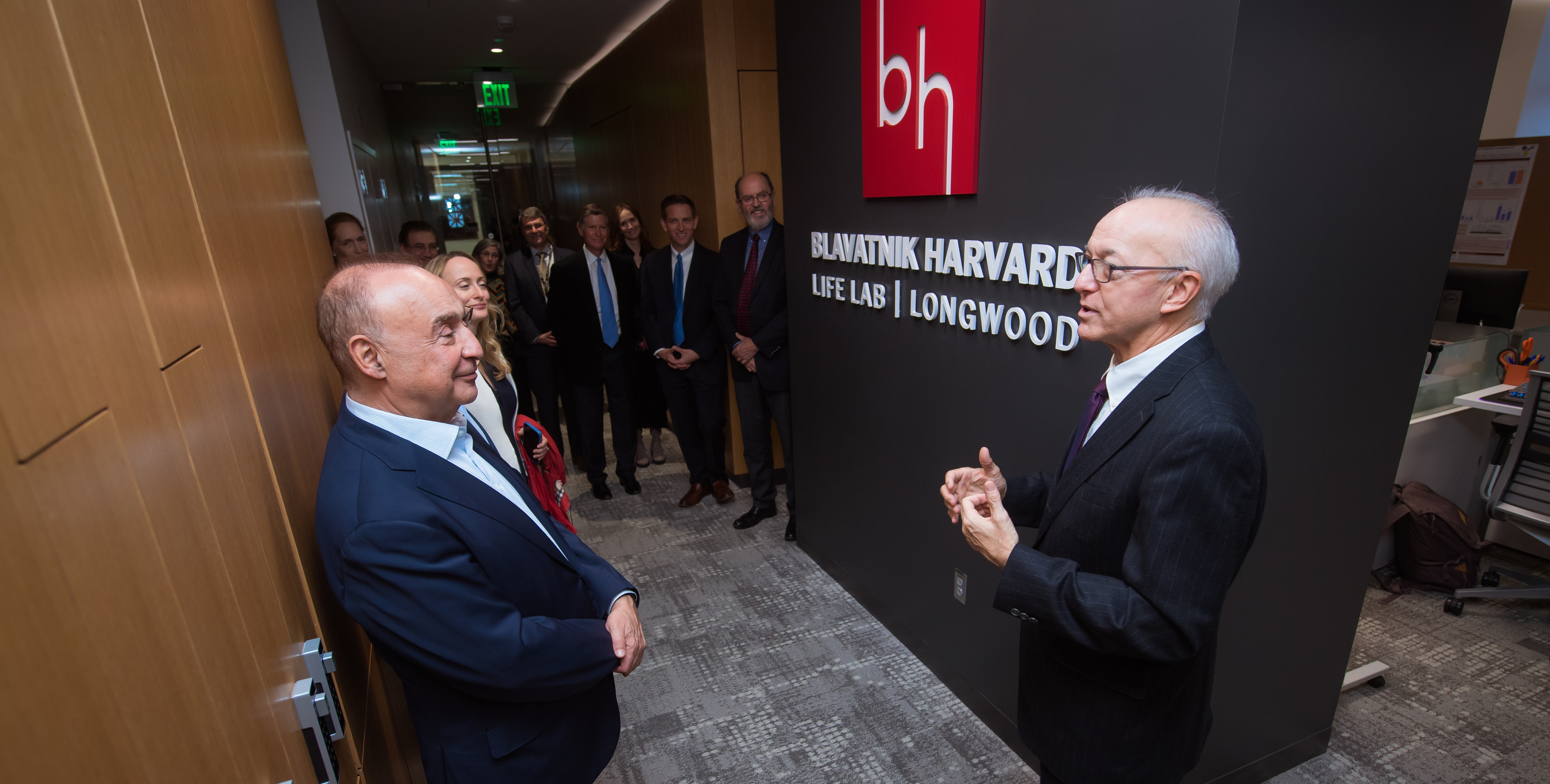 Len Blavatnik and Dean Daley celebrate the opening of the Blavatnik Harvard Life Lab Longwood. Image: Gretchen Ertl
Those who gathered on Thursday, Oct. 27, for the grand opening of the Blavatnik Harvard Life Lab Longwood were there not just to admire a new state-of-the art research facility but to celebrate the promise of biomedical science to transform health and well-being for all.
The 10,000-square-foot space houses wet and dry labs and includes offices and collaborative workspaces designed to nurture nascent biotechnology and life science enterprises. Available for lease to early-stage, high-potential biotech and life sciences start-ups founded by Harvard students, alumni, postdoctoral scholars, and faculty, the lab can accommodate up to 12 companies.
The Blavatnik Life Lab is a centerpiece of the Harvard Medical School Therapeutics Initiative, which aims to help HMS researchers transform their most promising fundamental biological discoveries into high-impact medicines faster, more efficiently, and more affordably. The initiative is a sweeping effort to advance therapeutics research, accelerate translation of discoveries into medicines, and train the inventors of future medicines.
"It's a thrill to see this essential component of our Therapeutics Initiative come to fruition," said HMS Dean George Q. Daley. "The Boston biomedical ecosystem represents the greatest basic and translational life sciences cluster in the world, and Harvard Medical School is a major reason. The work conducted in the Blavatnik Life Lab will accelerate the process of transforming our community's fundamental scientific discoveries into therapies that impact patients, advancing our mission to improve health and well-being for all people."
The new lab will operate as a sibling lab to the Harvard Business School's Pagliuca Harvard Life Lab in Allston as part of Harvard University's ecosystem of Innovation Labs. This collaboration will help cement a partnership between HMS and HBS focused on life science innovation, as the two schools work to provide business and scientific support to companies at both facilities.
"Progressing a medicine toward approval will almost universally require creating or working with a company," said Mark Namchuk, executive director of therapeutics translation and professor of the practice in the Department of Biological Chemistry and Molecular Pharmacology in the Blavatnik Institute at HMS. "With the addition of the Life Lab we can provide members of the Harvard community infrastructure and expertise in both therapeutics R&D and company creation to help launch companies that can deliver impactful medicines."
The lab is one of the key elements supported by a 2018 gift from the Blavatnik Family Foundation that provided $200 million to accelerate the pace of therapeutic discovery and support initiatives aimed at solving some of humanity's most acute biomedical challenges.
Enlightening, understandable, provocative
Solid reasons to read Harvard Medicine magazine