From Ideas to Medicines
I-Hub and Translator launch marks new era for therapeutic research and education at HMS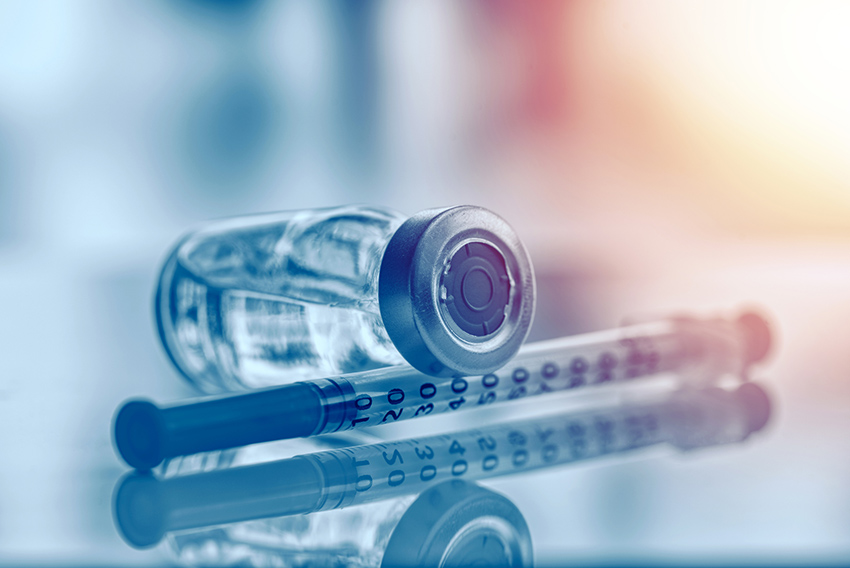 Helping Harvard Medical School scientists develop better medicines that can improve human health.
That's the goal of the HMS Therapeutics Initiative—a sweeping school-wide endeavor to advance fundamental scientific discovery, help translate discoveries into medicines and craft new educational paradigms for therapeutics education.
"One of my foremost priorities is to cultivate and enhance the impact of our community's research," said HMS Dean George Q. Daley in his opening remarks at a virtual symposium on Oct. 28 celebrating an important milestone for the Therapeutics Initiative—the launch of the Ideation Hub (I-Hub) and a program called the Translator, which together support the efforts of HMS researchers across the entire breadth of the translational process from generating ideas to moving therapeutics to the clinic.
 "We wanted to remove as many obstacles as possible and provide the resources needed to propel promising ideas into new medicines and therapies," Daley said.
These goals are well within grasp, according to the dean. 
With the support of a historic gift from the Blavatnik Family Foundation, the School has already invested deeply in therapeutics-oriented programs, in research infrastructure and in promising translational projects, such as the Blavatnik Therapeutics Challenge Awards, the inaugural recipients of which Daley announced at the symposium.
"We wanted to create a community without boundary, one driven by creative, rigorous, collaborative science and a genuine desire to solve the most abstruse and recalcitrant challenges to human health," Daley told the hundreds of participants who joined the online forum. "Today is your invitation to join this community."
Len Blavatnik, head of the Blavatnik Family Foundation, who also spoke at the symposium, echoed Daley's message.
"We need better drugs, sooner and faster," said Blavatnik, who touched on the international impact of the COVID-19 pandemic.
"This type of effort shows how much you can move forward through interdisciplinary collaboration in research, which is the key to modern science. I think you're really making great strides in breaking down the silos," he said.
Ideation and community
At the symposium, Therapeutics Initiative leaders presented their vision for core programs that will help HMS researchers transform their science into medicines, beginning with the I-Hub.
"The I-Hub is about building community and helping scientists at all stages of their careers develop ideas and create translational projects," said I-Hub director Timothy Mitchison, the Hasib Sabbagh Professor of Systems Biology in the Blavatnik Institute at HMS, who issued an invitation to anyone seeking help with a translational research idea to reach out to him.
Mitchison highlighted how the I-Hub is convening Disease and Technology Groups, which bring researchers with diverse and complementary skill sets together to tackle specific translational research problems. These groups will include faculty from the HMS Quad and hospital affiliates, as well as industry experts, disease advocates and more.
Two Disease and Technology Groups have already been established, Mitchison said. One is addressing COVID-19 through an innovative collaboration with the pharmaceutical company AbbVie, and the other is addressing the unmet needs of Lyme disease.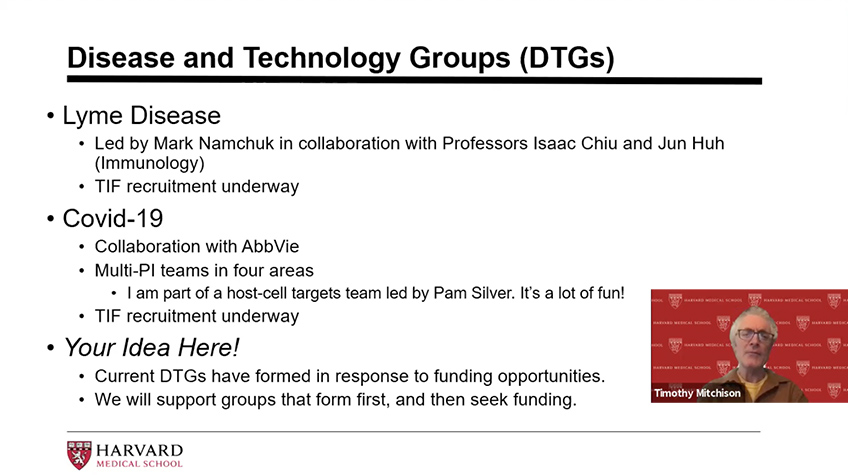 Another key priority for the I-Hub is education—highlighted by the Therapeutic Innovation Fellows Program, one of the first postdoctoral training positions of its kind, which will support the therapeutic translation efforts of the Disease and Technology Groups.
The fellowships are intended to give trainees first-hand experience with drug discovery and development and are specifically designed to lead to careers in industry.
"Our goal is to train the next generation of leaders in therapeutics research in industry and academia," Mitchison said, "with a focus on experiential learning and on the science of how medicines are made."
Medicines of tomorrow
With ideas in hand, HMS researchers can then turn to the Translator program to execute the science needed to turn those ideas into medicines.
"We want to surround the ideas that arise from our community with support, from a material standpoint, but also with advice and a chance to learn about drug discovery," said Mark Namchuk, executive director of therapeutics translation and director of the Translator.
The core of the Translator will be its staff, starting with a team of senior therapeutic scientists—industry veterans with decades of experience in the art of drug discovery and development, Namchuk said. These scientists will be closely involved with designing, advising and advancing HMS therapeutic projects.
They will also represent a critical educational opportunity for students, postdocs and faculty, he added, by sharing their experiences working in and developing drugs in industry.
Translator staff will include project managers, who will partner with investigators on tasks from helping to write translational grant applications to executing large and complex project plans. Therapeutic Innovation Fellows will also play an important role as community builders.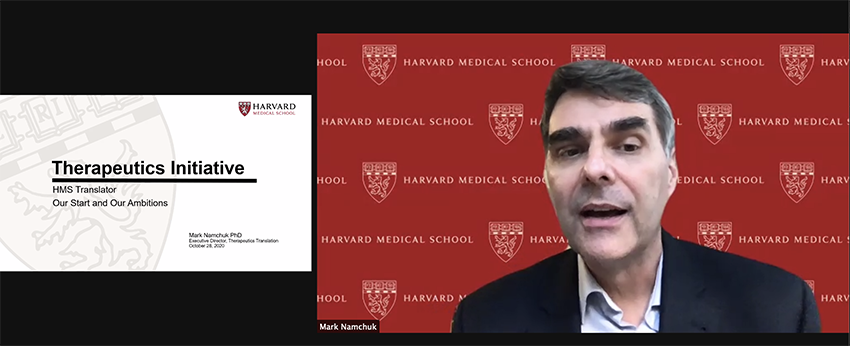 The physical home for these programs will be the Blavatnik Harvard Life Lab Longwood, an incubator space to be constructed in Building C on the HMS Quad. Intended to serve as a mixing pot for academic and industry scientists, the Life Lab will house a spectrum of projects, from early stage lab research to startups being incubated toward maturity, all drawn from across the Harvard community.
Uniquely, due to its experienced staff, the Translator will even have the capacity to actually run and advance projects in situations where an investigator may have a superb translational idea but lacks the time to commit to its development, Namchuk said.
Ultimately, he said, the Translator aims to provide the resources necessary to enable translational science that matches the level of fundamental science which is being conducted across the HMS community. And just as important, he added, the Translator will help prepare trainees for careers in academic medicine or drug discovery.
"Potentially the most valuable thing this initiative could produce are scientists who tomorrow will go and invent something extraordinarily important to human health," Namchuk said.
Better and FASTR
Another critical component of the Therapeutics Initiative involves funding opportunities, and the symposium featured a presentation on Q-FASTR, the Quadrangle Fund for Advancing and Seeding Therapeutic Research.
This five-year program aims to identity, support and expedite the early-stage translational research of HMS Quad scientists and collaborators, and it has already been successful in doing so, said Ifat Rubin-Bejerano, director of translational research programs.
Q-FASTR not only administers pilot funding and developmental awards that are designed to help investigators attract larger funding resources, but it also provides a suite of vital services—from assistance in crafting pre-proposals and full proposals to scientific advice and troubleshooting to providing counsel on the timing of intellectual property filing and interactions with investors.
Roughly 43 percent of all HMS Quad faculty have applied for a Q-FASTR grant, which has led to the formation of two new companies, 29 patents, eight papers and $62 million in follow-on funding, according to Rubin-Bejerano.
The symposium also featured lightning talks by students in the HMS Therapeutics Graduate Program who are working on novel therapeutic approaches for diseases, including multiple myeloma and asthma.
The symposium closed with a panel of academic and industry representatives who discussed a wide variety topics centered around the future frontiers of therapeutics, ranging from how to best apply personalized medicine in new fields to the implications of newly identified subtypes of disease to the topic of reproducibility in academic science.
The group also touched upon a notion that once often dominated conversations about therapeutics in academia.
"The dreaded 'valley of death' was this seemingly unbridgeable gap between where academic science ended and investor or industry interest started," said panelist Kevin Bitterman, a partner at Atlas Venture. "But when is the last time that anyone on this call heard anyone complaining about the valley of death?"
"Academia has built, out of necessity I think, a lot of the capabilities to move further along, and we as investors have gotten bolder and bolder to go earlier and earlier," he continued. "Now the problem is, 'How do we optimize?' It's a cool problem to have."