HMS donors
Philanthropy has the power to alleviate human suffering caused by disease.
Honor Roll of Donors
Harvard Medical School is honored to acknowledge and thank the many donors who have chosen to support the School through individual, corporate, and foundation giving. The Honor Roll of Donors seeks to recognize those who have contributed to HMS's efforts to alleviate human suffering caused by disease. Read more »
Stories
Learn more about some of our most generous donors and how their investments in Harvard Medical School are having a transformative effect on our work and the patients who are the ultimate beneficiaries of our progress. Read more »
Professorships
At Harvard Medical School, endowed professorships represent the highest honor bestowed upon faculty members. Learn about the most recent inaugural incumbents. Read more »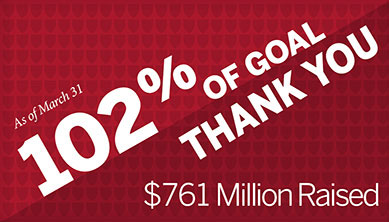 There's still time to make an impact before the Campaign closes on June 30, 2018. Make your gift today »
The Benefactor
Partners in Education, Discovery, Service, and Leadership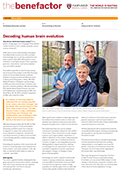 Download and read archived issues of our bi-annual publication to honor and acknowledge our most generous friends and supporters.