Smith Family Foundation Award for Excellence in Biomedical Research
Smith Family Foundation Award for Excellence in Biomedical Research
HMS Deadline: April 10, 2017
Foundation Deadline: September, 2017 (Anticipated)
Number of HMS nominations: 2
Description:
The mission of the Awards Program is to launch the careers of newly independent biomedical researchers with the ultimate goal of achieving medical breakthroughs. The award supports newly independent scientists engaged in basic biomedical research. Investigators in the physical sciences (physics, chemistry and engineering) whose projects focus on biomedical science are also encouraged to apply. Clinical research is beyond the scope of this Program.
Amount of support: $100,000 per year for three years
Eligibility Requirements:
Applicants must:
be a full-time faculty member who will have received their first independent faculty appointment between July 1, 2014 and December 1, 2016. For the purpose of this Award, the first independent faculty appointment is the first faculty appointment after completing either postdoctoral fellowship training (for PhDs) or an ACGME-certified subspecialty training program, or the equivalent (for MDs and MD, PhDs).

have held limited independent federal or similar major grants. 
Application Instructions: See standard HMS Foundation Funds application form and instructions.
URL: tmfgrants.org/smith
Additional notes: All HMS affiliated hospitals are invited to submit separate nominations for this award. Faculty at the hospitals should NOT apply for the HMS nomination for this award but should seek the nomination from their hospital. Please contact your research administration representative for details. Additionally, all other Harvard schools (e.g. HSPH, FAS) are invited by the foundation to submit their own nominations.
Our
Mission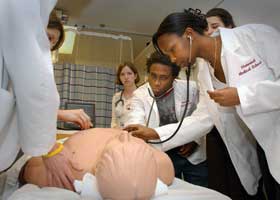 To create and nurture a diverse community of the best people committed to leadership in alleviating human suffering caused by disease