Smith Family Foundation Award for Excellence in Biomedical Research
Smith Family Foundation Award for Excellence in Biomedical Research
HMS Deadline: April 10, 2017
Foundation Deadline: September, 2017 (Anticipated)
Number of HMS nominations: 2
Description:
The mission of the Awards Program is to launch the careers of newly independent biomedical researchers with the ultimate goal of achieving medical breakthroughs. The award supports newly independent scientists engaged in basic biomedical research. Investigators in the physical sciences (physics, chemistry and engineering) whose projects focus on biomedical science are also encouraged to apply. Clinical research is beyond the scope of this Program.
Amount of support: $100,000 per year for three years
Eligibility Requirements:
1.    Applicants must be a full-time faculty member who will have received their first independent faculty appointment between July 1, 2015 and December 1, 2017. 
2.    Applicants are ineligible if, at the time of application, they have combined federal and non-federal funding totaling $500,000 or more in direct costs in either of the first two years (12/1/17 - 11/30/18 or 12/1/18 - 11/30/19) of the three-year Smith Award. This figure refers to external funding only and not an Applicant's start-up package, other intramural support or the Smith Award.
Applicants are also ineligible if they were previously or are currently a Principal Investigator or Co-P.I. on an R01, P01, Pioneer Award, New Innovator Award or similar large awards from other federal agencies or national foundations. Pending Federal and Non-Federal Support Applicants who have pending R01s or other large applications to the NIH and other agencies are encouraged to submit proposals to the Smith Family Foundation.
If notified on or prior to 9/1/2017 that they have been successful in securing federal or non-federal grant support which, when combined with other support, totals $500,000 or more in direct costs in either of the first two years of the Smith Award, applications to the Program will be ineligible for review. Notification of funding after 9/1/17 will not impact eligibility for a Smith Family Award. 
Application Instructions: See standard HMS Foundation Funds application form and instructions.
URL: tmfgrants.org/smith
Additional notes: All HMS affiliated hospitals are invited to submit separate nominations for this award. Faculty at the hospitals should NOT apply for the HMS nomination for this award but should seek the nomination from their hospital. Please contact your research administration representative for details. Additionally, all other Harvard schools (e.g. HSPH, FAS) are invited by the foundation to submit their own nominations.
Our
Mission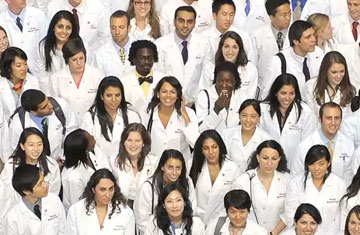 To create and nurture a diverse community of the best people committed to leadership in alleviating human suffering caused by disease.