Searle Scholars Program
Searle Scholars Program
HMS Deadline: April 10, 2017
Foundation Deadline: September 30, 2017 (Anticipated)
Number of HMS nominations: 2
Description: The Searle Scholars Program supports the independent research of outstanding individuals who have begun their first appointment at the assistant professor level. Applicants will be expected to be pursuing independent research careers in biochemistry, cell biology, genetics, immunology, neuroscience, pharmacology, and related areas in chemistry, medicine, and the biological sciences. The program does not ordinarily support purely clinical research but has supported research programs that include both clinical and basic components.
Amount of support: $100,000 per year for three years
Eligibility Requirements:
Applicants must:
Have begun their first appointment at the Assistant Professor level on or after July 1, 2015. If you think you have an appointment pending between the internal deadline and the foundation deadline, please contact us to discuss your eligibility.
Application Instructions: See standard HMS Foundation Funds application form and instructions.
Additional notes: Harvard Medical School is the sole nominating institution for members of the HMS community. Faculty at the affiliated hospitals may apply only through HMS. Additionally Harvard University will nominate two candidates from among the other Harvard schools.
The Foundation indicates that although Instructors are eligible to apply, they may be at a competitive disadvantage in the national selection process.
Our
Mission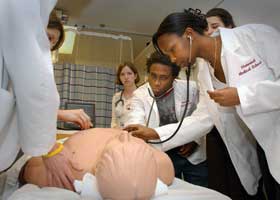 To create and nurture a diverse community of the best people committed to leadership in alleviating human suffering caused by disease