Yuan Named Hay Professor of Cell Biology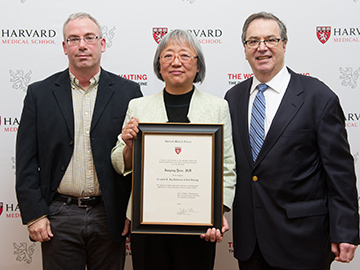 From left: Harvard Medical School Department of Cell Biology Chair Wade Harper, Hay Professorship inaugural incumbent Junying Yuan, and HMS Dean Jeffrey S. Flier. Image: Gretchen Ertl
In a Nov. 17 ceremony at Harvard Medical School's Gordon Hall of Medicine, HMS Dean Jeffrey S. Flier named Junying Yuan as the first incumbent of the Elizabeth D. Hay Professorship in Cell Biology.
"It is a rare and welcome opportunity for me to bestow a newly established Quad professorship on one of our faculty members," said Flier. "Honoring one of the greats of our School's past, and recognizing one of the bright stars of our School's present and future, is truly a pleasure."
Yuan attended HMS as a graduate student and later joined the HMS Department of Cell Biology as an assistant professor. Within four years of joining the department, she became a full professor.
A leader in the understanding of cell death pathways, Yuan has had great influence on the field of cell biology. While still a student at HMS, she contributed discoveries to Robert Horvitz's lab at MIT that eventually helped lead Horvitz to a Nobel Prize in 2002.
Today, her lab provides insights into the molecular mechanisms that control regulated cell death, including apoptosis and necroptosis elicited by external factors such as infection, toxins or trauma.
Flier said that Yuan's contributions are reminiscent of Elizabeth (Betty) Hay's, a mentor of Yuan's and the namesake of the professorship.
One of only four women in her graduating class at Johns Hopkins, Hay in 1969 was the first woman appointed as a full professor in a preclinical department at HMS. She went on to become the first female Quad chair, leading the Department of Anatomy, which later became the Department of Cell Biology.
"Hay understood the value of the mentor-mentee relationship, and became a beloved adviser and educator for hundreds of aspiring scientists at HMS," said Flier. "Her contributions to the development of the field of cell biology cannot be overstated. Her discoveries formed the foundation of an entire field in cellular biology."
Flier introduced a video clip from an interview Hay gave in 1982—the same year Yuan came to the United States.
Wade Harper, the Bert and Natalie Vallee Professor of Molecular Pathology and head of the Department of Cell Biology, also spoke at the ceremony.