Your HMS Interview—Is Now Virtual
Pandemic prompts remote interviews for entering 2021 MD class applicants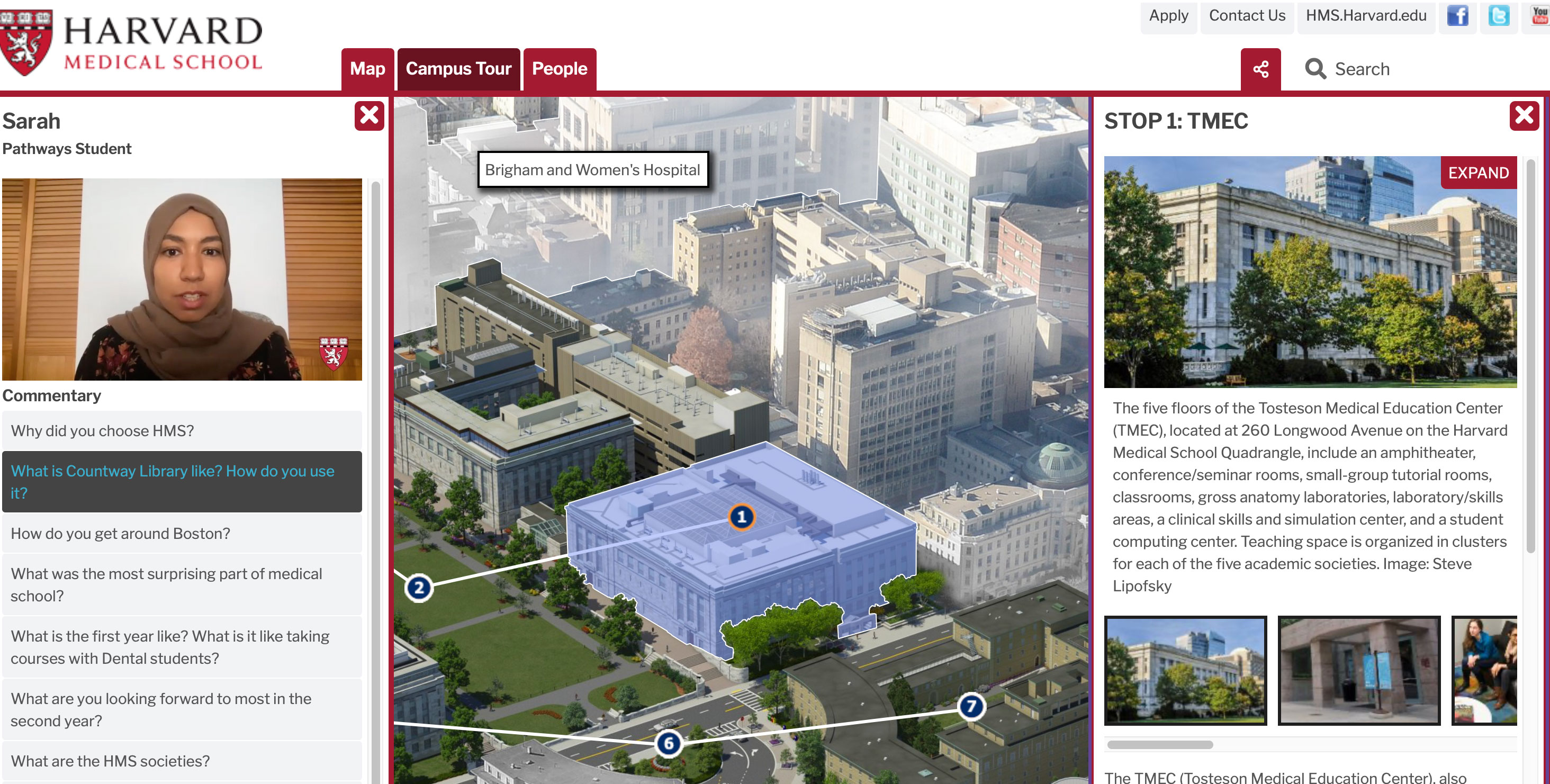 This article is part of Harvard Medical School's continuing coverage of medicine, biomedical research, medical education and policy related to the SARS-CoV-2 pandemic and the disease COVID-19.
In recent years, about 7,000 people have applied annually to Harvard Medical School, vying for the 165 seats available in each entering class.
Then, after a months-long application screening process that starts in July, about 800 to 900 applicants are invited to HMS for two, in-person interviews with members of the School's admissions committee. The interview season runs September through January, when applicants can normally be seen touring the Quad and visiting with students and faculty members.
But not this year. COVID-19 has altered the process.
Applicants are still being interviewed for next year's entering class, but because of the coronavirus pandemic, they're doing it all online. Interviews are currently taking place every day of the week in a virtual format.
The logistics of the endeavor are, in a word, daunting. Close to 100 faculty and 30 to 40 currently enrolled students are involved in the interview process and, altogether, they will talk with an average of 12 candidates a day, about 60 a week.
"I would say, probably for us, the biggest source of concern this summer was just the logistical aspects, such as, how are we even going to schedule all of this?" said Melissa Friedman, HMS director of admissions.
"Candidates are interviewing from locations all around the globe. We've interviewed applicants this year, so far, who have been in the United Kingdom and the Netherlands … a lot on the West Coast. So, we had to take time zones into consideration, but then also consider our own faculty and their availability."
Connecting each of the hundreds of candidates with the faculty and student interviewers and creating separate virtual meetings for each of the 30- to 45-minute interviews—24 separate videoconference meetings scheduled each day, not taking into account the various other informational sessions that are part of the interview day—is only part of the complicated process.
"One of the things that was really important to us to maintain was a morning orientation session," said Friedman. "On normal interview days … we have coffee and muffins and fruit, and it's a chance for the applicants to all come together. It starts the day off. It gives them a chance to get to know one another. We have a faculty member who serves as an orientation host and welcomes the group. And then also a staff member from the admissions office who goes over what to expect on the interview day."
This year, Friedman said, that session is starting virtually at 10 a.m., rather than the usual 8 a.m., to more easily accommodate West Coast or international applicants, with interviews scheduled for as late as 5:30 p.m. for the same reason. Despite the myriad moving parts, things have been going smoothly.
"It's pretty close to the way it was in the past, because there's one interviewer and one applicant," said Robert Mayer, HMS faculty associate dean for admissions and the Stephen B. Kay Family Professor of Medicine at Dana-Farber Cancer Institute. "They have a conversation in which they ask each other questions, and that works pretty well, as it has in the past. But it's everything around it, bringing them together. … It's all these little things that are so incredibly challenging."
Getting to real
A week before their interviews, candidates are sent a confirmation email with a link to a new, custom-built HMS admissions website that provides a wealth of information about HMS that administrators hope will help prepare applicants for their virtual visits. It includes a link to a robust video campus tour and more than 100 video clips from current students answering questions that range from, "How do you get around Boston?" to "How do you prepare for working with patients?"
"When you interview, be yourself," says a current HMS student identified as Jalen in one of the recorded videos on the website. He adds, "What I reminded myself was that somebody has to get into this school … so why not let it be me? So, when you come for your interview, remember that they chose you for a reason."
"I ultimately chose HMS because I really enjoyed my Revisit experience," another HMS student identified as Sarah says in a video clip. Revisit is an HMS event, held each spring, during which admitted students are welcomed back to campus to take another look at the School before making their final decision regarding which medical school to attend.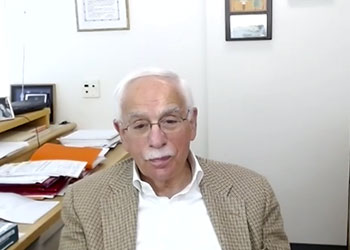 "I think when I was looking at a medical school that I was going to be at for the next four years, and maybe even longer, I really wanted that wholesome community feeling, and that was something I really got to experience at HMS," she said.
Both Mayer and Friedman said putting all the information together in one online place involved a host of HMS teams working together and putting in many hours, but the effort appears to be paying dividends.
"Our hope, and what we actually think is happening, is that students are reviewing the site prior to the actual interview day. And what we're seeing now is they're coming to their interview day with these really great questions that in other years they may not have thought to ask until after their visit to HMS," said Friedman.
An enhanced video tour includes current students offering information about different campus locations, such as the Vanderbilt student residence hall. Some modules introduce candidates to the admissions staff, explain the interviewee code of conduct or offer recommendations on how to prepare for the interview; others provide information on HMS traditions, life in Boston, and financial aid or link candidates to HMS student ambassadors.
The more prepared the applicants are, Mayer said, the better the odds that they will do well in their interviews, when members of the admissions committee will make an effort to determine what the applicants' goals are, what their experiences have been, and try to determine whether they would be happy in the HMS environment. In an era where physicians are increasingly taking advantage of telemedicine to interact with patients, Mayer said, the interviewers appear to be able to get a good sense of each candidate, even if it is through a computer screen.
"You want to determine why an applicant really wants to be a physician and what their goals are, whether they align with some of the attributes that we value at HMS, such as a potential for leadership, commitment to community service, social justice, research, things of that nature that will define their career focus," he said.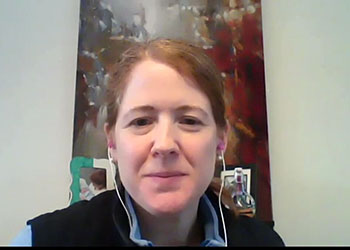 All these factors are important because, once accepted to HMS, Mayer said, "These students become part of a single community [whose members] enrich each other by being together for four years and learning from each other."
To add to the complexity of the process, for reasons that are still not completely clear, this year the School is on target to receive a higher number of applications than it has in previous years. Mayer said many students who would ordinarily take a gap year after earning their undergraduate degrees, to can gain wider, practical life experiences, were likely not able to do so because of pandemic restrictions. Instead, it appears, they're opting to go straight into medical school.
He is concerned about the greater impact the pandemic will have on applicants' family finances as the economy increasingly affects jobs and incomes and how that may affect the School's ability to provide assistance to a larger pool of candidates. On the other hand, both he and Friedman said, the remote interview process eliminates travel and lodging costs for applicants, which is a good thing.
Will virtual interviews become the way of the future at HMS?
"We don't know what next fall is going to be like, you know. We have no idea what the future is going to bring," said Friedman. "So, right now our focus is on doing this virtual adaptation as well as we possibly can while maintaining the same principles we have had in the past. We still want our applicants to come away with the feeling that HMS is a vibrant, warm and welcoming community."