Veves Receives Xu Professorship
Will also direct Xu Center for Regenerative Therapeutics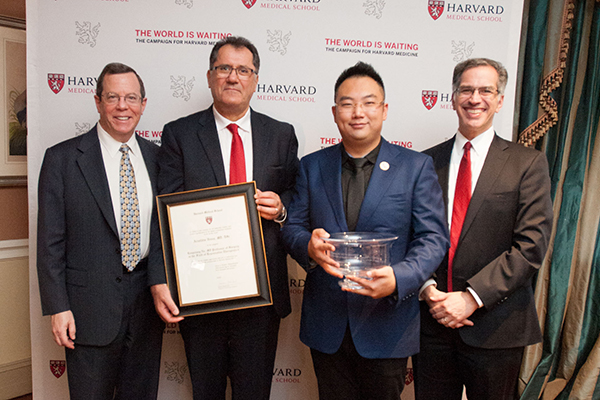 From left: Edward Hundert, Aristidis Veves, Kevin Xu and Elliot Chaikof. Image: Brown Dog Studio
Harvard Medical School and Beth Israel Deaconess Medical Center surgeon Aristidis Veves was celebrated as the inaugural recipient of the Rongxiang Xu, MD Professorship in Surgery in the Field of Regenerative Therapeutics in a Nov. 2 ceremony at the Harvard Club of Boston.
Veves is also director of the recently launched Rongxiang Xu, MD Center for Regenerative Therapeutics at Beth Israel Deaconess.
An international leader in regenerative medicine and wound healing, Veves conducts bench to bedside research to reduce complications from diabetes, including cardiovascular disease, neuropathy and foot ulceration. His research also focuses on the interaction between obesity, diabetes and sleep apnea and the development of cardiovascular disease.
As director of the center, Veves oversees clinical, research and educational efforts in regenerative care and reconstructive surgery to improve treatments for patients with burns, wounds, lower extremity problems and other disorders of tissue repair or renewal.
Edward Hundert, dean for medical education at HMS, praised Veves as "an outstanding member of our faculty, an exceptional researcher and someone who is very deserving of this great honor."
Veves collaborated for many years with Rongxiang Xu, an innovator in burn care and wound healing who passed away in 2015. The National Rongxiang Xu Foundation, founded by the Xu family, established the professorship and the center in Xu's honor.
Xu and his colleagues revealed fundamental principles for regenerating adult tissues and organs and translated this knowledge into new topical therapies. Xu held many U.S. patents and founded the regenerative and restorative science-focused company MEBO International.
The professorship and the center promise to ensure that "Beth Israel Deaconess, HMS, Dr. Veves and all future incumbents of this professorship continue to advance research and further progress the treatments available for patients suffering from conditions that result in poor tissue repair and regeneration, while honoring Dr. Xu's lifelong commitment to the field," said Hundert.
Also speaking at the event were Elliot Chaikof, the Johnson and Johnson Professor of Surgery at HMS and surgeon-in-chief and head of the department of surgery at Beth Israel Deaconess, and Kevin Xu, Rongxiang Xu's son and founder of the National Rongxiang Xu Foundation, as well as Veves himself.