Tom Delbanco Named Keane & Family Professor
New title honors leadership in health care transparency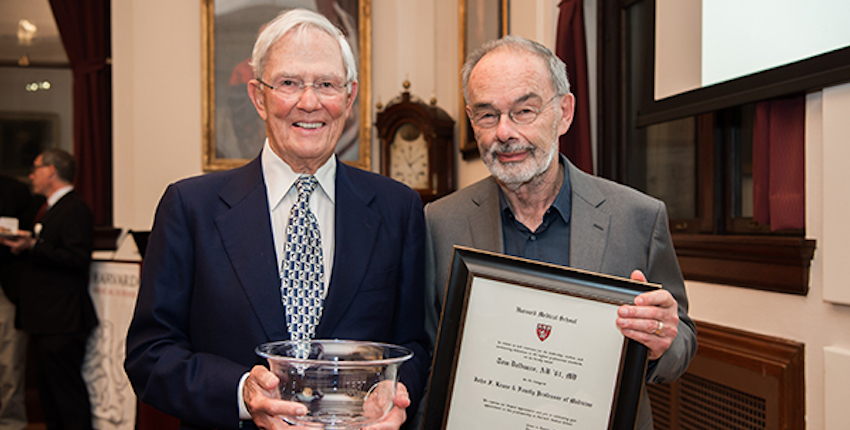 John F. Keane Sr. (left) and Thomas Delbanco. Image: Theresa Johnson Herlihy
Family, friends and colleagues from Harvard Medical School and Beth Israel Deaconess Medical Center gathered last fall to celebrate the establishment of the John F. Keane & Family Professorship in Medicine and the installation of Thomas Delbanco as the inaugural incumbent.
Together with colleague Janice Walker, assistant professor of medicine at HMS and a member of the research faculty at Beth Israel Deaconess, Delbanco cofounded OpenNotes, an international effort to promote and examine the impact of increasing transparency in care by inviting patients to read and contribute to their medical records.
"Already a well-respected member of the professoriate, Dr. Delbanco now holds the title of John F. Keane & Family Professor of Medicine—a title that further distinguishes him as a leader in advancing patient and clinician engagement and health care transparency," said HMS Dean George Q. Daley at the event, held in the Waterhouse Room in Gordon Hall at HMS.
A graduate of Harvard College, Delbanco joined Beth Israel Deaconess in 1971 and established the Division of General Medicine and Primary Care there, creating one of the first nationally recognized hospital-based primary care practices and teaching programs. He went on to launch the HMS Faculty Development and Fellowship Program, which has prepared more than 300 general internists for academic careers.
Delbanco's many recognitions include the Robert J. Glaser Award, the highest honor conferred by the Society of General Internal Medicine, and the William Silen Lifetime Achievement in Mentoring Award from HMS.
The professorship was made possible by John F. Keane Sr., a Harvard College and Harvard Business School alumnus who founded and for more than 30 years served as president of Keane, Inc. (now a subsidiary of NTT Data Corporation of Japan), a company that designs, develops and maintains computer software for corporations and hospitals. Keane established the Keane Family Foundation, which makes grants to educational, medical and arts organizations.
"Through the establishment of this professorship, Mr. Keane and BIDMC are ensuring that HMS, Dr. Delbanco and all future incumbents of this professorship continue to empower patients to participate in a transparent approach to health care, thereby improving communication between patients and health professionals, which will ultimately improve health outcomes," said Daley.
In addition to Keane, Kevin Tabb, president and CEO of Beth Israel Deaconess and HMS professor of medicine at Beth Israel Deaconess, and Mark Zeidel, the HMS Herrman Ludwig Blumgart Professor of Medicine and chair of the Department of Medicine at Beth Israel Deaconess, spoke at the event.