News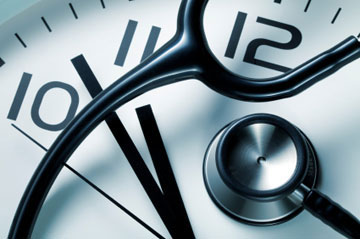 In 2003 the Accreditation Council for Graduate Medical Education instituted limitations on the working hours of resident physicians in the U.S., including a maximum 80-hour workweek. In 2011, the council added a 16-hour cap on shift length for residents in their first year of training. The effects of those restrictions continue to be a subject of considerable debate, with some calling for even further reductions. Few appear to be aware that both residents and physicians in the European Union became subject to even more stringent work-hours restrictions in recent years.
The European Working Time Directive restricts working hours for all public-sector employees—including physicians and other health care professionals— to 48 hours per week. Issued under legislation that became effective in 1998, the restrictions were implemented for physicians over several years. In the U.K., for example, they applied to senior physicians immediately but did not fully apply to physicians-in-training until 2009. In a Viewpoint article in the February 6 issue of JAMA, HMS investigators from Massachusetts General Hospital described what is known about the impact of the European rule and its implications for postgraduate medical education in the U.S.
"This policy has had profound, and mostly negative, effects on medical care and medical education in the European Union," said Lloyd Axelrod, HMS associate professor of medicine at Mass General and corresponding author of the article.
"The current limitations on U.S. physicians-in-training also have been disruptive, to say the least, but some would like to see even further restrictions. We had the impression that most American doctors and the general public were unaware of the European Working Time Directive and its consequences, motivating us to investigate this issue further," Axelrod said.
The authors noted that few reliable data exist on the effects of the European policy as it applies to physicians. Studies looking at the impact on resident education or patient outcomes have had conflicting results or shown little effect, and none has directly addressed the long-term performance of physicians trained under the restrictions.
The Temple Report, an independent review prepared in 2010 at the request of the British government, also noted a lack of definitive evidence on the effects of the directive. Experts consulted in the report's preparation identified situations compromising physician training. These included reduced interactions between residents and attending physicians—particularly when residents covering evening and weekend shifts had less exposure to teaching and supervision—the need for attending physicians to carry out clinical tasks previously performed by trainees, reduced continuity of care, and diminished quality of life for trainees.
The report also stated that hospitals' "unsustainable reliance" on hiring temporary, outside physicians to do work formerly done by trainees had negative implications for patient safety, quality of care and hospital finances.
A 2010 survey by the Royal College of Surgeons found that 80 percent of consultant surgeons and 66 percent of trainees believed that patient care had deteriorated under the directive, citing factors such as less time spent by trainees in the operating room, a lack of trainee assistance during operations, inadequate handoffs and the inability of staff surgeons to be involved in important stages of patient care.
The authors of the JAMA article quoted the Royal College president as saying "surgeons at all levels are telling us that not only is patient safety worse than it was before the directive, but their work and home lives are poorer for it."
Axelrod and his co-authors—Deep Shah, a Harvard Medical School student, and Anupam Jena, HMS assistant professor of health care policy—noted that, while information on the impact of resident hours restrictions in the U.S. is also mixed and limited, both residents and attending physicians have reported adverse effects on both education and professionalism.
They outlined five insights that can be gained from the European experience:
Questions regarding patient safety "have yet to be rigorously studied";
Data and expert opinion suggest that the restrictions have "hampered the clinical education of trainees";
A "shift-work mentality" may compromise the physician-patient relationship and professional accountability;
The need to accomplish their responsibilities in less time may actually increase residents' fatigue;
Transferring responsibilities traditionally assigned to residents to more senior physicians may significantly increase costs.
Although the full implications of the European Working Time Directive may not be known for years, the authors believe a rigorous attempt should be made now to study the consequences of this large-scale experiment for the education of resident physicians and the care provided to their current and future patients.
In particular, Axelrod and his colleagues found the failure to rigorously address important questions about patient safety to be "unsettling." They concluded "it is imperative to understand the consequences and implications of the directive before sailing further into this uncharted sea."
Sue McGreevey is manager for science & research communications at Mass General Public Affairs.
This article was adapted from a Mass General news release.
Follow
HMS
Stay informed via email on the latest news, research, and media from Harvard Medical School.