Student Life
Medicine and activism go hand in hand for MD student Raquel Sofia Sandoval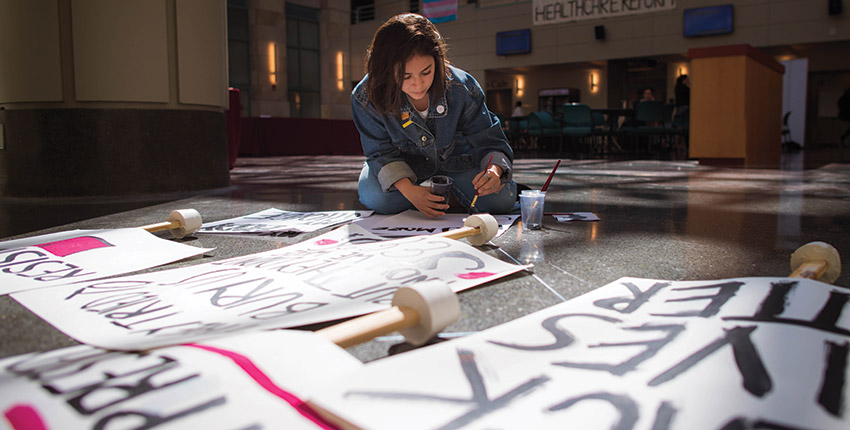 Raquel Sofia Sandoval's cab was blocked by a mass of sign-carrying protesters taking part in a nationwide women's march.  They were moving toward Boston Common as she headed back to her hotel from her Harvard Medical School  admissions interview.  Sandoval decided to get out and join them.
As an immigrant, a Latinx woman, an artist, a community worker and a first-generation-in-medicine student, Sandoval, Class of 2021, said the two coinciding events reflected her own march to becoming a physician.
"I want my medical career as a physician to be another manifestation of my activism," Sandoval said.
As a University of Pittsburgh undergrad, Sandoval worked for a labor union and several social-service nonprofits. Once she arrived at HMS, she was concerned about making a place for herself at the School, "But now here we are, making the most of it and doing the most to uplift our communities."
Sandoval jumped right in, attending a prematriculation community program where first-year HMS students are introduced to under-resourced neighborhoods around Boston. There she met about 70 other students also interested in activism and community service.
She joined the Racial Justice Coalition, a student group she now co-leads with classmate Titilayo Afolabi. Together they presented at a faculty workshop on microaggressions titled "Negotiating Racism at the Bedside." She's also been involved in demonstrations supporting HMS students who are part of the Deferred Action for Childhood Arrivals program, commonly referred to as "Dreamers," and gun violence victims, and she is part of the White Coats 4 Black Lives movement.
"I want to be a physician, and I want to be a physician who empowers—but I also want to be an advocate," she said.
Sandoval is working to ensure that institutional and cultural change takes place at HMS, collaborating with faculty to integrate elements into the Pathways curriculum that will ensure that all classroom voices, particularly women's, are heard and valued equally. As a result, for the incoming Class of 2022, conversations about classroom dynamics were part of orientation and were woven into the Introduction to the Profession course.
Sandoval and her fellow students also developed a practice in which female and underrepresented students regularly encourage each other in class when one of them has been particularly insightful or shared knowledge successfully. This has benefited all students, Sandoval said.
"It's a special way to build community and to be supportive and empowering."
Inspired by social justice mentors at HMS, Sandoval said the School is equipping her for the leadership role in medicine she has always envisioned for herself.
"One of the ways that I can leverage these privileges that I've been given is to take on leadership positions and institute systemic changes," she said. "It would be amazing to see me, or someone like me, as the dean of a place like this."
Harvard Medical School
Impact
Dean's Report 2018 - 2019
Read the 2018 - 2019 Dean's Report