Investigating Sensory Discovery
HMS scientist David Corey is working to prevent hereditary deafness with the support of the Bertarelli Foundation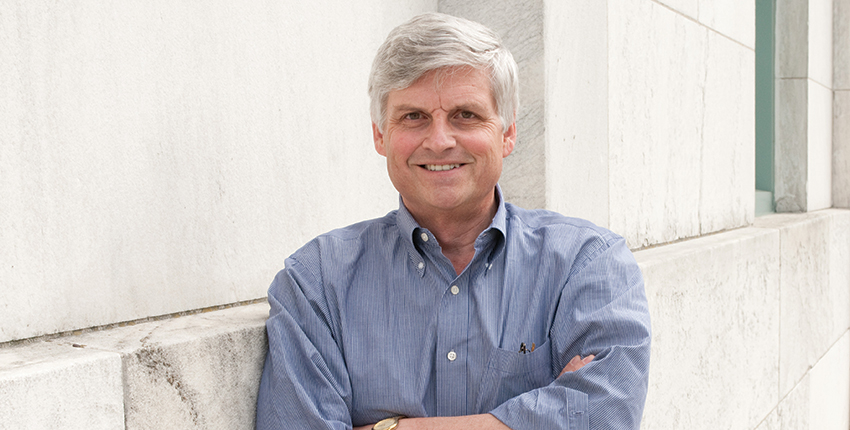 David Corey has always been intrigued by how things work. As a child, he tinkered in his father's home workshop, taking things apart and, sometimes, putting them back together.  Later, this fascination drew Corey to physics, partly, he said, because it had the coolest instrumentation.
It wasn't until his last semester at Amherst College that Corey became interested in neurobiology.  At Harvard Medical School, he had the good fortune to work as a technician in the lab of Ann Stuart, who was studying the visual system of barnacles.
"It was life-changing," said Corey, recalling how his captivation with sensory neuroscience was born.
Today, Corey is still taking things apart to see how they work, but on a scale he never quite imagined. Corey, the Bertarelli Professor of Translational Medical Science, said his lab is focused on mapping the position of every atom of each protein in the molecular complex of inner-ear receptor cells. Those proteins convert motion to electrical signals, and he is determining which parts of the proteins move to generate those signals.
Teaming with his wife, Xandra Breakefield, professor of neurology at Massachusetts General Hospital, and colleagues, he has started using gene therapy with viral vectors to correct molecular defects in mice in an effort to prevent hereditary deafness.
"Decades of basic, curiosity-driven science are suddenly relevant for human health. It is deeply satisfying to find that our work may help to cure a devastating sensory disorder," he said.
Corey also leads the Bertarelli Program in Translational Neuroscience and Neuroengineering at HMS. Established in 2011 with a gift from the Bertarelli Foundation, the program aspires to help bridge the gap between basic and translational neuroscience and to address important issues that, once solved, will have life-changing outcomes for patients. 
"I am confident the next five to 10 years will see many new treatments for deafness, blindness and pain, and I think the projects of the Bertarelli Program, which encourage cross-disciplinary solutions, will be among the most exciting and effective," said Corey.
Earlier this year, the Bertarelli Foundation announced it was redoubling its commitment to this area of research with a gift of $6.35 million to HMS to build on the program's previous successes as part of The World Is Waiting: The Campaign for Harvard Medicine.
"The School's openness to exploring new ideas and collaborating with others for the benefit of patients is very important. This new gift aims to support fresh thinking and enable scientists to take forward new ideas, through effective partnership and innovation," said Ernesto Bertarelli, an alumnus of Harvard Business School and a member of the HMS Board of Fellows.
Nearly 10,000 alumni, faculty, staff, volunteers and friends made gifts to support the HMS campaign from July 1, 2011, through June 30, 2018. Together, they raised more than $789 million to advance the School's mission. Join us at hms.harvard.edu/giving. Your partnership and passion are critical to our progress.