20 Minutes, 20 Shots
HMS 'Die-In' draws students, faculty, staff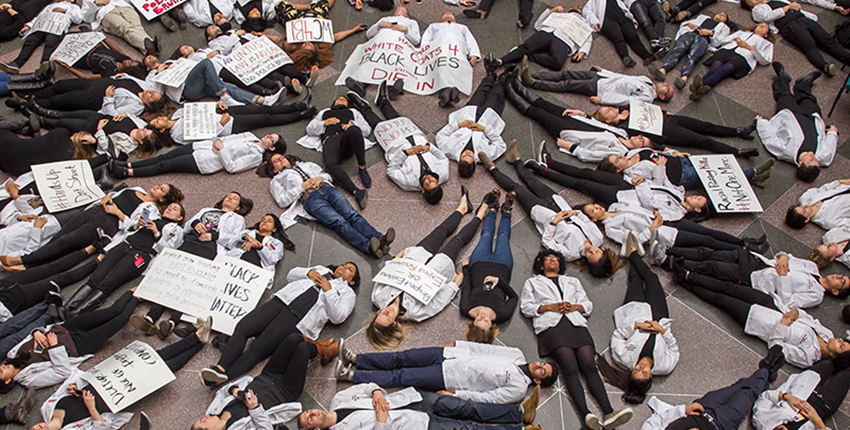 Die-in at the TMEC atrium. Image: Bethany Versoy for HMS
"Please join me in solidarity as we lie on the floor and have 20 minutes of silence, with your cell phone in hand, to signify the 20 shots fired at Stephon Clark," said Ayotomiwa Ojo, a first-year Harvard Medical School student and one of the organizers of a "die-in" demonstration protesting police violence against people of color.
For the next 20 minutes, more than a hundred HMS and Harvard T.H. Chan School of Public Health students in white coats, along with faculty and staff, including HMS Dean George Q. Daley and HMS Dean for Medical Education Edward Hundert, sprawled on the floor of the Tosteson Medical Education Center (TMEC) atrium, clutching their phones.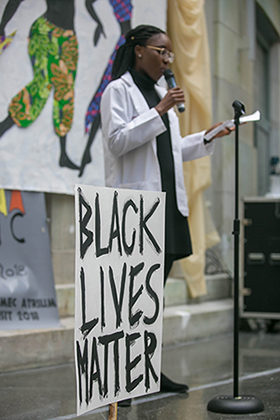 The April 17 protest was part of a nationwide demonstration organized by White Coats for Black Lives.  HMS and Harvard Chan School students put the peaceful protest together in the wake of Clark's death in California last month.
Clark, a 22-year-old Sacramento native, was killed in a police shooting that led to a widespread public outcry.  He was gunned down as he stood in his grandmother's yard. Officers later said they believed a cell phone in Clark's hand was a firearm.
HMS demonstration participants said their goal was to continue to draw attention to social injustice and the growing list of black lives that have been lost during police interventions.
"We must demand that we address the implicit bias that exists," Ojo told the crowd in her remarks. "We must demand explanations for why they do not stop using excessive force when a black man is pinned to the ground gasping, 'I can't breathe.'"
An ongoing movement
The first national medical student die-in demonstrations took place on Dec. 10, 2014, in conjunction with International Human Rights Day.
Students from the University of California, San Francisco, School of Medicine, the Icahn School of Medicine at Mount Sinai and the Perelman School of Medicine at the University of Pennsylvania initiated the movement following grand jury decisions of nonindictment in the cases of Michael Brown and Eric Garner.
Brown, an 18-year-old African-American, was fatally shot by police in Ferguson, Missouri in August 2014. The unarmed Brown was shot six times, twice in the head, a private autopsy showed.
Garner died in July of 2014 after New York City police stopped him for selling loose cigarettes. According to a medical examiner, the father of six died as a result of a choke hold and chest compression used on Garner during the resulting arrest.
As news of the first student demonstrations spread, medical students at other institutions across the nation identified themselves as allies and showed support through similar actions. The protests coalesced in the following weeks into the White Coats for Black Lives movement, which organizers announced on Martin Luther King Jr. Day in early 2015.
The organization says its goals are threefold: to eradicate racism as a public health hazard, to end racial discrimination in medical care, and to prepare future physicians as advocates for racial justice.
"We hope to change the way medicine interacts with society." —Ayotomiwa Ojo
HMS Dean George Q. Daley told the students that he was moved and humbled to see so many students and faculty join in solidarity with others across the country, united in a quest for justice and in taking a stand against racism.
"Looking at all of you, I feel very hopeful about the future," Daley said, urging them to continue to ask what their responsibility is as healers to make a difference.
He said he hoped some students would make it their mission to study the root causes behind racial violence and disparities, so that society can begin to work toward change.
Actions speak louder
"As a community of healers, we are remiss if we turn a blind eye to these issues," said Okechi Boms, a first-year medical student at HMS. He urged participants to hold elected officials and law enforcement accountable, encouraging attendees to address issues of inherent racial bias in classes, wards and daily interactions.
"The fact that black men and women suffer some of the worst health outcomes—that's not just a matter of circumstance," he said.
Raquel Sofia Sandoval, a first-year medical student and co-chair of the Racial Justice Coalition at HMS, said that this event was, in some ways, a follow-up to a March rally against gun violence at HMS.
"It's important to highlight the black bodies being killed. This narrative often escapes when we talk about gun violence," she said.
"Practicing medicine is about taking action, and by extension we are empowered to effect change in our society by acting on our HMS values," Daley wrote in a letter to the HMS community. "We strive to imbue these values in all that we do. It is our intention that they will guide us to a safe, secure and peaceful community."
Daley also encouraged the HMS community to get involved with the HMS Task Force on Diversity and Inclusion, made up of HMS students, faculty and staff. "We are working to devise solutions that will result in a more equitable community."
"We are not just clinicians. We are activists, we are advocates for our patients," Ojo said in an interview before the die-in.
She emphasized that members of the medical community need to serve as role models, making a statement to medical schools and institutions and setting an example for undergraduates to follow.
"We hope to change the way medicine interacts with society," she said.