A Show of Welcome
FABRIC 2019 performances invite, celebrate diversity, inclusion
The annual FABRIC production by Harvard Medical School and Harvard School of Dental Medicine first-year students invites newly admitted students to join the community at the two schools.
This year's theme, "Aje," extends that invitation literally. "Aje" is Swahili for "Let them come," said Bezaye Teshome, Castle Society student and FABRIC 2019 co-executive producer.
"I've already heard of a couple of students who have decided that HMS is for them because of the show, and I'm one of them," said Azaii Calderon, who plans to be a member of the HMS Class of 2023.
The annual FABRIC show is a celebration of the diverse backgrounds and talents of students in the HMS community. Performed during Revisit week, it presents HMS/HSDM as a place where students from all backgrounds are welcome and can thrive.
Unstoppable force
During the show, Teshome told the audience that "the same word [Aje] in Yoruba cosmology means a force that cannot be defined, a force that is capable of healing, transformation and empowerment."
This year's production had 17 acts that included spoken-word, song and dance performances. A hybrid fashion-culture segment showcased traditional dress from around the world accompanied by narrated bios and images of heroines and heroes, such as like Brazilian film star Carmen Miranda; Kalpana Chawla, an American astronaut of Indian descent; and Nigerians Fela Kuti, Afrobeat musician and human rights activist, and his mother, Chief Funmilayo Ransome-Kuti, a feminist and anticolonial movement activist.
Approximately 100 HMS and HSDM students organized, produced, directed and performed, which is more than half of the Class of 2022.
Lacey Smith, Castle Society student and the show's co-creative director, noted the dedication of her class—not only the commitment of their time and talents, but their "willingness to put themselves out there for something that they believe in, which is recruiting people and making sure that people feel welcome and comfortable here."
Producing the show has brought the students closer, Smith said, and they found strength and cohesion in "bringing their talents and resources to be this kind of unstoppable force together," she added.
Roots in Africa
Founded 18 years ago to explore the artistic and cultural traditions of the African diaspora, the FABRIC event has evolved to include art forms and cultures from around the world.
"I think it really showcases diversity in a way that talking about diversity can't really encompass," said Smith.
This year, the artwork on the stage's backdrop, on the event program and on T-shirts was created in Ethiopia by Teshome's sister, Luladey Teshome, and painted and digitized by the students.
Warmth of home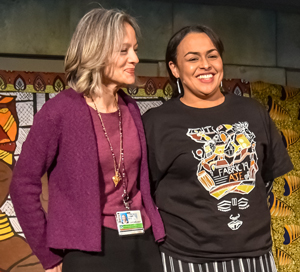 Each year at FABRIC, one faculty and one staff member are recognized for their dedication to nurturing diversity and shaping a culture of warmth and inclusion at HMS/HSDM. This year's recipients were:
Franceny Johnson, a customer service attendant 

in the Atrium Café, was recognized for her ability to develop unique relationships with the people around her, for her thoughtfulness and for the affection she displays for each student.

Dara Lee Lewis, HMS instructor in medicine at Brigham and Women's Hospital, was recognized for setting an example as a woman in a leadership position, being an accomplished physician and for showing love and kindness.
The show was dedicated to Alvin Poussaint, faculty associate dean for student affairs, who will be retiring this year.
Into the fold
"This event is held at Revisit Week to show students who are looking at Harvard that this is a place where they can feel at home. This is a place where they will belong," said Kavya Pathak, Holmes Society student and "Aje" co-executive producer.
"[A place] where they'll not only find people who share their identity but people who have completely different identities that they will then be able to get to know and experience," she added.
Dominick Falcon, an admitted HMS student, said it was incredible to see the HMS students come together as a community "to share not only the celebrations of their cultures but to be able to accept the struggles of their cultures as well."
FABRIC organizers also expressed their gratitude to the donors who supported this year's production. They noted that the event, hosted by the Student National Medical Association, is fully funded by donations from individuals and HMS-affiliated institutions.
"We're just overwhelmingly grateful to the generosity of the HMS community," said Pathak.
The show is a reflection of the strides being made toward more inclusion and diversity in medicine, particularly the work being done at HMS and HSDM by the faculty and students, said Pathak.
"I think there is a lot of good work being done and a lot of passion among our student body to really keep driving medicine forward, driving it to be more inclusive and more diverse, and more welcoming to people with different identities," said Pathak.
"Everyone has something else that they bring to the table, which betters our society and humankind in general," added Smith.
Images: Steve Lipofsky for HMS. Video: HMS