Shifren Named Vincent Trustees Professor
New title honors menopause research and reproductive health care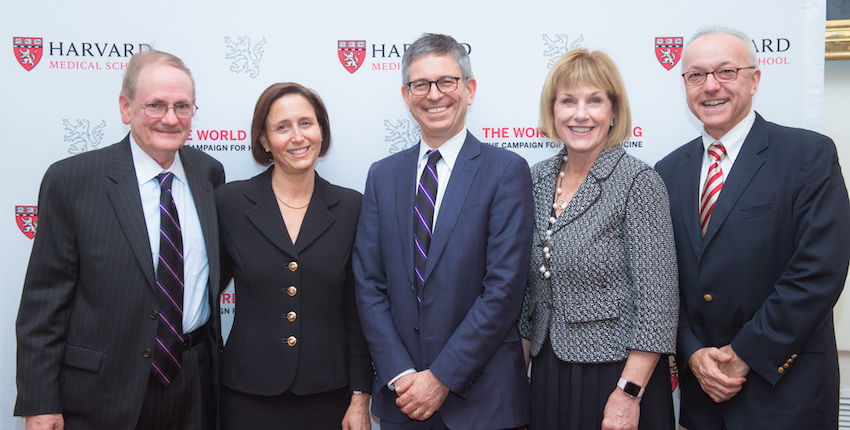 From left: Isaac Schiff and Jan Shifren stand with Jeffrey Ecker, Cathy Minehan and George Daley. Image: Gretchen Ertl
Family, friends and colleagues from Harvard Medical School and Massachusetts General Hospital gathered at HMS on Nov. 9 to celebrate the establishment of the Vincent Trustees Professorship in Obstetrics and Gynecology and the installation of reproductive endocrinologist Jan Shifren as the inaugural incumbent.
Shifren graduated from HMS in 1988 and joined the faculty in 1996. Her research focuses on menopause, including the effects of estrogens, androgens and alternative therapies on menopausal symptoms, mood and sexual function.
As director of the Midlife Women's Health Center at Mass General and a clinician at the MGH Fertility Center, Shifren also cares for women with infertility, recurrent pregnancy loss, premature ovarian insufficiency and concerns about menopause.
"Already a well-respected member of the professoriate, Dr. Shifren now holds the title of Vincent Trustees Professor of Obstetrics, Gynecology and Reproductive Biology—a title that further distinguishes her as a leader in the field of obstetrics and gynecology," said HMS Dean George Q. Daley at the event, held in the Waterhouse Room in Gordon Hall.
The professorship was made possible by Mass General. It will ultimately be named for Isaac Schiff, the Joe Vincent Meigs Distinguished Professor of Gynecology at HMS, a menopause specialist and longtime colleague and mentor of Shifren's. Schiff founded numerous obstetrics and gynecology programs at Mass General and has received HMS awards for mentorship and for the support and advancement of women faculty.
"We appreciate this opportunity to join together to recognize Dr. Shifren's achievements, to honor the generosity of MGH, and to celebrate the future of obstetrics and gynecology at HMS and MGH," said Daley.
Cathy Minehan, chair of the Mass General Board of Trustees, and Jeffrey Ecker, chief of obstetrics and gynecology at Mass General and the Joe Vincent Meigs Professor of Obstetrics, Gynecology and Reproductive Biology at HMS, also spoke at the event.