Sequist Receives Landry Family Professorship
Honor recognizes leadership in lung cancer research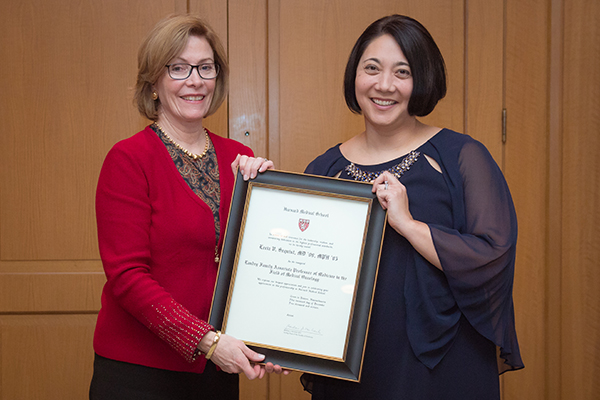 Lecia Sequist receives her professorship citation from Nancy Tarbell, HMS dean for academic and clinical affairs. Image: Gretchen Ertl
Family, friends and colleagues gathered to celebrate the installation of Harvard Medical School and Massachusetts General Hospital lung cancer specialist Lecia Sequist as the inaugural Landry Family Associate Professor of Medicine in the Field of Medical Oncology on Dec. 13 at the Four Seasons Hotel in Boston.
An alumna of HMS, Sequist directs the new Center for Innovation in Early Cancer Detection and practices medical oncology in the Center for Thoracic Cancers at the Mass General Cancer Center.
Sequist's research focuses on precision therapies for lung cancer, specifically for patients with epidermal growth factor receptor-activating mutations. She has led the development of several new lung cancer therapeutics and pioneered the use of tumor biopsies and liquid biopsies to understand drug resistance and the clonal evolution of cancer throughout the course of disease.
"She is a compassionate clinician, innovative researcher and dedicated teacher and mentor," said Nancy Tarbell, dean for academic and clinical affairs at HMS.
The professorship was made possible by the late C. Kevin Landry, his wife, Barrie Landry, and their family. Kevin Landry, a prominent Boston-area private equity investor and Harvard College alumnus who received the Harvard Medal in 2010 for extraordinary service to the University, passed away in 2013 from lung cancer.
The professorship was established "in appreciation for the quality of care and professionalism of the oncology team at Mass General." Barrie Landry, trustee of the Landry Family Foundation, attended the ceremony, along with the couple's children and other family members.
"We appreciate this opportunity to join together to recognize Dr. Sequist's achievements, to honor the Landry family's generosity and to celebrate the future of lung cancer treatment at HMS and Mass General," said Tarbell.