Scientists@Home
As most labs shift to remote work, HMS researchers find ways to keep the science going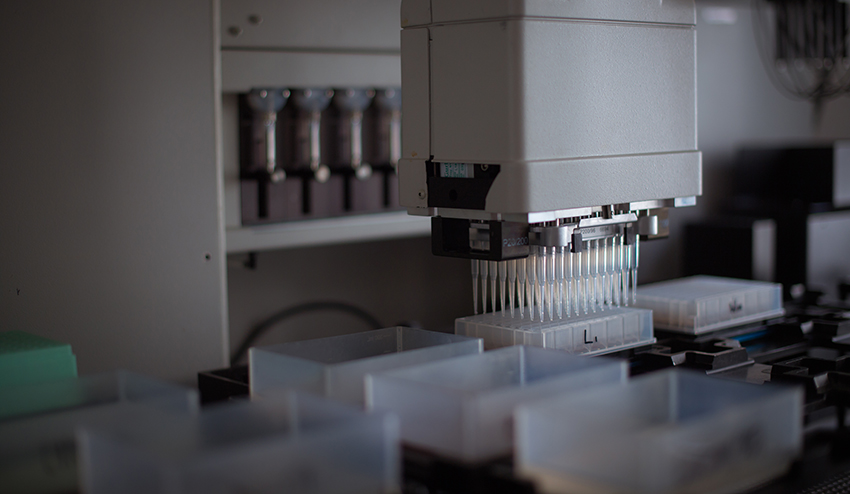 Dormant laboratory equipment on the HMS campus. File photo: Gretchen Ertl (2019)
This article is part of Harvard Medical School's continuing coverage of medicine, biomedical research, medical education and policy related to the SARS-CoV-2 pandemic and the disease COVID-19.
In mid-March, the threat of spreading COVID-19 prompted Harvard Medical School leadership to make a difficult call: shutter most on-campus activities and transition to remote work and learning.
As crucial as it is to the School's mission, research was no exception. While some scientists received special dispensation to conduct research directly related to COVID-19, most labs in the Blavatnik Institute at HMS ramped down their on-campus projects.
Since March 18, physical lab access has been restricted to a skeleton crew performing only the most essential tasks to keep critical materials viable, such as replenishing liquid nitrogen in freezers containing cell cultures. Experiments are on pause as faculty and trainees stay home to safeguard community health and help prevent health care facilities from being overwhelmed.
That doesn't mean work has stopped altogether. Researchers are putting their creativity to the test, finding ways to make the most of the unexpected hiatus. They're catching up on reading and writing, doing data analysis, hosting virtual meetings and journal clubs, planning future experiments and thinking about their fields in novel ways—often while juggling family responsibilities or dealing with social isolation.
Finding things to do has been easier for some than others, depending in part on the nature of each individual's work. There is one thing, however, that everyone agrees on: While they appreciate the need for physical distancing, people are eagerly anticipating the time when it's safe to go back to their labs.
Now that researchers are settling into work-from-home routines, Harvard Medicine News reached out to faculty members in each department on the HMS Quad to see how their groups are adjusting to the new normal.

---

Necessary sacrifice
"Generally I think we may be going through three phases.
First, some of us went through a phase asking, 'How can we help with COVID-19 research?' It is really hard as a trained scientist to sit on the sidelines when there is so much to be done. We all have great ideas on what to do. But it is also obvious that we can't all contribute. If we all try to get involved, we will be risking the health of our scientific workforce and diluting resources from the labs that will really make a difference. On our end, our lab space has been taken over by a neighboring lab that is developing COVID-19 diagnostic methods. They need our space because it allows lab members to maintain social distancing. It's honestly very hard for us to just stand aside, but it is probably the most valuable contribution we can make right now.
Second, we tried to figure out how to maintain momentum on existing projects by shifting focus to analysis, writing and planning. That's where we are now.
As time moves on, we will shift toward planning for the future by formulating projects and writing them into grant proposals that could guide us in the coming year. This will be a team effort.
Overall, it's inspiring to see how well the lab members have adapted and how they come together both as a scientific and social unit."
Allon Klein, associate professor of systems biology

"I'm fine working from home, writing papers and grants, but my postdocs are a little frustrated with the lockdown. But they understand that the school leaders are doing the right thing for the community. This is a nasty and elusive virus. I don't think the world will ever go back to normal before having an effective vaccine. I'm still hopeful because many of my colleagues across the country have already dived deep into vaccine research. Amid the political turmoil in our country, I feel very fortunate and safe being in the scientific community. If only the rest could be more rational and scientific, the world would be a lot better place."
James J. Chou, professor of biological chemistry and molecular pharmacology

Unexpected needs
"The biggest issue right now is that USCIS [United States Citizenship and Immigration Services] suspended premium processing of visas effective immediately without any previous notification due to the coronavirus. Without this service, the H1B visa for one of my postdocs won't be adjudicated in time for his May 8 deadline. He won't be able to work or get paid after this point. There is currently no resolution to this problem. He has been living in the U.S. for 9 years and has been a postdoctoral fellow in my lab for the past 3 years. At the moment, he has to go on unpaid leave starting May 8. There are many other scholars who are facing a similar situation, and their plight has not been getting a lot of press. I wish there were a solution to what is inherently a bureaucratic problem."
Sloan Devlin, assistant professor of biological chemistry and molecular pharmacology

"I think it's the right thing that we're doing. There has to be a dramatic solution. I feel strongly that we should stay home, and we may have to continue to do so for a while. Of course, for us as a lab, it's brutal. We had to shut down all experiments, and I expect it will take time until we're back up and running. I'm still junior faculty, but it's worse for my lab members than for me. They fear for their careers, that this hurts their advancing to the next step. That keeps me up at night: What do I have to do as a lab head to be prepared?
I think the best way to deal with it is to accept that this will delay our careers, and to be at peace with that rather than fight it. And instead think of ways to keep the delay from hurting us. I think the contribution I can make is to ensure that we are financially sustainable so when consequences hit a year from now—less productivity, fewer papers, harder to renew grants—we can afford the 'dry' phase and pay for an extra year for everybody. I'm not sure yet how I can achieve that."
Pascal Kaeser, associate professor of neurobiology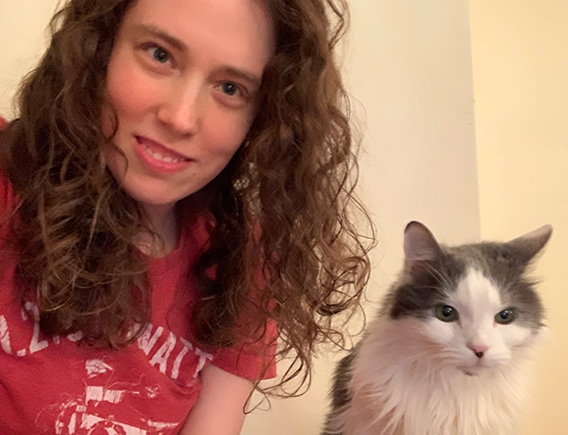 "One of my main professional priorities has been to make certain all of my students have what they need for their physical and mental wellbeing. Graduating PhD students also need support to finish their dissertations, so their research queries and chapter drafts rise to the top of my task list."
Sherri Rose, associate professor of health care policy, shown with cat Tobias

Work/life balance
"On a personal level, a challenge is learning how to juggle family work with being online in many meetings. At the same time, it is great to be able to spend much quality time with my wife and my kids, who are 4 and 7.
Just today I was directing a virtual neuroimmunology class, and my daughter came in three times to say 'Boo!' at the top of her lungs. Good thing I was muted. I've been using baby monitors to watch them."
Isaac Chiu, assistant professor of immunology

"Homeschooling has settled into a routine now. An exciting part about it is that I get to see what my 8-year-old is learning every day, and I can expand on that information in real time since I am around when he has specific questions. My lab is also getting to see him often now! He has come around and said hello more than once during my one-on-one Zoom meetings with lab members."
Monica Colaiácovo, professor of genetics

"Having meetings via Zoom has been better than expected. Probably too good. I was hoping to have fewer meetings than normal to have more time to focus on reading the literature and writing papers, but that hasn't happened.
The silver lining is I don't have the 45- to 60-minute commute to HMS, a combination of walking and the M2 [shuttle bus]. I therefore have a little more time for sleep and exercise in the morning. Although, now that it's been a month, I actually think I miss the M2. Not something I would have ever thought I'd say."
Tom Bernhardt, professor of microbiology

Alone, together
"A big challenge is for those of us with children at home, who now have a second full-time job to work on. Another challenge is for trainees living alone, for whom social isolation can be very hard."
Allon Klein, associate professor of systems biology

"We have a 4-year-old daughter, and for all the right reasons, the day cares are closed. My wife, who has a job in biotech, and I are taking care of her 24 hours a day while also working full time. We take shifts in the morning, afternoon and nighttime. It's hard, but also beautiful. This gives me an opportunity to spend every day for two to three months with my daughter and get to know her in a new way. She loves it; she's not bothered by not being able to go out. In a way, we'll look back on this time as an incredibly valuable family experience."
Pascal Kaeser, associate professor of neurobiology

When life hands you lemons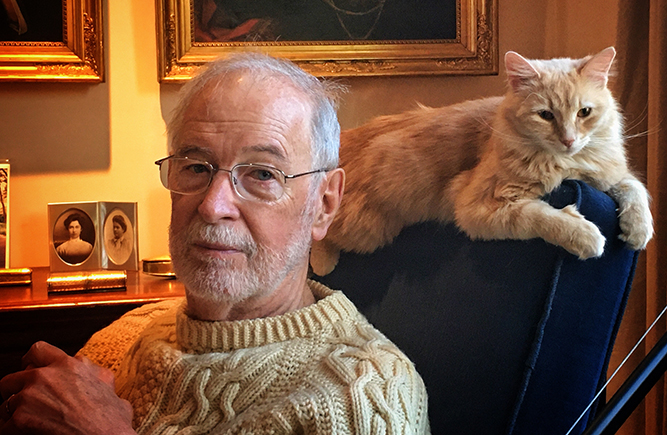 "Things are settling out, and at least for me it is an opportunity to begin working through a long reading list."
Jon Clardy, the Hsien Wu and Daisy Yen Wu Professor of Biological Chemistry and Molecular Pharmacology, pictured with "favorite cat" Ember

"Several lab members are making the most of this lull to take intensive online courses, which will no doubt empower them in the months and years to come."
Allon Klein, associate professor of systems biology

"This is a good opportunity to focus on writing review articles, grant applications and papers. Being part of the MassCPR working groups has also brought me in touch with colleagues across Boston I would not have interacted with in the past, including groups at Boston University."
Isaac Chiu, assistant professor of immunology

"The pandemic is going to push telehealth forward two decades. Instead of hospitals doing 10 to 30 appointments a day, they're doing thousands. It's showing us both that it's possible and that it's good for patients and families because they don't have to travel. It's also good for the environment. Which is why insurance companies should be incentivizing rather than disincentivizing telehealth.
Certainly no one would ever ask for this situation, but the pandemic also has shown the value of surgical capacity—something we've been trying to convince people is worth investing in as part of our work in global health. Any health care system needs surgery, obstetrics and anesthesia for their own sakes, but now we see also how you need them in pandemic times to take care of critically ill patients. You can pivot in a hospital and turn operating rooms, recovery rooms and pre-op holding areas into intensive care areas almost overnight. Those include ventilators, anesthesiologists, and surgeons, who by and large are trained in critical care. It's a convertible system you can flip into pandemic mode. That's been a huge revelation."
John Meara, the Steven C. and Carmella R. Kletjian Professor of Global Health and Social Medicine in the Field of Global Surgery
Differing workloads
"Everyone in the lab identified a main goal he or she would like to accomplish during this period. These include writing a thesis introductory chapter, paper or review; preparing for qualifying exams and fellowship applications; and analyzing data. One silver lining is the flexibility to work on whatever schedule we want. I personally experience some Zoom burnout (I find them more tiring than in-person meetings), so I try to reserve one day a week free of Zoom meetings for myself and to not overschedule meetings for the lab."
Sichen (Susan) Shao, assistant professor of cell biology

"As a PI, I have a good deal of work to do in the form of grant submissions and paper revisions. Members of my lab are trying to keep busy, but it's difficult. Fundamentally, they do work by performing wet-lab experiments. There are a few people who are able to write papers, but the majority had to stop their projects abruptly."
Sloan Devlin, assistant professor of biological chemistry and molecular pharmacology

"Curiously enough, computational biologists like us are seeing a marked increase in the workload. As one might've expected, our experimental collaborators (and we collaborate with a lot of groups!) have all decided to make progress on analysis of existing data, so we're peppered with requests and questions a lot more than usual.
A wet-lab postdoc working on a new genomics assay has his entire work paused, unfortunately. We're teaching him bioinformatics, but it's tough for him. He's from Italy, and being stranded here, far from his family and unable to really work, is not easy."
Peter Kharchenko, the Gilbert S. Omenn, MD '65, PhD Associate Professor of Biomedical Informatics

"Since my work is mostly computational, the lockdown has not been hugely impactful in terms of what work my lab is able to carry out. Our lab does rely on data from hospital systems, however, and there has been some delay in data access in part due to the substantial clinical needs of the hospitals."
Tianxi Cai, professor of biomedical informatics

"Before, I mostly talked with people, wrote and read, and I'm still doing that, except my whole life is now sitting in one desk chair for 14 hours. People in the lab have had a more challenging transition. It's really frustrating not to be able to do experiments, especially if things were going well. We continue to have journal clubs and lab meetings online, and many of them are starting to write papers even if the work is only half done. They can at least do a literature search and write the introduction and methods sections. It may actually help them plan experiments more efficiently when we do go back. Plus, some of the students, in doing more reading, have learned things they hadn't appreciated that will change the way they do research. That's quite useful."
David Corey, the Bertarelli Professor of Translational Medical Science

Virtual pros and cons
"I don't think any of us anticipated that we would be dealing with this situation, but people are incredibly resourceful and creative. My community (meiosis researchers) was supposed to have a research conference in early June. That has now been postponed to 2022, so instead, we organized a virtual 'Meiosis in Quarantine' meeting that started on April 2 and is happening every Thursday in a time slot that best accommodates researchers from Asia, Europe and the U.S. That has been extremely successful. It has now been extended through the end of July and has 1,143 registrants!
Many seminar series at HMS have gone virtual. In our department, we have virtual faculty meetings, chalk talks and data journal club meetings. Each Friday at noon, one student or postdoc presents and then remains in the meeting after the Q and A so they can get feedback from a group of faculty members. The goal is to help them present their work going forward, i.e., when they apply for postdoctoral or faculty positions.
I also got asked to do a virtual meeting to review NIH grants in June ... so life goes on."
Monica Colaiácovo, professor of genetics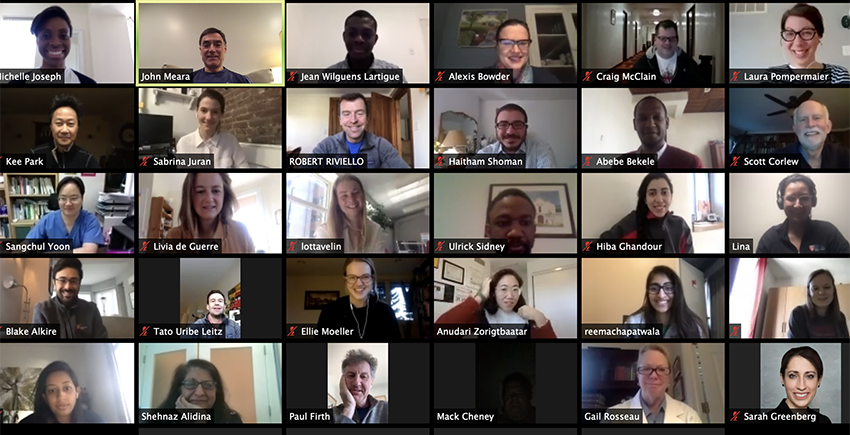 "We had probably half a dozen major global surgery meetings that were canceled, including events with the World Health Organization in Cairo and then Dubai, a meeting in Geneva, another one with what's called the East Mediterranean regional office of the WHO. That's been a real blow. We're trying to continue virtually, but certain things need to be done in person and telecommunication can only bridge so much of that. It's frustrating. I don't know that there's ever going to be a replacement for having a coffee with someone and discussing certain important issues."
John Meara, the Steven C. and Carmella R. Kletjian Professor of Global Health and Social Medicine in the Field of Global Surgery

"We do clinical, population research in close contact with colleagues around the world. We are accustomed to relying on remote discussions for much of our work, but we know that for important issues, we can get on a plane to work with our partners. Not being able to do this is doubly difficult right now. It's heartbreaking to witness the tremendous toll COVID-19 is taking in settings like Peru on the general population and health care workers, including our colleagues and patients, and to know that our colleagues are also saddled with ensuring that study participants are able to eat, stay safe and receive the best care possible for tuberculosis and other conditions amid facility shutdowns, total quarantines, curfews and other restrictions."
Carole Mitnick, associate professor of global health and social medicine

New ideas, for now or later
"This is a challenging time, especially for our older relatives, given the morbidity of COVID-19 in that population. I believe this might be an important area for aging research: How does the aging of the immune system result in such increased vulnerability? Aging increases vulnerability to many pathogens, but SARS-CoV-2 seems disproportionately bad for the aged."
Bruce Yankner, professor of genetics

"One of the new areas that was sparked by this crisis is interest in how [the new] coronavirus and related viruses could cause brain damage and neuroinflammation. There is evidence that COVID-19 patients could have neurological damage. This is an area I am actively interested in pursuing now, potentially a new avenue for my lab."
Isaac Chiu, assistant professor of immunology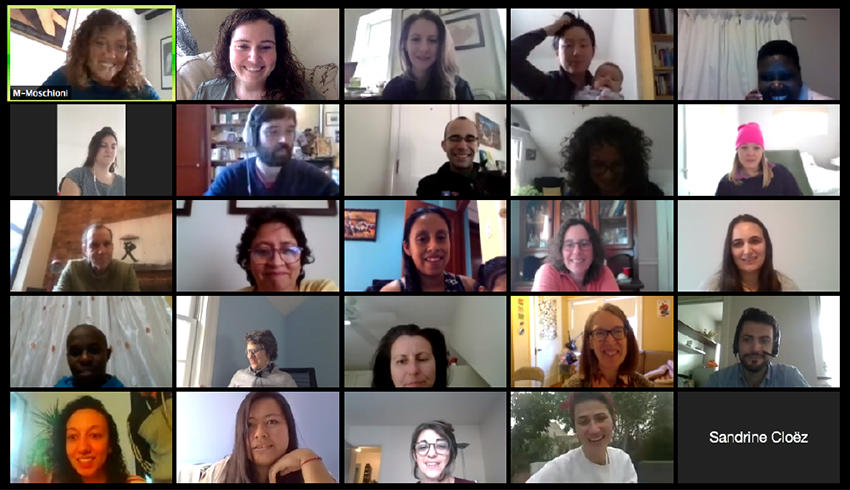 "Our team's attention is divided: some have moved to COVID-19-related activities, while others, myself included, are trying to make sure that tuberculosis and other conditions that disproportionately affect poor people don't get ignored in the presence of COVID-19.
My colleague, Molly Franke, and I are seeking support to study COVID-19 risks among, and provide additional support to, populations affected by TB. It is not an unreasonable hypothesis that SARS-CoV-2 is having devastating impacts on communities already decimated by pathogens that exploit crowded conditions, poor nutrition, multiple comorbidities and inadequate health care. This pandemic is bound to have disparate effects on such populations, and we have a moral imperative to understand and respond to these effects."
Carole Mitnick, associate professor of global health and social medicine

"The pandemic has implications not only for telehealth but for tele-education and scientific conferences too. We're putting together a research group at Boston Children's Hospital, trying to model the carbon footprint impact of switching to telehealth right now. It won't be easy, but there will be a way to say there were X thousand visits and that's X hundred thousand miles not driven and X million gallons of gasoline not burned. My suspicion is that when you start talking about not just Boston but all of the U.S., that could be a significant change—if we can keep that going [after the stay-at-home measures ease]. That'll be the issue: whether people fall back into old patterns."
John Meara, the Steven C. and Carmella R. Kletjian Professor of Global Health and Social Medicine in the Field of Global Surgery

"I've found that my expertise in observational health data, machine learning and causal inference can be valuable in contributing to interdisciplinary COVID-19 data science research. An ongoing collaboration of mine that predated the pandemic is on the generalizability of electronic health data for infectious disease research, which has new relevance with COVID-19. The lead on that work is my former postdoctoral fellow Maia Majumder, an infectious disease expert now on the faculty at HMS and Boston Children's Hospital. Fortunately, many of these projects can be performed remotely with team members all in separate locations."
Sherri Rose, associate professor of health care policy
Reserving time for fun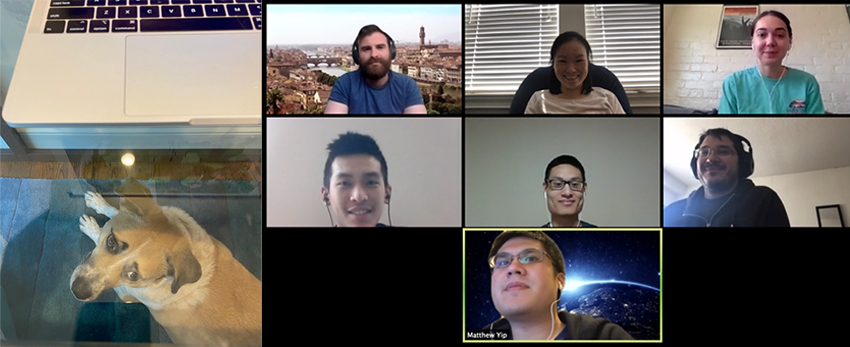 "Given the circumstances, our lab is staying pretty upbeat and optimistic. I'm lucky to have a wonderfully responsive and kind lab. They regularly communicate with one another, set up impromptu Zoom meetings to complete Sunday crossword puzzles together, and share pictures and stories of their cooking and baking creations or other hobbies. One student recently passed her PQE [preliminary qualifying exam] over Zoom, so we also all celebrated that."
Susan Shao, assistant professor of cell biology