Remembering Paul Farmer
Community gathers to celebrate life and light of doctor, leader, teacher, friend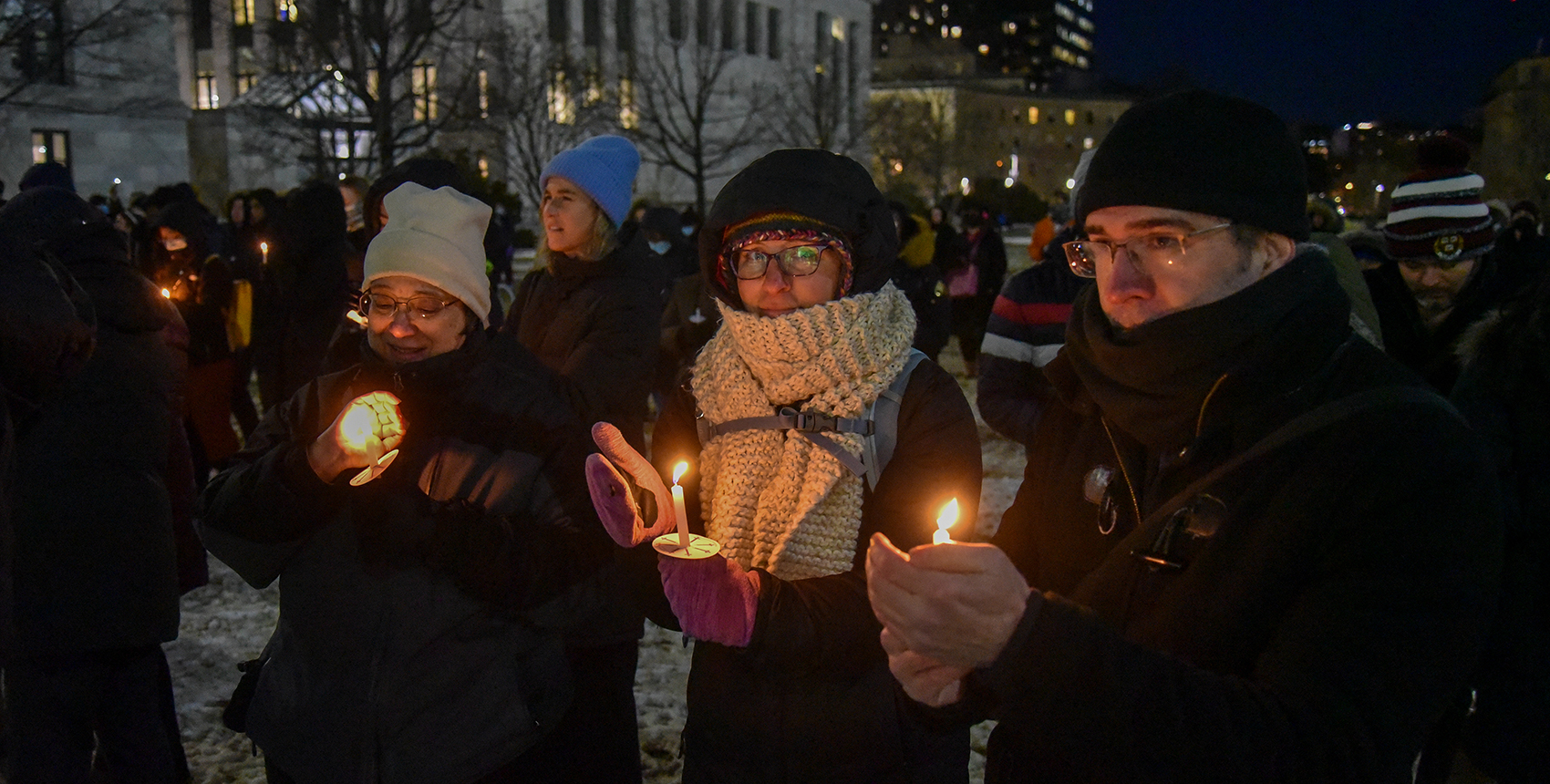 Members of the community lit candles in memory of Paul Farmer, Kolokotrones University Professor of Global Health and Social Medicine. Image: Steve Lipofsky
At sunset on the snow-covered quadrangle at Harvard Medical School, hundreds of mourners from across the Harvard community and HMS-affiliated hospitals braved the cold to remember and celebrate the life of Paul Farmer in a candlelight vigil.
The March 4 vigil honored the work of a pioneering global health physician and medical anthropologist who dedicated his life to improving and providing health care in some of the world's most underserved countries and communities. (Listen to audio of the vigil here.)
"Paul was, at his core, and to the very end, a doctor," HMS Dean George Q. Daley said in opening remarks. "His example will always be a reminder that a doctor's truest calling is to care for the sick and ailing. This is the reason that, for me, Paul represented the heart and soul of Harvard Medical School."
Chief strategist of the international health organization Partners In Health, Farmer died in his sleep of an acute cardiac event on Feb. 21, at the age of 62, in Rwanda.
In a reflection of Farmer's wide-ranging impact across the University, the vigil featured remarks and music from students, researchers, educators, doctors, nurses, pharmacists, and staff members from HMS, Harvard T.H. Chan School of Public Health, Harvard School of Dental Medicine, Brigham and Women's Hospital, Massachusetts General Hospital, and Partners In Health, which Farmer co-founded in 1987 when he was still an HMS student.
The Kolokotrones University Professor, Farmer was chair of the Department of Global Health and Social Medicine in the Blavatnik Institute at HMS, and chief of the Division of Global Health Equity at Brigham and Women's Hospital. He was also chancellor of the University of Global Health Equity (UGHE) in Rwanda, a model academic institution recently praised in the UNESCO Global Education Monitoring report.
Greatest of teachers
In his remarks, Daley said Farmer was a great teacher.
"It has been one of the extraordinary privileges of my life to learn from him about the process of building health equity, about how to fight for the survival and dignity of the most vulnerable patients and about what it means to aspire to provide the most expert and compassionate of care to everyone," Daley said.
Other speakers included leaders, students, and colleagues from many of the institutions and programs with whom Farmer worked, who shared their personal experiences with him, outlining the highlights of his career.
They described Farmer as an inspiring, visionary, and transformative leader, a caring physician, and a loyal and supportive friend, and they noted that Farmer would have been happy to see such an inclusive gathering of representatives from across the health care community, from clinical care and public health to research and education, from Harvard and from around the world.
Several speakers noted that Farmer emphasized throughout his career that the fields of public health and medicine, prevention and treatment, basic science and social science, should all be considered not as competitors, but as complementary facets of an integrated system, one united in the goal of improving the lives of all people.
They also emphasized that Farmer's sense of community should serve as an inspiration for all of those present to support one another and his family, and to rededicate themselves to carrying on his work.
Do the impossible
Farmer was remembered for achieving things previously assumed to be impossible. Colleagues said his history of caring for the poor began when Farmer and colleagues at PIH showed that it was possible to deliver complex, comprehensive care for people with HIV in extremely low-resourced settings in rural Haiti.
It was a feat repeated with other infectious diseases, including drug-resistant tuberculosis, cholera, and Ebola, and, more recently, with the creation of integrated health systems in resource-poor nations that provide surgical care and treatment for noncommunicable maladies, including cancer and the kinds of mental and physical trauma that occur in earthquakes and other natural and human-made disasters.
Farmer's successes in health care delivery innovation, buttressed in rigorous scientific studies and amplified by how nations and communities have been able to grow local capacity to deliver care, have been an inspiration to generations of caregivers, researchers, and educators, speakers said.
Michelle Williams, dean of the Harvard Chan School, attributed much of Farmer's success to his lifelong penchant for always questioning the conventional wisdom of what was considered possible in the field of public health.
"He ended up not just bucking conventional wisdom, but rewriting it," Williams said. "He made all of us see a new vision for public health, a beautiful vision with the power to change the world and to instruct us all in what was possible."
"Paul was a visionary leader who always reached for the moon and who had a way of making us believe that we could get there, too," said Louise Ivers, HMS professor of global health and social medicine and professor of medicine at Mass General.
One of the centerpieces of the evening was a candle-lighting ceremony. Strong winds extinguished many candles as soon as they were lit, but in a reflection of the kind of problem-solving, creativity, and determination that Farmer inspired, those gathered on the Quad worked together to find solutions.
Some repeatedly relit candles as quickly as they were extinguished, others gathered in tight-knit groups in communal attempts to block the wind, and still others used battery-powered candles they brought with them, while many others turned on the flashlights on their phones.
Growing health and hope
A number of the speakers mentioned Farmer's love of gardens, noting that he was a strong advocate for including flowers and gardens in the hospitals and clinics he helped build, often planting and watering flowers and trees himself.
Farmer believed that in addition to health care, all people had a right to dignity and beauty in their lives, and he found solace in the simple and hopeful act of planting and nurturing life.
"Paul was never content with just treating the illness; he wanted people to thrive," said Joe Rhatigan, associate professor of global health and social medicine and associate professor of medicine at Brigham and Women's.
"He wanted all of us to feel the glory of the flower within us."
Some observers pointed out the bright yellow flowers budding on the cornelian cherry trees on Longwood Avenue at the foot of the Quad, and others said they had seen daffodil greens emerging from the snow and ice earlier in the day, noting that Farmer would have appreciated these symbols of resilience and renewal.
"Paul exuded joy and light, light that we all float upon," Joia Mukherjee, HMS associate professor of global health and social medicine and chief medical officer of PIH said in her closing remarks. "Give light and people will find a way. I know his light will stay with us and we will find a way."
Inspiring generations
Josh Ellis, an HMS medical student and a student in the HMS master's program in global health delivery, said that he was inspired to learn not just from Farmer but from the incredibly diverse community of students that have been attracted to the global health delivery program that Farmer developed.
The program unites students from dozens of countries with a broad range of skills related to health care delivery, from clinical care and research to logistics and administration.
Remy Pacifique, a pharmacy lead for PIH in Liberia and a student in the program said in his remarks that he was inspired to pursue a career in global health as a high school student, when Farmer and PIH opened a community health clinic in his neighborhood.
Clifford Tabin, the HMS George Jacob and Jacqueline Hazel Leder Professor of Genetics and head of the Department of Genetics in the Blavatnik Institute at HMS, represented the heads of the School's preclinical departments.
Tabin said Farmer pushed HMS faculty leaders to go as deep as possible in support of their priorities, just as Farmer did in pursuit of health care for the poorest of the world.
Songs to lift the spirits
To celebrate Farmer's zest for life and joyous nature, music was featured in the program, coordinated by Lisa Wong, associate co-director of the HMS Arts and Humanities Initiative and assistant professor of medicine, part-time, at Mass General.
While candles were lit, Mukherjee and Christina Lively, senior education coordinator for the master of medical sciences in global health delivery program, performed "Amazing Grace" and Martha Vedrine, admissions and recruitment coordinator at HSDM, performed the Haitian hymn Chè Ségnè, Kinbin Min-m.
Known in English as "Precious Lord," the song's Creole title translates as "Dear Lord, hold my hand," and the song was performed as a paean to the kind of deeply personal, deeply empathetic medical care and accompaniment that Farmer seeded around the world.
Lively also performed an original composition of her own, "Mountains Beyond Mountains," that celebrated Farmer's message of equity and justice.
A string quartet featuring Wong and three students from the HMS Chamber Music Society and Longwood Symphony Orchestra performed "Air," by J.S. Bach. A chorus organized for the event by third-year medical student Adetomiwa Owoseni performed "Soon and Very Soon" and "This Little Light of Mine." Boston-area musician and educator Dennis Slaughter accompanied the singers on keyboard.
In a particularly poignant remembrance, Wilfredo Matias, a former resident in the Brigham and Women's Division of Global Health Equity, said Farmer affectionately referred to his trainees as his retirement plan, his protégés, and his children.
When Matias learned he had been chosen for a Mass General Brigham infectious disease fellowship, he shared the good news with Farmer, telling him he was proud to be following in his mentor's footsteps.
Matias recalled that Farmer told him, "Your footsteps will be bigger than mine. That's how we want it."
That ability to inspire others, to bring together many groups to work together on common goals and to share his light, was seen as one of Farmer's greatest gifts, which those at the vigil were exhorted to carry on in his name.
"Paul is still working through us, and likely will always do so," Wong said.
A memorial service for Farmer will be livestreamed for the public by Partners In Health on Saturday, March 12, from 10 a.m. to noon Eastern time.