Real Vows, Virtual Wedding
Graduating HMS students hold marriage ceremony in midst of COVID-19 pandemic
It was an April wedding unlike anything they had ever imagined.
Instead of a large affair at a hotel outside Boston, surrounded by scores of family and friends, it was just the two graduating Harvard Medical School students, bride and groom, linked to more than 200 of their loved ones by a lone computer in a Harvard Business School lounge.
She wore a white dress sent by her mother and carried a bouquet she made herself. He wore a crisp charcoal gray suit with a matching boutonniere. Only three HMS classmates, who they've been sharing housing with in an HBS dorm, were there to witness and photograph their simple Baha'i ceremony.
Given the dangerous pandemic threatening the world right now, Parisa Fallah and Gavin Ovsak wouldn't have had it any other way.
"I think it was an opportunity to give people something to smile about. Many of our friends shared that this was a bright spot during the challenging times we are facing," said Fallah during a recent teleconference interview with Ovsak from their HBS dorm.
Of course, there were more complicated reasons the couple held their wedding virtually more than a month before it was originally scheduled. Both are starting their residencies in June, Fallah in obstetrics/gynecology at Brigham and Women's Hospital and Massachusetts General Hospital, and Ovsak in anesthesiology at Brigham and Women's. But when the coronavirus pandemic hit, all of their plans were suddenly upended.
"We didn't know what would happen. Are we going to be graduating early? Are we going to be working in the hospitals soon? What if someone in our family becomes sick," said Fallah. "There were many existential questions that were coming up, and because we were certain about wanting to spend our lives together, we thought 'We can't wait to get married, because we just don't know what's going to happen.'"
So, the pair were married April 11, four years to the day that they'd first met at the annual HMS Revisit weekend. Fallah was an accepted student taking her second look at the school, and Ovsak, who will be graduating this month with an MD/MBA degree, was a first-year student helping out with events.
"I was in the first year of the Pathways curriculum," said Ovsak. "No one had ever done it before, and so we were the first class to be able to share what it was like."
Neither was immediately smitten, they said, but there was a strong connection. They knew they would become good friends. Over the ensuing months they saw each other frequently at school events and around Vanderbilt Hall where they later became resident assistants (RA's).
"I just saw Gavin a lot around Vanderbilt Hall and at all the RA events that were being hosted, and every time I talked to him, I thought, 'Wow, just what a lovely person.' I was so amazed by how kindly he treated other people. Slowly, over time, I realized, 'I'd really like to date someone like Gavin,' which eventually led to, 'I'd really like to date Gavin himself!'" said Fallah.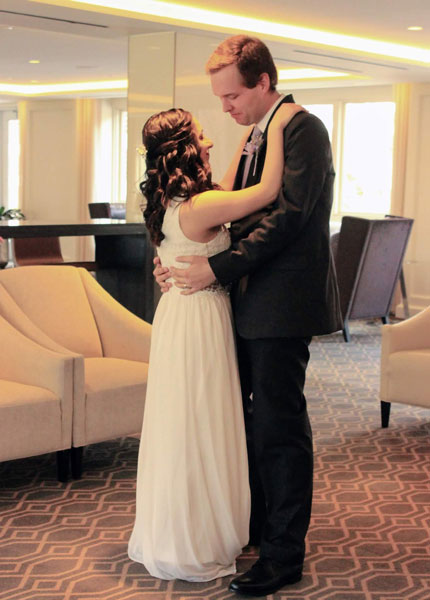 But Ovsak, who graduated from Duke University with a double major in biomedical engineering and computer science, had a long-term girlfriend. Fallah, who'd earned her undergrad degree in biology and sociology at the University of Texas in Austin, decided, reluctantly, that they could never be much more than friends.
Several months into the school year, however, Ovsak's relationship ended. He wryly recalls that he was "a clueless man," when it came to realizing Fallah might be interested in him. The pair began to get together for increasingly more frequent study sessions, Ovsak juggling his PCE year on the wards and Fallah consumed with the national Global Surgery Student Alliance, an organization she was instrumental in founding during her first year at HMS. Over time, the relationship deepened.
"We would often talk about our values and what we wanted to do in the world," Ovsak said. "It was just so fun. I have my own interests in changing the world through technology, so we just bonded over how we care about making an impact."
By Christmas of that first year, the friendship began to blossom into something more, and by Valentine's Day, they decided to date more formally. Ovsak prepared a spaghetti dinner for Fallah, just to "prove I could cook food if I wanted to," an inside joke from their many conversations together. Still, they proceeded slowly.
"I really got to appreciate the kind of person he was and what kind of a future partner he would be," said Fallah. "In my heart I knew that this was the person I wanted to spend the rest of my life with."
About a year after first meeting, both accepted that their futures would be entwined. Early in 2019, Ovsak decided to join Fallah's Baha'i faith, a personal choice he'd made after a period of independent investigation.
A few months later, they became engaged. Ovsak surprised Fallah by proposing in a Vanderbilt Hall student lounge where the two had spent many hours together, with a fellow student playing cello to accompany the marriage proposal. They celebrated afterward with dinner at a North End Italian restaurant and an engagement party with fellow students a few days later.
A wedding and a pandemic
By March of 2020, the wedding date had been set and the hotel venue reserved, and family in both Minnesota and Texas had made travel reservations. But when the coronavirus pandemic hit, HMS emptied its classrooms and labs and moved students out of Vanderbilt Hall. Fallah and Ovsak were hurriedly transferred into alternate housing at HBS. They began to realize that there would be no May wedding attended by their family and friends. Their parents would not be able to witness their vows.
"I don't think we became too sad about it. We realized the most important thing was getting married and not the wedding itself. It was something we had been waiting for for quite some time," said Fallah.
"But there was a moment when I looked at a picture of myself in my wedding dress, and I realized that I wouldn't ever get to walk down the aisle in this beautiful dress that I was so excited for him to see," she said. "But I think once you have that moment of being sad for just a little bit, you remember that the whole world is going through this, and it's not just you. Many people are going through much worse, and it becomes easier to say, it is what it is."
Some tense days followed as the couple scrambled to get a marriage license from Boston City Hall before the pandemic closed municipal offices. Once that was in hand, they sent mass emails to family and friends informing them the May wedding was canceled and inviting them all to a virtual ceremony only five days later.
David Bozzi, director of teaching and learning technologies in the HMS Information Technology office, helped facilitate the online ceremony, which was shared with HMS deans, faculty, family and friends as far away as Japan, Italy and Iran, where Fallah's grandparents watched the ceremony through her aunt's WhatsApp account.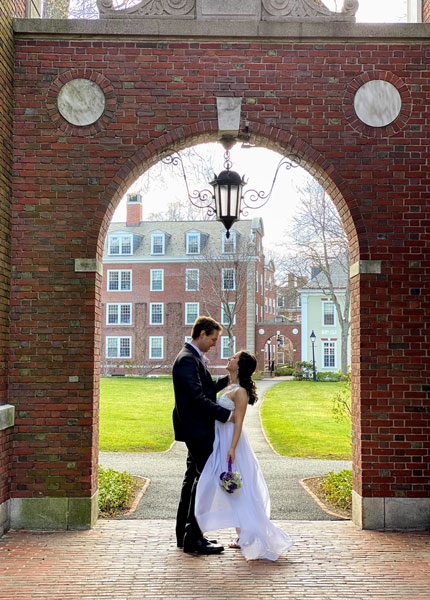 Because Baha'i weddings don't have many requirements, they said, there was no need for an officiant. They only had to have their civil marriage license, a Baha'i marriage certificate and two witnesses. They invited close friends to read special writings and say prayers from the Baha'i and Christian faiths. At one point during the program, Fallah and Ovsak sang a Baha'i prayer for marriage together while Fallah accompanied them on guitar. Both sets of parents and siblings gave speeches about the newly married couple. The pair even had a first dance after exchanging personal vows, swaying to "Let's See What the Night Can Do," by Jason Mraz.
For their parents, Fallah and Ovsak acknowledge, it was bittersweet. Both are first-born children in their families, and this would have been a first wedding for both sets of parents.
"They didn't get to be there in person, but I think they understood the urgency of the situation that was unfolding and the uncertainty that was in place. I also think the Zoom wedding allowed them to really feel like they were there and that they got to be a special part of it. I think we're very lucky," said Fallah.
She added, "When you have your heart set on something happening, it's hard to have to keep waiting. I think it's just a lot about adaptability and thinking about what's most important in the moment and being grateful for the few victories that you have during this difficult time."
For now, in the few remaining days before graduation, the couple will focus on moving their belongings out of Vanderbilt Hall to a new apartment in the Longwood Medical Area and on preparations for the next phase of their lives together in the Boston hospitals starting in June. They realize they are joining the profession at an important moment in medical history.
"I don't think coronavirus is going away for a very long time," said Fallah, "and while there is a lot of uncertainty, we are both very excited to be in the hospital soon and to help people. It's a special privilege to be able to contribute in some way—and also to start learning again."
Read profiles of graduating students and get details on graduation here.