Puerto Rico after Maria
Harvard doctor on providing critical health care in Puerto Rico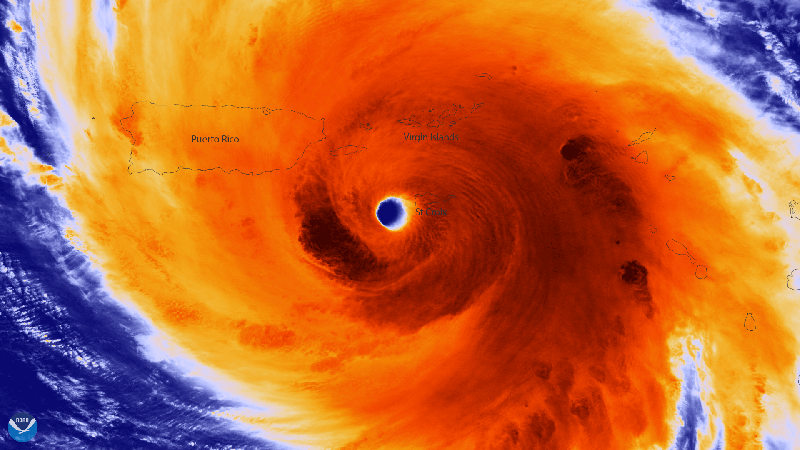 In this colorized infrared image from the NOAA/NASA Suomi NPP satellite, taken on September 20, the well-defined eye of Hurricane Maria can be seen approximately three hours before the storm made landfall in Puerto Rico as a Category 4 hurricane, with maximum sustained winds of around 150 mph. Image:  NOAA/NASA

Michael Charness, Chief of Staff of the VA Boston Healthcare System and HMS Professor of Neurology, recently spent two weeks deployed in Puerto Rico with other VA colleagues, all working together with a Health and Human Services Disaster Medical Assistance Team (DMAT) to provide critical health care services in the wake of the devastation left behind when Hurricane Maria struck on Sept. 20.
Charness talked to Harvard Medicine News about his experience in the immediate aftermath of the destructive storm, and about the challenges for health care that Puerto Rico now faces going forward. Charness is also faculty associate dean for Veterans Hospital Programs at HMS and professor of neurology and associate dean at Boston University School of Medicine.
HMN: What was your mission in Puerto Rico?
MC: We had the privilege of serving our fellow citizens at the Manati Federal Medical Station in the north central region of Puerto Rico. Like the rest of Puerto Rico, Manati and its environs were devastated by the one-two punch of Hurricanes Irma and Maria. Our mission was to provide emergency care and chronic medical care for Puerto Ricans with chronic medical conditions who could no longer survive in their communities. We were also tasked with sending teams into hill communities to assess their need for food, water and medical care.
HMN: What was the situation on the ground?
MC: Many homes in Puerto Rico were destroyed or severely damaged, some roads remain impassable, electrical power is unavailable across most of the island, food, potable water and basic amenities are scarce, and communication by phone, text, or email is difficult or impossible.
In addition to the immediate need for food, water, shelter and communication, this situation has profound implications for the health and wellbeing of 3.4 million of our fellow Americans. Diabetes and hypertension are highly prevalent in Puerto Rico and are readily treatable with medication. But what if you can't reach your doctor to prescribe a medication because the phones don't work? What if you can't fill a prescription, because you're not receiving your paycheck, the ATMs aren't functional and you can't afford your prescription co-pay? What if you do obtain your insulin, but you can't keep it cold, because refrigeration requires electricity and you don't own a generator?
HMN: What are the long-term consequences of that lack of infrastructure?
MC: As the days and weeks pass without the restoration of electrical service and communications, Puerto Ricans are running out of medications for myriad treatable conditions. Over time, the population burden of preventable illness, including the long-term complications of diseases such as diabetes and hypertension — blindness, neuropathy, kidney failure, heart attack, and stroke – will increase. While we were there, in the very early days of this crisis, we were already seeing the harbingers of this looming health care crisis - systolic blood pressures above 250 and blood sugars above 500 in patients who simply ran out of medication. The impact of this catastrophe on the health of Puerto Ricans will be felt for years.
HMN: What kind of care do people with these chronic illnesses need?
MC: Many people require home health services to stay alive. Home ventilators and oxygen concentrators require electricity. Patients dependent on tube feedings require a reliable source of specialized food and medical equipment. Patients with end stage kidney disease require regular dialysis. How will these services be provided? In the face of a collapsed infrastructure, public health agencies in Puerto Rico have been stretched thin in their attempts to meet these needs.
Finally, because there is no power, most hospitals in Puerto Rico remain in service only with the electricity generated by diesel generators. Fuel delivery remains erratic, and generators that were never meant to operate for more than a few days have been running, sometimes continuously, for weeks. Not surprisingly, generators fail sporadically, abruptly removing entire hospitals from the health care grid and leaving acutely ill patients with limited options until fuel can be delivered or repairs can be completed.
HMN: So, what kind of help were you able to provide?
MC: The Federal Medical Station where we were based was established at an indoor sports arena centrally located in Manati. There, under the aegis of the U.S. Department of Health and Human Services, VA employees and Disaster Medical Assistance Teams are providing acute and long-term care for patients with medical conditions that can no longer be managed at home, because there is no electricity and sometimes no home. Our services are free. We have rewritten hundreds of prescriptions that could be filled at selected pharmacies without co-payment, courtesy of FEMA. We have provided a temporary medical shelter for patients with home ventilators and oxygen concentrators, feeding tubes, and complex home-care needs, saving many from certain death. And we augment the hospital system when hospital generators fail and patients need to touch down quickly at a different location. When care needs exceed our capacity, we work with local hospitals to find suitable dispositions. For example, while we were there, several patients were transferred to the USNS Comfort, one of the Navy's top-of-the-line hospital ships that has been deployed to Puerto Rico to supplement the kind of care we're able to provide on the ground.
HMN: How do you coordinate all this with the community when the communications system is all down?
MC: Even though we had established services at a prominent location in Manati, the communications blackout meant that our activities were unknown, even to the local community. We sent health care teams to the long queues in front of banks, restaurants and stores to conduct health screens and to announce our presence. We sent strike teams to more isolated hill communities to survey their health needs. Over a week's time, our patient visits increased from just a few to nearly 200 every day.
HMN: What were the working conditions like?
MC: We were forewarned that conditions would be austere. When we arrived in Manati, the arena was more than 100 degrees, there was no running water, and generator power was ephemeral. To cool the patient care area, we opened doors and windows, an invitation to flies, mosquitoes, and other local fauna. Through the ingenuity of the DMAT, air conditioning was established and running water became a more regular pleasure, allowing staff to flush toilets and enjoy the respite of a cold shower (a Puerto Rican cold shower is warmer than a Boston cold shower). Staff split into 12-hour day and night shifts. We slept in sleeping bags on cots in a large co-ed room with 70 other staff, lulled by the ostinato drone of snoring and the tossing and turning of restless, weary bodies. We ate MREs, the meals ready to eat staple of our military colleagues, and occasional local fare. Through meticulous hand hygiene and vigilance, no one developed food borne illness, and there were no injuries. While staff noted the austerity of our conditions, a striking contrast to our daily lives, we were all acutely aware that our patients were living with much less, and they never complained. And unlike the veterans whom we serve, our tour was just two weeks and no one was shooting at us.
HMN: What's your number one takeaway from this experience?
MC: The people of Puerto Rico were our inspiration. Patients arrived telling extraordinary and harrowing stories: the elderly woman who breathed into the tracheal tube of her husband throughout the night of Maria's rampage when his home ventilator lost power; the elderly women who floated her elderly husband with Alzheimer's disease above her shoulders as their home washed away. The home care patients who arrived at our facility had received meticulous care by their family members. We provided electricity and they did much of the rest. The devotion of Puerto Ricans to family and community was striking. Many individuals who had lost homes would not leave their villages and families to seek shelter or care elsewhere. With school canceled, our arena was filled with bright, engaged student volunteers who worked as our translators by day and returned home to darkness. At every interaction, patients, families and government officials expressed their deepest, most heart-felt appreciation for the assistance that we provided.
We arrived to a disaster expecting despair and resignation. Instead, we found faith, hope and gratitude. On our last day, a "parrado" of volunteers filled our facility with blaring music and songs of joy, moving many of us to tears. So many Puerto Ricans who had so little had lost everything. That people so ravaged by this catastrophe could summon such optimism gives hope that, with the right help, Puerto Rico will recover.