Primary Care Moves Up
HMS 8th nationwide in US News ranking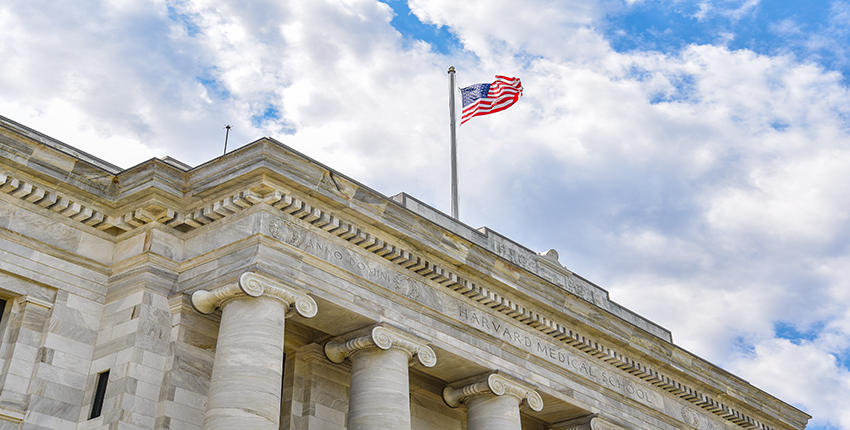 The 2022 U.S. News and World Report ranking for U.S. medical schools lists Harvard Medical School at No. 1 in research, with its primary care program rising to No. 8, up from last year's position at No. 10.
This marks the second consecutive year that HMS has ranked as a top 10 medical school for primary care education.
Primary care is patient- and community-centered medicine and includes family medicine, internal medicine, nursing, pediatrics, OB/GYN, and behavioral health professionals on the frontlines of health care. Primary care serves as the foundation of all medical care—both care delivered and care averted.
"Harvard has made substantial gains in primary care education and research over the past decade, and I am proud to see that progress reflected in the improvement in our national ranking," said Russ Phillips, director of the Center for Primary Care at HMS.
The center, launched in 2010, is composed of students, staff, and faculty who collaborate to build a strong primary care presence among local, national, and international communities. The mission of the center is to build a community at Harvard that promotes primary care equity, resilience, and value.
The center's portfolio focuses on educating and training the future primary care workforce, practice redesign, leadership training for current care providers, innovation and entrepreneurship in primary care, research, and global applications of primary care and social change.
"Our primary care practices are advanced and innovative, and the Center for Primary Care has assisted in that transformation," said Phillips.
"Our research program demonstrates both the value of primary care and the importance of moving to prospective global payment to encourage further movement forward. Our educational programs in primary care, entrepreneurship, leadership, and care transformation are preparing our students for outstanding careers as clinicians and leaders. And most importantly, we attract and support outstanding student leaders who are passionate about a future career in primary care," he added.
Like all HMS departments, the center has had to make substantial adjustments over the past year to continue research and training remotely during the pandemic.
From a shift to fully remote work for center staff, the conversion of all in-person classes, and virtual and longitudinal models the center has pivoted its models and areas of focus significantly to meet the urgent needs of patients, trainees, and clinicians in the primary care community.
The changing primary care landscape
The COVID-19 pandemic has had an enormous impact on primary care in the U.S., with primary care practices serving as the first line of defense against the coronavirus.
Practices have had to adapt to handle increased patient testing, hospital referrals, and symptom management, all while rapidly transitioning to telehealth or hybrid models of care.
According to the U.S. Centers for Disease Control and Prevention, or CDC, there was a 154 percent increase in telehealth visits during the last week of March 2020 compared to the same period in March 2019.
Despite the contention that telehealth may be a temporary side effect of the pandemic, leaders of Firefly Health, which has developed an innovative approach to primary care that grew out of work at the center, said that "virtual primary care" is the future, where patients can get access to personalized care teams any time.
Andrew Ellner, co-founder and chief clinical officer of Firefly Health and former co-director of the center, is leveraging the organization's technology to simultaneously meet individual patient needs while redesigning health delivery systems for entire populations.
The Center for Primary Care's student arm, the Student Leadership Committee, also reflected on the rise of telehealth during the pandemic, hosting a two-part panel series, "Lessons from Telemedicine," in May 2020, one focusing on research and innovation, the other on access and equity.
The students invited primary care physicians to discuss history, health care policy, entrepreneurship, rural and community health, equity, and quality improvement as these relate to the promises, challenges, and future of telemedicine.
HMS is also expanding its curriculum to integrate telemedicine skills. Faculty have already begun integrating telemedicine into their teaching, including in the Primary Care Clerkship.
Beyond telehealth, some primary care practices, such as Cambridge Health Alliance, showed agility in the face of the pandemic, quickly adjusting how they delivered comprehensive primary care when infections were on the rise.
Like many other primary care practices, CHA developed a respiratory clinic to provide safe, comprehensive, and patient-centered care during the initial COVID-19 surge in Massachusetts. Creating a respiratory clinic was a way to provide both urgent and ongoing primary care to patients with known or suspected COVID-19, in a way that was accessible for patients of all ages and conditions to receive medical care, whether they had tested positive or negative for COVID-19.
While CHA's response to navigating the pandemic showcased an aspirational response to the disease, the pandemic has also exposed many critical inadequacies and inequities in the U.S. health care system.
At the start of the pandemic, statistics showed that primary care visits plummeted, forcing many smaller practices to close. Although telehealth and the lifting of stay-at-home orders helped, the pandemic cast a harsh light on the reality that the U.S. is not investing in primary care as it should.
Even now, 13 months after the World Health Organization acknowledged the global pandemic, primary care still has critical roles to play in vaccine distribution, treatment oversight, contact tracing management, long-term COVID-19 symptom treatment, and handling the backlog of routine health visits for longitudinal patient care.
In response to the pandemic, the center has not only shifted many of its in-person programs to virtual offerings, but it has created completely new educational programs in response to the urgent needs of the primary care community.
The center's Primary Care in COVID webinar series, created as part of the dissemination plan for a report due in May 2021, covered the diverse and innovative ways primary care has been forced to shift in order to support patients and communities during the pandemic.
The COVID-19 Experiences from the Front Lines: The Global Primary Healthcare Response series explored solutions applied in real time across the globe and discussed how they might be scaled to support future models.
And the center's current Sprint to Accelerate Vaccination Equitably (SAVE) in Community and Rural Health is engaging primary care practices in creating solutions to increase the pace of the COVID-19 vaccine rollout, with a focus on developing robust strategies and partnerships to ensure the maximum equitable immunization of staff members and patients.
Primary care in the community
The center is tackling equity and access in care directly by engaging in research and training around social justice, advocacy, policy, social determinants of health, racism, health equity, and community health.
Institutions that value the connection between primary care and vulnerable patient communities often attract competitive students, according to the center.
LaShyra Nolen, a second-year HMS student, said that, for her, "when deciding on where to attend medical school, finding an institution that valued social justice was imperative to my decision-making process. I see primary care as an essential component of medicine that seeks to promote equity, access, and care for our most vulnerable patients."
Nolen has taken additional steps to empower patient communities by working to provide accurate and trusted health care information by launching We Got Us, a Boston-based collective of Black community members dedicated to empowering communities and promoting public health. Nolen is the founder and executive director.
Other HMS students, like Nolen, are seeking more exposure to community-based organizations as part of their medical education. To further this commitment, the center has partnered with the HMS Program in Medical Education to launch an Office for Community-Centered Medical Education in Fall 2021.
The HMS Program in Medical Education and the Center for Primary Care recognize the vital and integral roles local community-based organizations have in promoting and ensuring health access and equity through their efforts to dismantle structural racism and address the social determinants of health.
Through engagement of HMS medical students and faculty, HMS aspires to meaningfully partner with community-based organizations in these important efforts.
In practice, the Center for Primary Care has always engaged in community-centered work and is now expanding that work and building new relationships.
The U.S. Health Resources and Services Administration-funded Advancing Teams in Community Health program has engaged with 44 Massachusetts-based community health centers to create a strong and sustainable foundation for the medical home model of care in medically underserved communities.
The center's Interprofessional Student Hotspotting Team engages students across the health professions in solving complex medical and social problems using a patient-centered approach.
The center's Student Leadership Committee students have created a curriculum to equip medical and allied health students with the knowledge and skills needed to address the social determinants of health, and to build unique relationships with community-based organizations, supporting patients and providers in a number of innovative ways, such as providing technology and translation support to patients transitioning to telehealth and providing online nutrition tutorials for children.
What's next for the HMS Center for Primary Care?
The HMS Center for Primary Care has recently undergone a comprehensive strategic planning process. As part of this process, the center has developed an updated vision to save and improve lives through primary care for all, with a corresponding mission to foster a dynamic community at HMS dedicated to promoting and supporting primary care resilience, equity, and value in order to improve health and well-being.
Informed by the core values of social justice, innovation, advocacy, collaboration, discovery, and sustainability, the center will cultivate new partnerships with patients, trainees, clinicians, researchers, and community members in the primary care community for collaboration and co-creation.
"As we look to the future, the Center for Primary Care will continue to strengthen education, leadership, and advocacy among students and trainees at Harvard Medical School, with a specific focus on community-centered medical education," said Sara Fazio, HMS professor of medicine and advisory dean and director of the HMS student academic Cannon Society.
"The need for equitable access to high quality health care and a renewed focus on the social determinants of health will be a driving force of the center's work, in addition to continued efforts in advancing innovation and discovery," she said. "The importance of this next phase of work in training and attracting a talented and diverse group of future leaders in primary care cannot be underestimated, and the center is well-prepared to meet this challenge."