Primary Care Evolution
HMS center conference to draw hundreds exploring crisis, solutions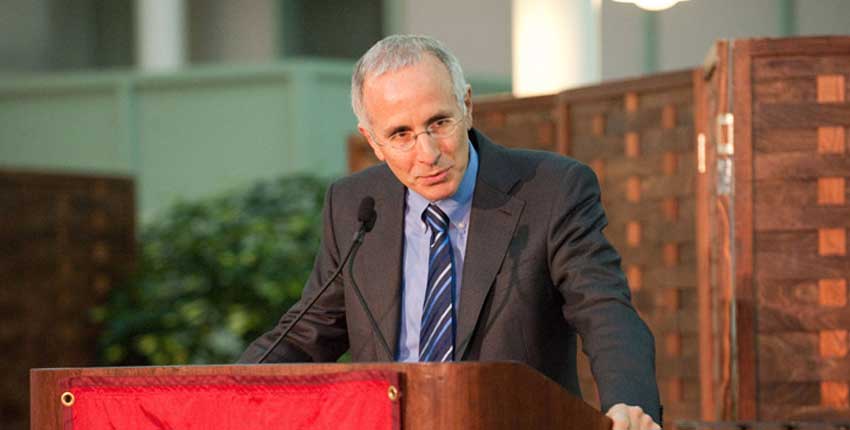 Russell Phillips, director of the Center for Primary Care
This October marks 10 years since the Harvard Medical School community created a petition and task force that led to the creation of the School's Center for Primary Care. Since the creation of that first task force, the center has carved a path for change in the field through education, research, systems transformation and innovation.
"We are fighting to promote primary care and to reinvent it in ways that advance value in health care and improve patients' experiences," said Russell Phillips, director of the center and the William Applebaum Professor of Medicine as well as a primary care physician at Beth Israel Deaconess Medical Center.
Phillips, along with a team of more than 50 staff and faculty, continues to execute on the promises made nine years ago.
To date, the center has launched dozens of programs aimed at educating students, leaders and interprofessionals and has published novel research on primary care. In the past six years alone, the center has produced 17 original research cases and 42 peer-reviewed publications. It has educated more than 150 health care entrepreneurs from 38 different countries, trained more than 300 local and international primary care leaders and connected with nearly a half-million patients through its practice-improvement collaboratives.
Primary care crisis
Primary care is recognized internationally as central to health care, and strong primary care is associated with better population health, improved patient outcomes, increased lifespan and lower-cost care. The center's launch was a response not only to the HMS community's concern about the state of primary care but also to a growing system-wide crisis that was, and still is, affecting health outcomes across the globe.
Despite the U.S. having the most expensive, technologically advanced and sub-specialized system in the world, health care in the U.S. is still more expensive than in any other industrialized country.
This issue, begging to be unburdened by a field that focuses on whole-person care at a lower cost, is due in part to the low pay and extensive hours that are required of primary care providers. Compounded by low levels of investment and stagnant growth in the workforce, these challenges deter medical students from entering this critical field.
If the U.S. is to have higher quality care at lower costs, primary care must play a central role in its delivery, and primary care models must differ from what is being implemented now, according to a center study. The creation of the center was part of a response to this realization.
In July of 2009 HMS had suspended funding for its previous Primary Care Division, prompting students and faculty, who recognized that a strong foundation in primary care drives better value and outcomes in health care, to circulate a petition aimed at fostering a commitment to primary care education at the School.
The petition, which amassed nearly 1,200 signatures within three months, led to the creation of the Primary Care Advisory Group, assembled by Jeffrey Flier, then dean of HMS. Flier charged the group of HMS faculty, administrators, residents and medical school students with the task of assessing the state of primary care at the School.
Meeting regularly from October 2009 to April 2010, the advisory group solicited expert input from the medical school community and far beyond, asking for proposals on how to strengthen the School's commitment to primary care education, research and clinical innovation.
Andrew Morris-Singer, who at the time was an HMS clinical fellow in medicine and a second-year internal medicine resident at Brigham and Women's Hospital, was thinking about how to meet the need for change in primary care delivery. He formed the Harvard Primary Care Reform Working Group with the hope of appealing to the School's leaders to restore funding.
This led Morris-Singer to found Primary Care Progress, a grassroots alliance, which organized a series of town hall-style meetings that drew hundreds of Harvard primary care community members who contributed to the Primary Care Advisory Group's ongoing dialogue. In addition to his continuing work with Primary Care Progress, Morris-Singer is lecturer on global health and social medicine, part-time, in the HMS Blavatnik Institute.
"One of the memories that most stands out is when I received a phone call from a then young resident at Brigham and Women's by the name of Andrew Morris-Singer to talk about how primary care might be reenvisioned at HMS," said Sara Fazio, HMS associate professor of medicine and a primary care physician at Beth Israel Deaconess and a center faculty member.
"He saw this happening as a grassroots phenomenon where he could use his experience in community organizing to help shape the process," Fazio said.
"I remember the excitement of 400-person, standing room only town halls, bringing together the entire primary care community from multiple hospitals as we advocated for the creation of the HMS Center for Primary Care," said Rebecca Berman, a former HMS faculty member. "I was proud to serve as the co-chair of the education committee—partnering with illustrious primary care educators from across the Harvard hospitals to determine a vision for the center's primary care education strategy."
In May of 2010, the advisory committee co-chairs, Phillips and David Bates, HMS professor of medicine at Brigham and Women's, submitted recommendations to Flier. Soon after, a generous gift was provided by an anonymous donor, creating the HMS Center for Primary Care.
"The most memorable moment was a call I received from a donor (anonymous) who told me they had heard about the proposal and wished to consider funding it," recalled Flier.
"A series of discussions ensued, and their initial commitment of $30 million soon thereafter allowed us to launch the center," Flier said.
"What followed was nothing short of a revolution, the pinnacle of which was when Russ assumed leadership of the new HMS Center for Primary Care," said Fazio.
The center, launched in 2011, would serve as a physical and intellectual docking point for students, residents, fellows and faculty from across HMS and its affiliated teaching hospitals. In 2012, Phillips was appointed as director of the Center for Primary Care.
Empowering leaders, innovators
One of the most notable coalitions formed through the center was its Student Leadership Committee, which grew from the student group that was instrumental in advocating for its creation. The committee's purpose is to empower and train HMS students to become leaders in primary care practice, education, research, advocacy and community engagement.
"I was thrilled that the center provided a means to involve and stimulate Harvard medical students interested in primary care," said Flier.
Each year, student interest in the student leadership committee grows, with nearly 50 students applying in recent years and more than 150 students serving on the committee since its inception.
"Today we work to empower students to become leaders and innovators in primary care. The committee provides a platform for interprofessional dialogue and collaboration, crucial for establishing team-based problem-solving skills the students will enhance throughout their careers," said Phillips.
Fazio has shared the pleasure of watching the student group grow and evolve through various projects.
"Nothing is as invigorating as seeing the energy and enthusiasm that the next generation of leaders brings to this space," she said. "In terms of past programs, the Academic Innovations Collaborative had a real and lasting impact on the way we practiced primary care medicine locally in our individual practices. I also love the Physician as Leader course and the many case studies that our teams have written and use to teach students and primary care providers across the spectrum."
David Duong, a member of the 2013 inaugural student leadership committee, reflected on his experience.
"I never came into medical school with the intention of going into primary care and always assumed I would specialize or become a surgeon," said Duong, HMS instructor in medicine at Brigham and Women's. "Being a part of the center those initial years—including the community that it fostered, the mentorship the center provided and the home that the center served for me—really allowed me to realize my passion for primary care."
Duong has grown alongside the center, currently playing a direct role in its effort to expand global impact. As the director of the center's Program in Global Primary Care and Social Change, he is responsible for its program's overall strategy development, partnership engagement and activities.
One of the center's many global projects includes working with other countries to further a dialogue aimed at achieving universal health coverage. In May 2019, the center co-hosted the Primary Healthcare Partnership Dialogue in Hanoi, Vietnam, with the Vietnam Ministry of Health, the World Economic Forum and Novartis.
The dialogue reviewed gains in population health that Vietnam has made through its commitment to equitable health care, and participants discussed the challenges and opportunities that exist in the Vietnamese health care environment, obtaining a consensus around a shared vision for primary health care transformation.
"The center has spent the last decade really focused on researching and initiating some amazing primary care delivery projects and models domestically," said Duong.
"As the global universal health coverage movement gains momentum and global leaders recognize the importance of primary health care to achieve universal health coverage, I envision that the center will be a leading voice to help propel this global movement, utilizing our research and expert faculty and staff," he said.
Looking ahead
The center has come a long way since the time of its initial, crowded town hall-style meetings.
Harvard Medical School Dean George G. Daley shares excitement for the Center's contributions to the field. "The Center for Primary Care is the nexus for thoughtful, evidence-based innovation in the delivery of health care."
"I am so excited to be part of such a talented and multi-faceted organization of leaders and entrepreneurs in primary care and feel honored to be part of an effort that will undoubtedly change the way that primary care is taught, practiced and envisioned in years to come," Fazio said.
As the center continues to evolve and expand its educational programs and leadership curriculum, it urges others to join in its commitment to improving care around the world. Subscribe to the center's bi-weekly newsletter to join the primary care movement.