Nurturing Lab Discoveries
Q-FASTR spurs early-stage translational research at HMS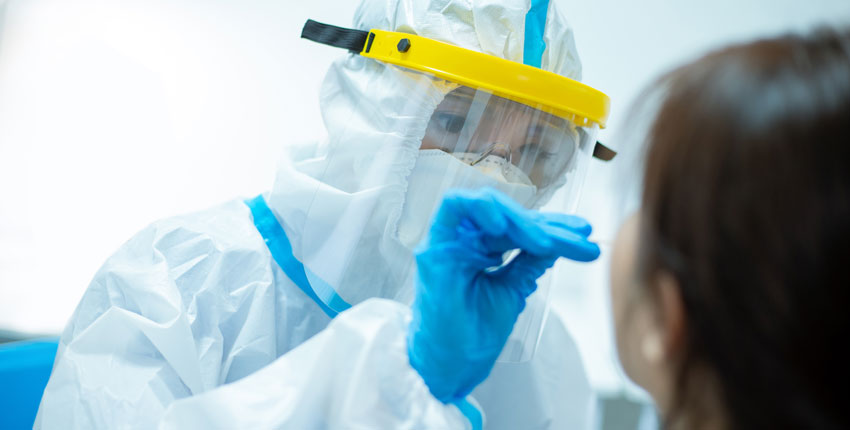 Image: RyanKing999/iStock/Getty Images Plus
Before the COVID-19 pandemic was officially declared in 2020, Mike Springer had an idea to use a food safety diagnostic tool to detect infectious diseases. As he was pondering the direction he wanted to take, he spoke with Ifat Rubin-Bejerano, senior director of translational research at HMS.
"I remember we just brainstormed," Rubin-Bejerano recalled, "and I said, How about flu? You know, you have a young child at home. Maybe you want to know if they have the flu or if it's just a cold, right? Do you have to keep them at home, or do you have to take them to the physician or the pediatrician? And that's how it started."
Springer, an associate professor of systems biology in the Blavatnik Institute at Harvard Medical School, applied for and received a $50,000 pilot grant from the HMS Quadrangle Fund for Advancing and Seeding Translational Research (Q-FASTR).
His partner in the project was Richard Novak, lead staff engineer at the Wyss Institute for Biologically Inspired Engineering at Harvard. Early COVID testing in the U.S. had been hampered by shortages of the swabs needed to collect nasal samples, so when the pandemic began, the pair pivoted: Why not create a test for COVID-19 instead of flu?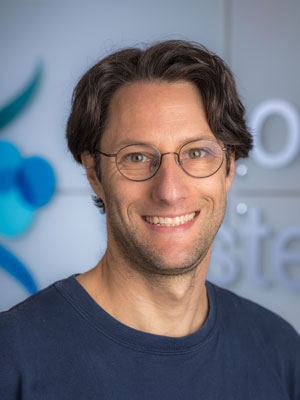 It took time, and several months of work, but that initial Q-FASTR funding eventually led to the creation of a new company, Rhinostics, which now produces the nasal swabs and testing kits that Harvard has been using for COVID testing since summer of 2021.
"The end point is that the COVID test you are using now at Harvard was developed in my lab," said Springer. "The only reason that happened was because we had already gotten to the point of working on flu diagnostics, and that gave us confidence to move into the COVID space. And the only reason we started working on flu diagnostics was because of the Q-FASTR grant."
Springer "took whatever he had working for flu, and he very quickly made it work for COVID, and that was just amazing to see," said Rubin-Bejerano. "He is so driven, and he is just a pleasure to work with."
HMS established the Q-FASTR funding program in 2014, through the generosity of an anonymous donor, to identify, support, and facilitate early-stage research with commercial potential.
The thinking was that a lack of funding for risky or novel research, or for the early studies needed to demonstrate the potential of a project, is often a significant obstacle to the development of many ideas.
Q-FASTR funding aims to assist HMS Quad faculty identify promising technologies in their labs, overcome funding obstacles, and help to advance their discoveries to the point where they can attract additional funding from other sources.
Since its inception, more than 45 percent of all Quad faculty have applied for Q-FASTR funding, with nearly $8 million awarded to 44 projects, spawning several new companies, creating 32 patents, and securing more than $64 million in follow-on funding.
Awards made in the 2021 funding cycle, announced in August, are supporting a variety of research projects, such as gene therapy for an early aging disease, small molecule modulators of bile acid metabolism for nonalcoholic fatty liver disease, and a novel monoclonal antibody that targets the 3a protein in SARS-CoV-2, among others.
Translational applications
Rubin-Bejerano said that, while Q-FASTR has been effective, what she finds most gratifying about it is the opportunity to work with accomplished faculty to help them identify translational applications for their basic science research.
"They were hired to do basic science. They're the best in their fields, and they are trying just to explore the way things work, which is really important," she said. "They don't necessarily think about therapies, or in this case, diagnostics. But if they take the time and we sit down together, we may come up with something they haven't considered."
For Springer, work he had already done in food safety after receiving a grant from the Defense Advanced Research Projects Agency (DARPA) gave him the impetus to apply for the initial Q-FASTR grant—one of three he has since received—which he said was fundamental in transitioning his work toward diagnostics.
That experience, coupled with work he did through the Massachusetts Consortium on Pathogen Readiness, or MassCPR, inspired him to work with the Fairbairn Family Lyme Research Initiative, which announced grant funding in 2020 geared toward propelling Lyme disease research and improving public understanding of the disease.
"I wouldn't have gone into diagnostic development if it weren't for Q-FASTR and the follow-up," Springer said. "I'm very grateful because I'm pretty excited about where we are scientifically, about the types of things we're doing, and the impact we're making. It just wouldn't be happening if it wasn't for that funding."
Springer's work creating the new COVID tests also led him to become involved in advising Harvard on COVID policies. He found that helping "the people who have to make some very difficult, nuanced decisions between different factors," was challenging and engaging. He said he is continuing to share significant data with Harvard health officials that may shed light on vaccine efficacy over time, adding that it's been critical for them to be able to respond and adapt quickly to the changing COVID landscape, and that the more data they have to work with, the better.
Now, he said, he is looking ahead to working with local clinicians on collecting samples for broad respiratory panels, research he is developing under a separate $250,000 Q-FASTR development grant.
"We could stop not just COVID, but we should be able to help stop the spread of many communicable diseases, especially respiratory diseases," Springer said.
He noted that he has a goal in mind to create better, less costly, and more accessible diagnostics, similar to the tests now being used at Harvard, where collection can be done anywhere and easily sent to centralized labs for analysis.
An important consideration, he added, is finding a way to control costs while increasing the availability of tests.
"We lose over 30,000 people a year and tens of billions of dollars to things like the flu. You know, that doesn't have to happen," he said.
Springer added that he was fortunate on this journey to have a good deal of assistance and guidance from a variety of sources, such as the Office of Technology Development at Harvard, colleagues at the Harvard Business School, and the Pagliuca family, which supports the Pagliuca Harvard Life Lab in Allston. He's excited about new opportunities that will become available when the Blavatnik Harvard Life Lab Longwood opens on the Quad in the next year. He's also looking forward to continuing the basic research that is so important to discovery and to making an impact on others.
"For myself, I found [translational work] to be much more rewarding than I had ever expected it was going to be," Springer said. "There are a lot of interesting challenges in this process, but at the end of the day there is something really nice about delivering something where you feel it affects the lives of people around you in a positive way."
For Rubin-Bejerano, Springer's success perfectly realizes the goals that were first imagined when the Q-FASTR program was created—to provide the funding, expertise, and guidance that can help Quad faculty attain their objectives.
"In life science, there's this magic that you could do good and do well, together. You can combine the two," she said. "I think that this potential to impact human life is just so fulfilling and rewarding."