No Singular Hero
Dean Daley on the collective purpose of medicine to make the world healthier, more peaceful, more just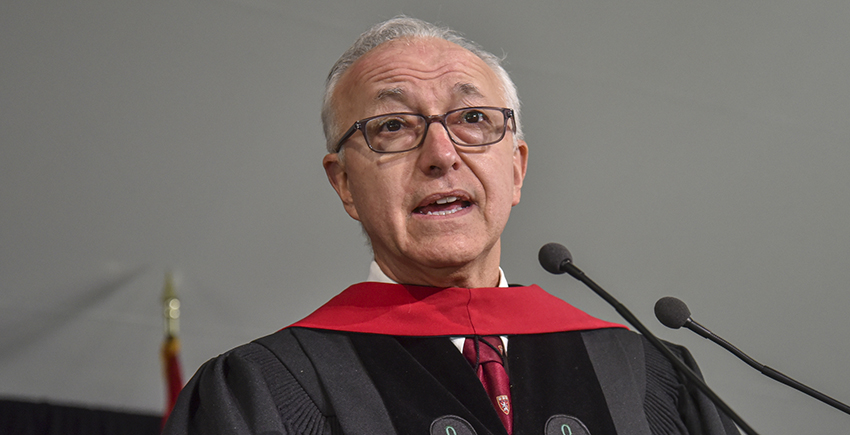 George Q. Daley.
Good afternoon and welcome!  Harvard Medical School and Harvard School of Dental Medicine Class of 2022. I am thrilled to be here with you today! Class Day is always a momentous occasion, but the fact that we can finally gather in person after two very long years makes today all the more joyful.
Because of the pandemic, you've had to persevere in your training during a time that has been deeply fraught for the world, and for the medical profession. But the pandemic has awakened you to the central importance of social determinants of health.
You've given your all in fighting COVID-19—in clinics, community health centers, and laboratories. You've countered misinformation, advocated for vaccine equity, equipped yourself with scientific knowledge, and excelled at your studies.
You've been at times fearful, hopeful, dismayed, exhausted, adamant, triumphant.
Despite the emotional turmoil of the past few years, you've advocated for each other and for your patients. You've advocated that compassionate health care and the fruits of modern science—innovative vaccines and medications—should be accessible to everyone
As dean of the faculty of medicine, and on behalf of all 12,000 Harvard Medical School faculty members, I want you to know we are enormously proud of you.
The pandemic has taught us painful and inconvenient truths about the U.S. health care system. Despite prodigious advances in biotechnology, drug and vaccine development, adequate health care has remained inaccessible for many in our own rich country.
Your careers—your futures—can change that narrative. YOU will be instrumental in determining the future trajectory of human health and well-being, and that is both a responsibility and an opportunity.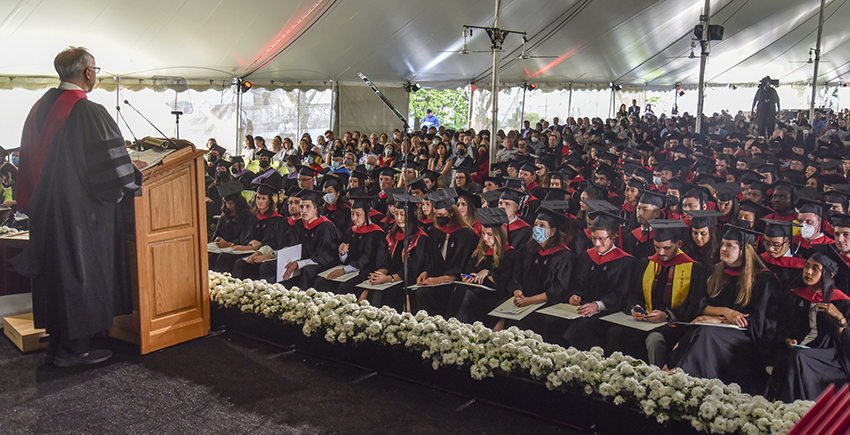 If you are ambivalent or nervous about what lies ahead, well, I don't blame you. If you are tired or disillusioned, I understand.
But I encourage you to reflect on the last two years of the pandemic, reflect on your interactions with your teachers and your peers. Think about the conversations you've had, the ideas you've workshopped together, all that you've learned.
You don't leave HMS with just a medical education, you leave HMS with a powerful network of friends, colleagues, and mentors. You leave here with a common purpose—to make the world healthier, more truthful, more peaceful, and more just.
There is no singular hero in Harvard Medical School's mission to alleviate suffering and to improve human health and wellness. Ours is a collective effort. And I would wager that given everything you and your classmates have endured, your resilience and determination will make you a formidable force for achieving medical justice—a formidable force for social justice—in the decades to come.
Sadly, this past winter we lost one of the world's greatest crusaders for social justice and health equity when our dear colleague Paul Farmer died suddenly while rounding and teaching at the Butaro Hospital of the University of Global Health Equity in Rwanda. Paul was one of the greatest humanitarians of not just our time but of all time. His life's work was an inspiration, a constant reminder that the most noble calling of a physician is to serve those in need. If Paul were with us here today, he would look upon all your brilliant faces gathered under this tent and quip, "you are my retirement plan, you will keep my dream alive."  
As you commence your careers, you have big questions to contemplate and address: What is my role in making health care more equitable?  How can I be an ambassador for social change? 
I trust, in fact, I know, that you will seek and you will find the answers. Indeed, you are already changing medicine. You have committed to new visions for global health through endeavors like the Maranyundo Initiative in Rwanda. You have advocated for the transformation of medical education around trauma-informed care. You helped launch curricular reform to ensure that students and faculty clinicians become exceptionally well equipped to provide high-quality, holistic health care for sexual and gender minority patients of all ages. Your list of accomplishments is already long.
Your careers and the collaborations you forge with others will define what it means to follow Paul Farmer's vision for health equity and to be a humanitarian in the 21st century. It's becoming abundantly clear that the world needs you to chart this path.
Physicians, by providing compassionate care to the vulnerable and ill, earn a privileged position of trust from their patients, and still enjoy favorable reputations and trust from the public. At a time when misinformation and outright fabrication sullies far too much of our public discourse, medicine and health remains a domain where the vast majority still respect truth and expertise, because lives depend on it. As medical practitioners, scientists, innovators, and leaders, you will be called upon to uphold the importance of honesty and evidence-based decision-making in your work and in society.
Celebrate HMS/HSDM Class Day 2022
Read about this year's Class Day graduates and ceremonies and view videos and photo galleries.