Immense Pride, Collective Relief
HSDM dean applauds work, dedication, sacrifice of Class of 2022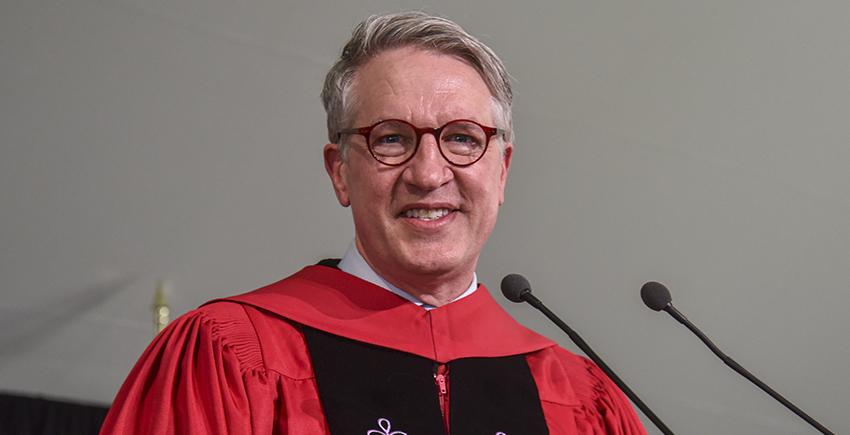 William Giannobile.
Welcome graduates, proud family members, and friends who have joined us here today. I am so grateful that we are here in person to celebrate the Class of 2022! As the parent of a newly minted college graduate myself, I would like to extend a sincere thanks to all the parents, family members, and significant others who supported the journey of each graduate to reach this important milestone. I speak for many when I say today is a day of immense pride and collective relief. The work, dedication, and sacrifice that went into getting to this point is considerable and we applaud you.
Your class faced extraordinary challenges throughout the pandemic as you navigated numerous disruptions to clinical and didactic learning. Throughout these challenges, you showed great perseverance and tackled every obstacle with determination. When faced with limited clinical time due to capacity limits, you became highly adaptable, organizing and making the most of every patient interaction. You continued to innovate and pursued research projects, outreach programs, externships, and extracurricular activities. Going through these challenges together, you bonded as a class, and you looked out for each other. I greatly admire your perseverance, adaptability, camaraderie, and positivity. These qualities, and the strong bonds you've formed, will serve you well as health care providers.
I have had the honor of getting to know each one of you better over the course of the past year. On my daily strolls through the teaching clinics, I've seen your growth as clinicians. On the day you donned your white coats, you took an oath together. In the first few lines of that oath, you vowed to put the health and well-being of your patients first. You vowed to "respect the autonomy and dignity of [your] patient, to guard the confidentiality of your patients' health, to do no harm, and to be their partner in the journey towards health and well-being."
Those of us who have been following your journey—your faculty members and mentors—have seen this oath in action. We've seen the rapport and trust you've developed with your patients and the thoughtful and kind care you've delivered safely and steadily during a pandemic. It is clear you care deeply for your patients and want to make a positive difference in their lives by promoting their oral health. In return, your patients appreciate you, respect you, and feel fortunate to be in your care. We're so proud of the health care providers you have become.
The 37 Doctor of Dental Medicine recipients here today will go on to pursue residences and advanced degrees at universities and medical institutions across the country, as well as join clinical practices. Several graduates will serve in the Navy and Army, and VA medical centers, and in community health centers as part of the National Health Service Corps.
You represent the future of our profession—you will shape the field of dental medicine and influence emerging areas such as artificial intelligence/machine learning, precision medicine, dental public health, and dental regenerative medicine, as well as fields not even imagined right now. There are so many exciting areas for you to be leaders in and make an impact on to advance health care equity and access to care.
HSDM alumni are already leading the way—launching start-ups conceived in Harvard innovation labs, pursuing groundbreaking research, and developing new models of clinical care delivery. I can promise you that the practice of dentistry will dramatically change over the course of your career, and you will have a leading role in how it changes.
Interprofessional care models that further integrate medicine and dentistry—treating the whole patient—are coming to fruition. There are no other graduates in dental medicine who are better prepared to lead the profession than all of you here today.
All of us at HSDM will be proudly watching your trajectory and cheering you on. We have tremendous optimism in your ability to lead in science, in education, in clinical care, and in making a societal impact that brings oral health care to those most in need.
Graduates, I hope you seize this moment and run with it! Set bold and audacious goals and pursue them with passion and determination. Be principled and brave and willing to take risks. Today is your day, doctors. We can't wait to see where the future will take you!
Celebrate HMS/HSDM Class Day 2022
Read about this year's Class Day graduates and ceremonies and view videos and photo galleries.