HSDM Dean Addresses Graduating Dentists
Giannobile speaks about responsibility to patients, classmates, family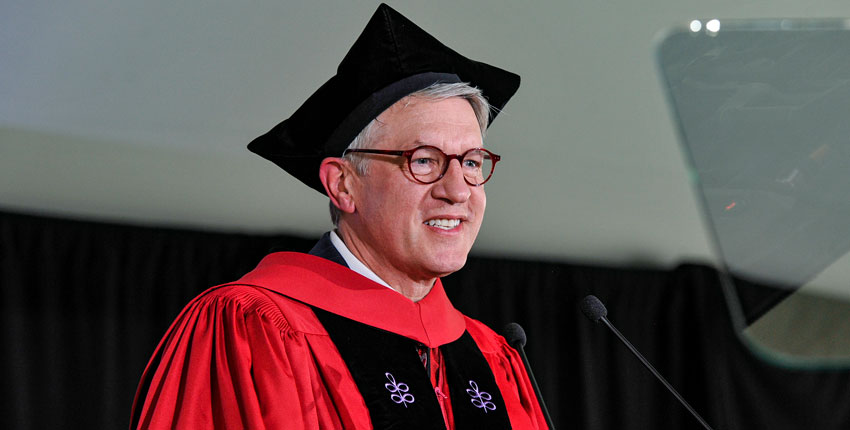 It is my honor to welcome the Class of 2023 and families, friends, and loved ones, as well as our distinguished guests, here today. It is truly a joyous occasion and we are delighted to come together to celebrate the accomplishments of our graduates from the Harvard School of Dental Medicine and Harvard Medical School.
Graduates, as you look around you today, you are surrounded by a sea of supporters and cheerleaders who have been in your corner throughout your journey — family members, classmates, professors, mentors, spouses, and partners — please take a moment to reflect on everyone who has helped make your journey possible. We're very grateful for all those who influenced your decision to pursue medicine, supported your dreams, and helped shape you into the compassionate health care providers you have become.
As I reflect on your class, I feel very fortunate to have gotten to know you well. We both arrived at the dental school at the same time — I was just starting as a new dean coming from the University of Michigan, and you were starting the second year of your predoctoral program at HSDM after spending your first year at the medical school. I did my best to identify you behind your masks as you started in lab rotations and preclinical work. After a while I think we all became quite good at greeting each other and recognizing who was behind each of the masks.
I was immediately impressed by you! You are a tight-knit class that genuinely cares for one another, and you are devoted to making a difference for your patients and for the profession. Many of you, in your class of 35, were ambassadors in our diversity and inclusion programs or active in community outreach efforts. You have been instrumental in establishing and promoting programs such as the Bridge to Dental School — a pipeline program for college students who are underrepresented in dental medicine. On top of your rigorous academic and clinical programs, you spent numerous hours of your personal time mentoring promising young students who were considering dental school. You also volunteered to treat young patients through outreach efforts such as the ACTION clinic and Give Kids A Smile, as well as created oral health literacy materials in multiple languages to reach historically underserved communities.
Additionally, your class was actively involved in basic, translational, and clinical research initiatives, curriculum design, and sustainability efforts. It is clear to me through your actions, your class sees a future where you can serve as advocates and leaders and use your voices to lift others. From here, you will go on to residencies, practice, and service across the country. I know you will make your mark in the profession and propel the field forward.
Dream big and keep that sense of connection and curiosity you found here.
From this moment on, graduating dentists and physicians — you are doctors! We couldn't be prouder to call you that. With the title of doctor, comes great responsibility, including the responsibility of humility. Recognize that this is just the start of your career, and education is a journey—a lifelong journey. We are all lifelong learners who will learn from every patient, every procedure, every colleague, new research, new technology, and new areas of scientific inquiry.
Today's distinguished speaker, Dr. Sanjay Gupta, has written about the power of the brain and its ability to adapt in this way: "The brain can be continuously and consistently enriched throughout your life no matter your age or access to resources."
I think many of us of a certain age are thrilled to hear that. I know I am. Graduates, in your own dental and medical education, you experienced the elasticity of the brain firsthand when faced with a global pandemic. You encountered new obstacles, adjusted to uncertainty, stretched your expectations, and began to learn in new ways. These adaptations added an extra layer of resilience and wisdom that will allow you to navigate daunting challenges throughout your life and in your professional careers.
In your lifetime, you will encounter innovative technologies and scientific breakthroughs never seen before. Already, the applications of artificial intelligence and machine learning in medicine open a limitless number of uses that could revolutionize how we diagnose, risk-stratify clinical care, and treat our patients. Advances in addressing oral health disparities and public health through personalized medicine may better optimize the delivery of dental care to the underserved.
As you go out into the world today, I know you will bring with you a shared ethos from your time together at Harvard. Your classmate Jessica Murphree summed it up perfectly in a reflection written in HSDM's Commencement booklet, she said, "To my patients, I did my best to give you the care you deserve. To my class, I did my best to support you. To my family, I did my best to remember who I am. I am proud of how I've grown during my stay in Boston. When I go, all of you go with me. I will do my best to represent you well along the way."
Graduates, we're so proud of you and we know you will represent us well in all your future endeavors. I encourage you to dream big and keep that sense of connection and curiosity you found here. Keep stretching your brains as you continue to learn and grow. We can't wait to see where your journey will take you. Congratulations, doctors!