New Leadership for ORMA
HMS Alum Andrea Reid named new associate dean of recruitment, multicultural affairs
Thirty-two years after earning her MD from Harvard Medical School, Andrea Reid, MD '88, MPH '01, has returned as the new associate dean for student and multicultural affairs in the Program in Medical Education. She will also serve as director of the Office of Recruitment and Multicultural Affairs, succeeding Alvin Poussaint, who established ORMA and led it for 50 years, until his retirement in June 2019.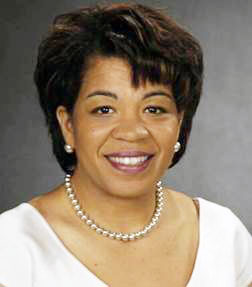 Reid officially assumed her new role on July 1.
She will also be rejoining the Department of Medicine and the GI Unit at Massachusetts General Hospital, where she will serve as director of diversity and faculty development for the hospital's Division of Gastroenterology.
In a July 7 letter to the HMS community, HMS Dean George Q. Daley welcomed Reid back to HMS and Mass General.
"We are extraordinarily fortunate to have a passionate leader, student-centered advocate, scholar and educator of Dr. Reid's caliber and accomplishments joining both our Program in Medical Education leadership team and the Mass General clinical faculty," Daley wrote.
In leading ORMA, Reid will focus on the recruitment and support of medical students from groups historically underrepresented in medicine, who identify as LGBTQ and who are economically disadvantaged.
Reid said she is delighted to be returning to HMS, where she received her medical education, taught and mentored students and maintained strong connections with clinical colleagues, fellow educators and alumni.
"It is a full-circle time for me as I take the helm of the Office of Recruitment and Multicultural Affairs, a place where I obtained valuable support as a student and educator," Reid said. "I am eager to be an advocate, mentor, advisor and facilitator for diverse students at HMS, and to work with other educators at HMS to ensure a medical education that is equitable, inclusive, bold and progressive."

After graduating from Brown University in 1984, Reid enrolled at HMS, where, after graduating, she trained in internal medicine and gastroenterology at Mass General. After completing a GI clinical and research fellowship, she joined the HMS faculty and the Mass General Department of Medicine.
During her tenure there, Reid co-chaired the Internship Selection Committee, Medical Services, directed the GI fellowship at Mass General, taught GI in the HMS curriculum and mentored numerous medical students.
She also earned an MPH from the Harvard T.H. Chan School of Public Health and received several awards for her commitment to teaching and mentorship at HMS, Mass General and in the community.

Since 2009, Reid has served as a gastroenterologist and hepatologist at the Washington, DC VA Medical Center. Her clinical and research interests include hepatitis C virus infection, especially in African Americans, racial disparities in liver disease and liver transplantation, nonalcoholic fatty liver disease and medical education.
Reid continued to travel to Boston annually to teach in the GI pathophysiology block at HMS for nearly a decade. She has held several prominent national leadership roles and is a frequent lecturer on liver-related topics and medical education at local, regional and national GI meetings and postgraduate courses.

HMS Dean for Students Fidencio Saldaña served as interim head of ORMA this academic year and chaired the national search committee.
Six HMS students were on the search committee, and more than 24 participated in the interviews.
"When I first met Dr. Reid I was so impressed by her ability to convey such warmth and passion as she spoke about her past experiences and all she hoped to bring to our HMS community. She is an advocate, scholar and mentor who cares deeply about the needs of both our students and our society. ORMA is in great hands with Dr. Reid at the helm," said LaShyra Nolen, president of the HMS Student Council.
Joan Reede, HMS dean for diversity and community partnership, also lauded the committee's choice.
"The consummate clinician, throughout her career Dr. Reid has been a strong advocate for diversity, inclusion, belonging and equity. I look forward to continuing collaborations and new partnerships as the Office of Recruitment and Multicultural Affairs and Diversity Inclusion and Community Partnership seek to bring HMS closer to actualizing our shared mission and community values," Reede said.