A New Front Against Racism
State and med schools to address racism in medicine, health care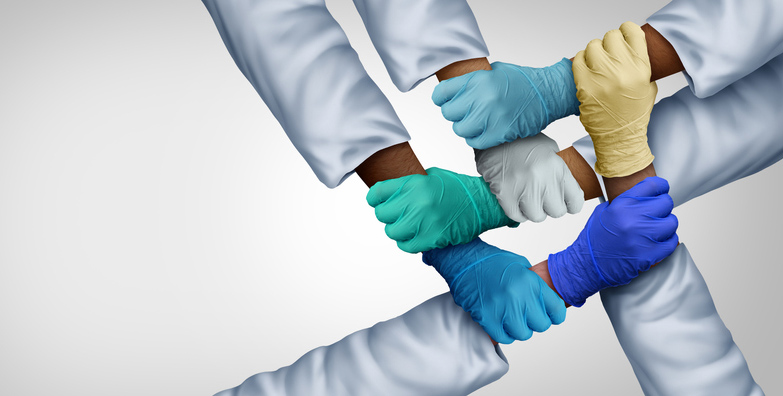 In an effort to address racism in academic medicine and health care organizations, the Massachusetts Medical Society and the Massachusetts Department of Public Health have announced a new partnership with the state's four medical schools—Boston University School of Medicine, Harvard Medical School, Tufts University School of Medicine, and the University of Massachusetts Medical School—to jointly formulate and adopt a set of principles they believe will help promote an antiracist, more diverse, inclusive, and equitable medical culture in the state.
"It is incumbent on medical and health care institutions to take a critical look at our role in perpetuating, and now purging, structural racism in service to our mission of caring for the health and well-being of every patient," said Harvard Medical School Dean George Q. Daley, emphasizing the significance of the collaboration.
"It is critical that we work together across institutions and commit to intentionality in our individual and collective self-examinations, as well as in our actions toward sustained change," said Joan Reede, HMS dean for diversity and community partnership.
Last year, the MMS, a statewide professional association of 25,000 physicians and medical students, declared that racism is a public health crisis and constructed an organizational antiracism action plan in which the society committed to promoting equity and racial justice, supporting physicians who have been marginalized and prioritizing antiracism in its strategic plan.
"This landmark statement recognizes that we must address structural racism to be able to combat health inequities," said former Massachusetts Public Health Commissioner Monica Bharel.
The principles adopted include a commitment to acknowledging and learning about the history of racism in medicine and the role of privilege, as well as recognizing explicit and implicit biases. The principles also contain a promise to lead and commit, with leaders actively working to identify and dismantle racism. A third principle outlines a plan to transform and cultivate, with a pledge to confront and disrupt existing practices and policies that exclude and devalue trainees, physicians, faculty, staff, and patients of color, among other issues.
"With this set of principles, we are committing to create and sustain a culture across medicine in Massachusetts that is equitable as we seek to dismantle racism in all of its forms, starting with our medical students' education, for years to come," Bharel said.
"It is mission critical for the medical society, the DPH, and our state's medical schools to lead in supporting the next generation of physicians and their patients," said MMS President Carole Allen. "This document outlines important steps to address systemic racism as it manifests in health care."
"In order to break down the structures of structural racism, we must learn, we must teach, we must lead. I am so proud of the Massachusetts health care community for coming together in this time of crisis," said David Rosman, the medical society's immediate past president.
Adapted from an MMS news release.