News
New Chair for Cell Biology Department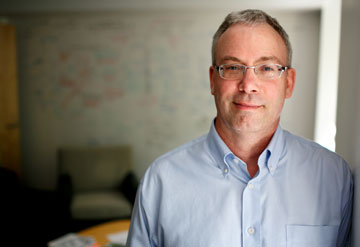 Wade Harper has been named chair of the Department of Cell Biology at Harvard Medical School, effective Nov. 3, 2014. He succeeds Joan Brugge who will be stepping down to co-direct the Harvard Ludwig Center.
A member of the HMS faculty for more than 10 years, Harper's roots at the school go back to his postdoctoral years when he worked in the laboratory of the late Bert Vallee.
In an announcement to the HMS community, Dean Jeffrey Flier described Harper as a "superb cell biologist and biochemist."
 "Those who have worked closely with Wade over the years can attest to his tremendous sense of community and his ability to arrive at sound solutions through collaboration and thoughtful deliberation. He has contributed in many ways to the research enterprise of HMS, participating in strategic planning and serving on numerous committees," Flier added. 
Harper is the Bert and Natalie Vallee Professor of Molecular Pathology. He received his Ph.D. in chemistry from the Georgia Institute of Technology in 1984.
In 1988, Harper joined the Department of Biochemistry at Baylor College of Medicine in Houston. He was recruited to the HMS Department of Pathology in 2003 and then moved to the Department of Cell Biology in 2011.
Harper is recognized for elucidating the molecular basis for signaling cascades mediated by protein phosphorylation and ubiquitination. He also pioneered the biochemistry of key cell cycle regulators—the cyclin-dependent kinases and their inhibitors.
Through his studies of protein turnover via the ubiquitin system, he revealed the molecular components, targets and regulation of several classes of ubiquitin ligases controlling diverse signaling systems through phosphorylation-driven protein turnover.
His laboratory has also spearheaded application of proteomics to systematically examine the network architecture of protein families and signaling pathways in cells, including the autophagy system, which controls protein turnover in the lysosome.
His team is also developing quantitative proteomic methods to elucidate biochemical mechanisms and dynamics in the ubiquitin and autophagy systems.
Harper plays a leadership role in graduate education as the director of the NIH-funded Program in Cell and Developmental Biology, a core training program at HMS.
He is also core director at the Dana Farber/Harvard Cancer Center and actively promotes the development of research infrastructure on the quadrangle through his role on the Tools and Technology Committee.
"His research acumen combined with demonstrated leadership makes him a wonderful candidate to shepherd this celebrated department, for which he has developed an inspiring vision that seeks to link cellular dynamics with disease," wrote Flier.
Joan Brugge, the Louise Foote Pfeiffer Professor of Cell Biology, led the department for 10 years. Brugge, an expert on the processes and pathways that cause normal cells and tissues to become cancerous, has been a member of the HMS faculty since 1997, chairing the Department of Cell Biology since 2004. She is also widely recognized as a mentor who has influenced a generation of junior researchers.
Follow
HMS
Stay informed via email on the latest news, research, and media from Harvard Medical School.