Making It Personal
Master's grad Sedas working to improve health for migrants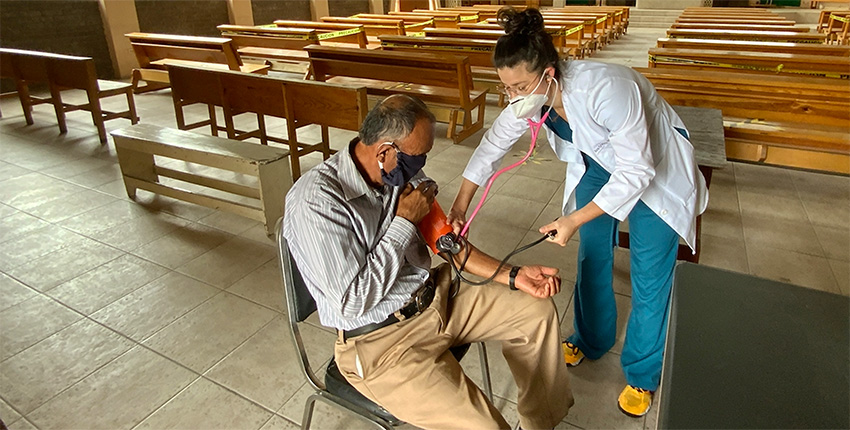 This is one in a series of profiles featuring Harvard Medical School's remarkable graduates.
In 2018, when migration caravans were moving from Latin America to the U.S., Ana Cristina Sedas volunteered as a physician at camps in Mexico City and Tijuana. There she met migrants who solidified her desire to continue working for better health care for these vulnerable populations.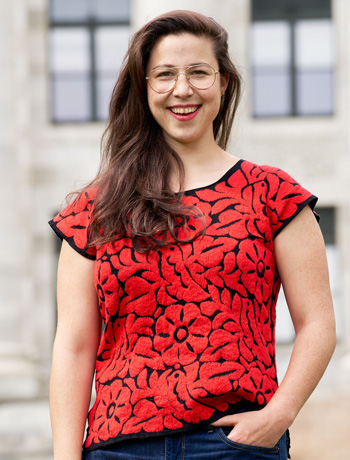 It was at one of these camps that she met a 5-year-old boy walking from Honduras to the States wearing Mickey Mouse Crocs and clinging to his mother. She said she was terrified and frustrated about what the child might endure because migrant families were being separated under the Trump administration's new immigration policy.
"I imagined my nephew of the same age walking across four countries," Sedas said, remarking that she found it incomprehensible that children and families were making perilous and arduous journeys, with no health care if they became ill, and then being torn apart.
"Why is this allowed?" Sedas asked herself.
These realizations and questions led Sedas to pursue a Master of Medical Sciences in Global Health Delivery (MMSc-GHD) at Harvard Medical School. Set to graduate on May 27, and said it empowered her to search for answers to these questions and to work to improve health for migrants the world over.
Sedas was born in Pittsburgh, and grew up in Monterrey, Mexico, with her Mexican mother and American father. She holds dual citizenship and frequently travels between the two countries.
In 2016, Sedas was completing her medical degree at the Monterrey Institute of Technology and Higher Education in Mexico and had finished up a rotation at the Benson-Henry Institute for Mind Body Medicine at Massachusetts General Hospital when she was contacted by the Mexican Consulate General in Boston.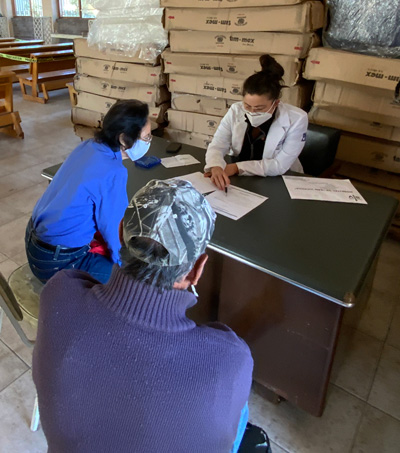 Consulate officials wanted to hire a health promoter to head their Health Window program and provide general health information to help migrants, mainly from Mexico, access health care.
The position entailed working with migrant populations in New England, providing information about preventing common medical conditions, and presenting events such as free health fairs.
The consulate position appealed to Sedas because she had experience working with rural families who have relatives who migrated to the U.S. and she could use her medical training and bilingualism to develop health education programs and help Mexican migrants access health care services in the U.S.
It also fulfilled the Mexican government's one-year social service requirement for all newly graduated doctors who attend medical school in that country.
Sedas started the consulate position soon after the 2016 U.S. presidential election, helping migrants navigate the health care system. Because many of them were undocumented, they were afraid to seek health services because of increased raids and deportations by U.S. Immigration and Customs Enforcement.
She was outraged and wondered how she could help these people feel safe enough that they would be comfortable seeking available health services.
A chance meeting
One day, soon after Sedas began work at the consulate, she overheard a Mexican couple talking at a Boston MBTA stop. Being friendly, and always wanting to connect with people from the country she calls home, Sedas introduced herself. She discovered that their daughter, Mercedes Aguerrebere Gómez-Urquiza, MMSc-GHD '18, was also studying at HMS. She soon became friends with Aguerrebere Gómez-Urquiza and other students in the program.
Sedas' new global health delivery friends told her they were confident there was a way to solve the many social injustices they were all encountering. They shared books and journal articles and invited her to talks at the School.
Learning about structural barriers to health care and being introduced to the accompaniment model of health care—an approach where providers focus on meeting patients where they're at and walking the path to heath care with them until their health issue has been resolved—helped Sedas better understand migrant perspectives.
Ultimately, she learned how to more effectively provide them with the services they needed, and with this knowledge she built a referral service for the consulate that worked, not only for those from Mexico but for other migrants from Latin America.
"I started to see the positive effects of the accompaniment model—that most of the patients I referred received the health services they needed," Sedas said.
These results, coupled with her experiences volunteering in the migration camps, led her realize that she wanted to enroll as a student in the HMS global health master's program.
Remote learning, real policymaking
Sedas began the MMSc-GHD program in fall 2019, but in March 2020 a planned spring break trip to Mexico became a long-term return home when the pandemic was declared.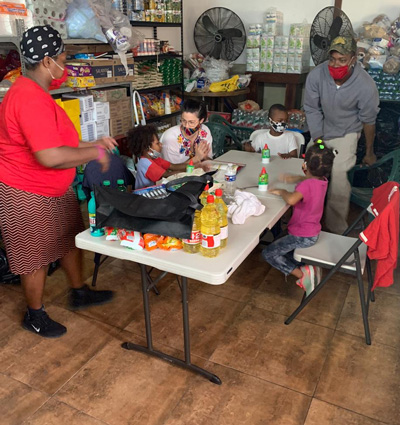 While continuing classes remotely, Sedas advanced her global health and social medicine work, progressing from learning from experts in the field to working side by side with them, including Jacqueline Bhabha, director of research at the FXB Center for Health and Human Rights at the Harvard T.H. Chan School of Public Health; Vasileia Digidiki Lucero, instructor at the FXB Center; and Michael Knipper, Miriam Orcutt, and Board members of Lancet Migration Latin American Regional Hub.
Since then, Sedas has authored several articles, moderated events, and participated in policy round tables with health ministries, publishers, and nongovernmental organizations from around the world. including with world leaders such as the World Health Organization's director of the Migration and Health Program and the United Nations high commissioner on human rights—all centering on the health of migrants and the work being done to ensure that they have equal access to health care.
Currently, Sedas is coordinating a project with Johns Hopkins University, the International Organization for Migration, and The Lancet, looking at a health policy analysis on the COVID-19 response in Mexico, Colombia, and Peru, which she says will eventually inform Latin American countries on migration health policy. She is also working with the Harvard FXB Center on access to antenatal and postnatal care for migrant women in the northern border Mexican cities.
"I'm currently designing projects with teams of people I admire. I'm working alongside them," Sedas said. "All because of this program."
Personal mission, global influence
What's most important to Sedas is that the GHD program has given her the know-how and tools to change how migration health is addressed. She is making it her personal mission to change the approach from seeing migrant health care as a burden that needs a remedy to responding to it as a matter of a universal right to health and equal access to care.
In June, Sedas starts as a consultant on migration health at the World Health Organization. Through the HMS master's program, she said, she has been able to work with the people she admires because the program has trained her to take on these issues and work at such high levels.
"I'm ready," she said.
Sedas will continue to volunteer her services providing health care to migrants in shelters on the weekends to the best of her capacity while she designs and analyzes programs during the week with WHO.
To do the policy work, she said, "You have to know there is a 5-year-old boy walking."