Passion and Practice
HMS master's degree grads primed to influence biomedicine, health care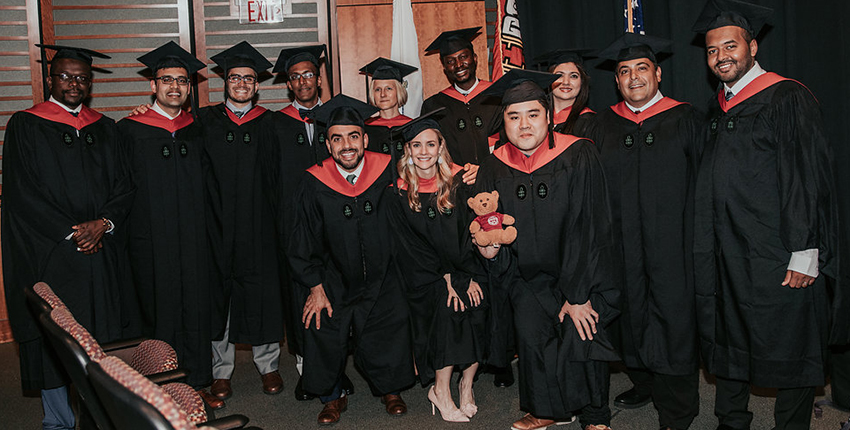 "You are poised to have great impact in your chosen scientific field," keynote speaker Alexa McCray told 86 degree recipients at this year's Harvard Medical School Master's Degree Programs Graduation Ceremony.
"You will follow different paths, but what will unite you all is that you will be scientists at heart and in practice," said McCray, director of the Informatics Training Program at HMS.
Graduates of the School's master's programs go on to contribute to education and research at academic institutions, make technological advances in industry, and promote evidence-based policymaking in the public sector, McCray said.
"As the program's graduating students today have shown, there is a continuing need for investigators and other health and science professionals who are rigorously trained at the interfaces of modern biomedical science, clinical medicine and health delivery," David Golan, dean for basic science and graduate education at HMS, told the graduates at the May 22 ceremony, saying that their future success is key to the goals and mission of the School.
"Our strong belief at Harvard Medical School is that a portfolio of master's programs, spanning the range of scholarly activities in biomedical science, will fill the need for this extraordinary training for the generation of investigators to come," Golan said.
McCray reminded students that their contributions will resound across the world. Thirty-four graduates from the U.S. and 52 graduates from 30 other countries received degrees in bioethics, biomedical informatics, clinical investigation, global health delivery, immunology and medical education.
Many entered the programs already holding advanced degrees or as practicing physicians and health care professionals. For others, it was their first advanced degree.
McCray, who is also HMS professor of medicine at Beth Israel Deaconess Medical Center, asked the audience of nearly 300 in the Joseph B. Martin Conference Center amphitheater to think about what it might mean to be a great scientist. Looking to the past might give them inspiration, she said.
Invoking the likes of Virginia Apgar, who designed the Apgar Scale, and Nobel Laureate Joshua Lederberg, who made discoveries in microbial genetics, McCray described five attributes that great scientists should embody including the knowledge that being a scientist is hard work, requires keeping your eye on the goal, doesn't mean you can't also have a life, and does mean you have a passion for your work and implies a responsibility to society.
McCray said she drew inspiration—and data—from the achievements of past scientists catalogued in the National Institutes of Health's National Library of Medicine Profiles in Science website, a compendium of articles, letters, photographs and other materials from eminent scientists that she helped digitize in the early 1990s.
Read the full text of McCray's speech here.
McCray said the graduates demonstrated many of those same attributes because they were quite accomplished before enrolling at HMS. She encouraged them to continue to embrace new opportunities, take sensible risks and remain passionate about creating a better world as they pursue their scientific careers.
Over the past six years, the master's programs have experienced consistent growth, with 188 students currently enrolled in six degree programs. A new Healthcare Quality and Safety master's degree will enroll its first group of students in fall 2018.
This year's HMS master's degree recipients, 40 women and 46 men, specialized in the following areas:
27 in bioethics
9 in biomedical informatics
12 in clinical investigation
12 in global health delivery
19 in immunology
7 in medical education