A Beautiful Moment
2021 HMS/HSDM grads pause to acknowledge resilience, hope, love
This is one of a series of stories about Harvard Medical School and Harvard School of Dental Medicine graduation celebrations and the Schools' graduates.
Every graduating class is different, and the Harvard Medical School and Harvard School of Dental Medicine Class of 2021 has been "marked by resilience, by hope, and by a deep love for one another," said Class Day co-moderator Troy Amen at the Schools' virtual Class Day ceremony held on May 27.
This year, because of the ongoing coronavirus pandemic, 194 new Harvard doctors and dentists convened online to receive their degrees, acknowledging that the global health crisis will forever define their medical education experience and, perhaps, their careers.
"COVID-19 has changed the world," said HMS Dean George Q. Daley in his remarks to the class, as he praised the graduates for the "strength, integrity, resilience, and perseverance" they exhibited throughout the pandemic as they supported frontline health care workers, reached out to vulnerable populations, developed COVID-19 learning materials, mobilized voters, advanced scientific research and new technologies, and fought for social justice.
Generational junctures
Likening this year's graduating class to one from a century ago, keynote speaker and President and Dean of Morehouse College of Medicine Valerie Montgomery Rice said the Class of 2021 is "graduating at an inflection point in the history of health care."
She said the Class of 1921 was also shaped by a health crisis, the 1918 influenza pandemic, and confronted with economic and social inequalities. That class also graduated amid a surge of public health initiatives and progressive social movements, she added.
"Today, in the United States, and many other countries around the world, we appear to be at a crossroads: will we continue to adhere to a more conservative tilt in our country and the world or move toward the trend to a more progressive posture?" asked Montgomery Rice, MD '87, in her address.
"Will we expand access to quality health care for all people or reduce or eliminate the Affordable Care Act? Will the majority of the country again embrace science and scientists or decide to ignore the opinions of public health experts? Will we finally recognize that African Americans and people of color in underserved communities continue to suffer from health disparities that impact and disrupt their lives, or decide that the best health care will go only to a select few?" she asked.
For all these questions, she said, the voices of HMS/HSDM graduates will be there to shape the future.
"As the newest generation of health care practitioners, you will have the responsibility to help determine the path we take as a country and society," said Montgomery Rice.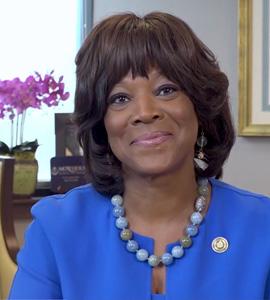 Living our best, healthiest life is incumbent on making sure we all have access to quality, affordable health care.
—Valerie Montgomery Rice
She said when she first arrived at HMS in the 1980s the nation had become more conservative, but her own life had been influenced by growing up during two decades of progressive social movements—decades that helped more African Americans attend Harvard and which resulted in her becoming a doctor who chose to focus on minority women's health in her own career.
She urged the 2021 graduates to seek experiences that will help them better understand the perspective of their patients, so they can deliver more "culturally competent care," adding that the best way to do so is to create moments of possibility in their interactions with individuals and notice the "seemingly small moments," and reminding students of what the pandemic has demonstrated all too well.
"We cannot ignore the fact that our individual survival is linked together in one humanity—no matter the color of our skin, our background, age, sexual orientation, or other differences," Montgomery Rice said. "Living our best, healthiest life is incumbent on making sure we all have access to quality, affordable health care."
Expressing gratitude, acknowledging resilience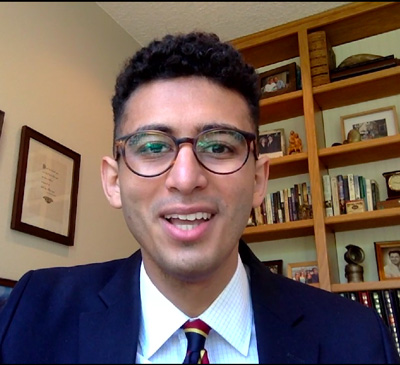 Class Day co-moderators Amen, Vartan Pahalyants, and Nick DeMeo expressed their gratitude for the support of their families and loved ones, as well as the School's faculty and staff, in their remarks.
"This day is much more yours than it is ours," said HSDM Class Day speaker Ashiana Jivraj, in her speech "Into the Unknown." "Without you we wouldn't have had the strength to navigate this journey."
"Your encouragement and unwavering support during long hours in the hospital and during grueling exams have given us the strength and confidence to arrive at this beautiful moment," said Amen.
DeMeo acknowledged the special challenges posed during the students' final year, adding, "We've only grown stronger in our mission to alleviate suffering and improve the health of our greater community."
Pahalyants thanked the Schools' deans "who brought us to this important milestone in our lives during the course of very unprecedented times."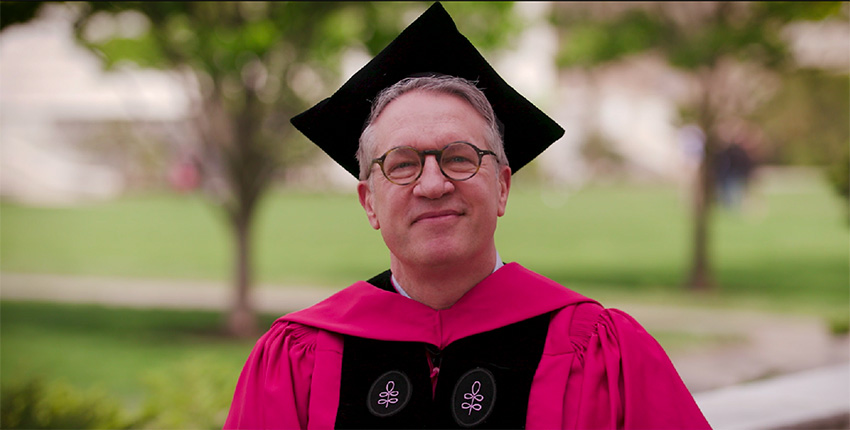 In his remarks, HSDM Dean William V. Giannobile said he joined the dental school on Sept. 1, 2020, in the middle of the pandemic, remarking that he became "pretty good at recognizing faces from the bridge of the nose up," because everyone was masked. He praised the class for their actions and the advocacy that he witnessed over the past academic year.
"This year you faced so many hurdles with grace and determination, and you have become skilled clinicians and compassionate caregivers," he said. "The grit that you have demonstrated over these four years has prepared you well for a critical time in our nation's health care system—a system I am confident you will contribute to and innovate."
Dean Daley echoed this sentiment, saying "medicine is constantly evolving and often unpredictable," but he added that the graduates' resilience will serve them well because each day of their careers they will encounter new questions and situations that will test their "knowledge and confidence."
Hope in their hearts, degrees in their hands
HMS Dean for Medical Education Edward Hundert called upon the graduates to seek out answers to unanswered questions for the sake of their patients' health. In order to make positive social change, he said, the grads should look to solve "the systemic problems that may underlie the question that was asked."
"Because we're in this together, we all have a responsibility to make sure that we speak out, and act, to make life more equitable for all of us," said HMS Class Day speaker Jimaji Nwanaji-Enwerem in his speech "All Along the Way."
HMS Dean for Students Fidencio Saldaña told the graduates that, as they step into their professional roles, they had already fulfilled the promise and potential the faculty saw in them in their first days at the School.
He reminded them of the three pieces of advice he gave them then: work hard, be kind to themselves and those around them, and do the things that bring them joy.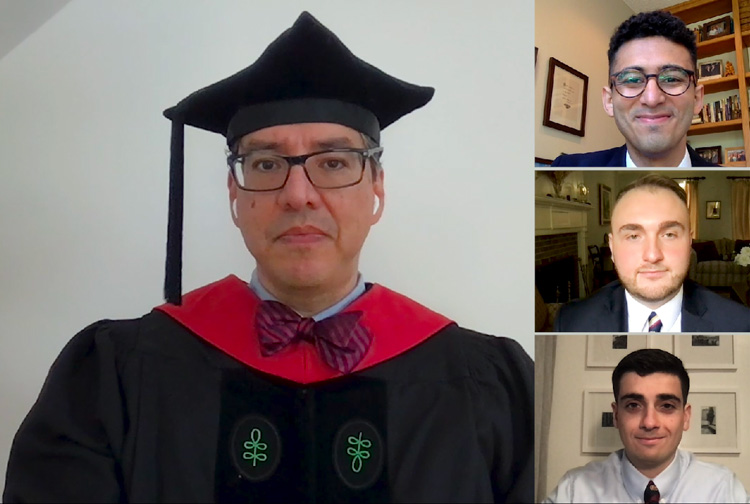 At the 233rd HMS graduation ceremony, 160 graduates received doctor of medicine degrees, having matched in clinical training, internships, and residencies at institutions across the U.S. Many of the new MDs earned joint degrees, including 1 AM, 2 MA, 10 MBAs, 1 MMSc, 5 MPHs, 2 MPPs, and 25 PhDs.
For the 152nd HSDM graduation, 34 grads received doctor of dental medicine degrees, one of which was a joint DMD/MBA. In separate program-specific virtual events, 10 DMSc and 16 MMSc dental school graduates were celebrated.
Earlier in the day, a ceremony was held for 144 master's graduates who earned either Master of Academic Discipline or Master of Medical Sciences degrees.
HST, MD-PhD celebrations, military commissioning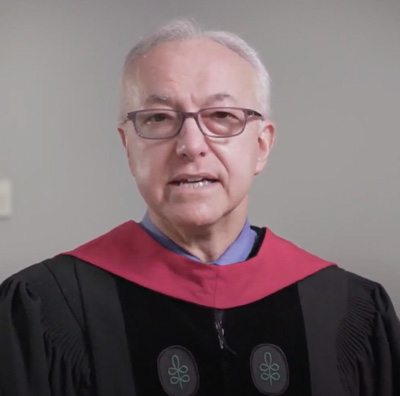 Members of the Harvard-MIT Health Sciences and Technology (HST) Class of 2021 program gathered online for a separate celebration on the eve of Class Day.
Richard Mitchell, HST/London Society adviser and associate director, opened the event with an acknowledgement of the graduates' accomplishments, remarking, "I've had the privilege to teach most of these students … [they were] constantly challenging us to learn more, and more importantly, to rethink what we thought we already knew."
"Congratulations," said Daley in his address to the 26 MD grads. "You have successfully completed a program that is the crown jewel of biomedical research education at Harvard and MIT…. You now join a close-knit community of some of the most accomplished clinician-scientists and biomedical engineers working today."
A video tribute featured events, informal gatherings, and memorable moments from the students' years in the program. Each graduate was recognized as their accomplishments and fondest memories were shared.
Aditya Kalluri, HST class speaker and MD/PhD graduate, recalled milestones in HST history that the class experienced and talked about how the benefits of the collaborations between Harvard, MIT, and affiliated hospitals and institutions will serve the graduates well as they begin their careers in science and medicine.
"Whatever we do next, whether it's clinical work, science, or industry," Kalluri said, "the mindset to seek out and build collaborations is a core HST tenet we will carry with us."
HST's most valuable lesson, Kalluri said, is that "all important problems are informed by many fields, and when we seek to solve them we will have the confidence to draw wisdom from many disciplines."
"Now, you have earned the responsibility to practice and add to what you have learned, and to return to the world all the tremendous privileges and opportunities you have been given," Daley said, concluding, "I cannot wait to see what you will accomplish."
In addition to the MD graduates, 13 graduates of the HST Medical Engineering and Medical Physics PhD program were recognized. The evening ended with graduates, family, faculty, and friends visiting in virtual breakout rooms.
Seventeen of the HST graduates also earned PhD degrees, and a separate celebration was held during graduation week for all of the School's MD-PhD graduates.
At an afternoon ceremony following the Class Day convocation, five HMS/HSDM grads will be commissioned as officers in the U.S. military: two in the U.S. Army, two in the U.S. Air Force, and one in the U.S. Navy.
Wrapped in love, ready to do good
For all that the coronavirus pandemic tested members of the Class of 2021, their Class Day ceremony was infused with talk of love—from the love that Amen said the graduates have for one another to the love they will bring to the work that will make them great doctors and dentists.
"Perhaps one of the hardest, yet most beautiful aspects of learning to be a clinician is learning that we and the patients open up our hearts to work together toward healing," said HMS Class Day speaker Isabelle Wijangco in her speech "Compassion Takes Intentional Practice."
Montgomery Rice closed by encouraging the students to carry forward the lessons of resilience and hope they learned at Harvard to their careers as doctors and dentists.
"I want you to see today as a blessing that you are going to share with those you will be privileged to care for," she said. "If you do this, then your life's work will be wrapped in love."
"Go forth and do good," she concluded.
I want you to see today as a blessing that you are going to share with those you will be privileged to care for. If you do this, then your life's work will be wrapped in love.
—Valerie Montgomery Rice