Grace and Determination
HSDM dean on grit, making a difference, and smizing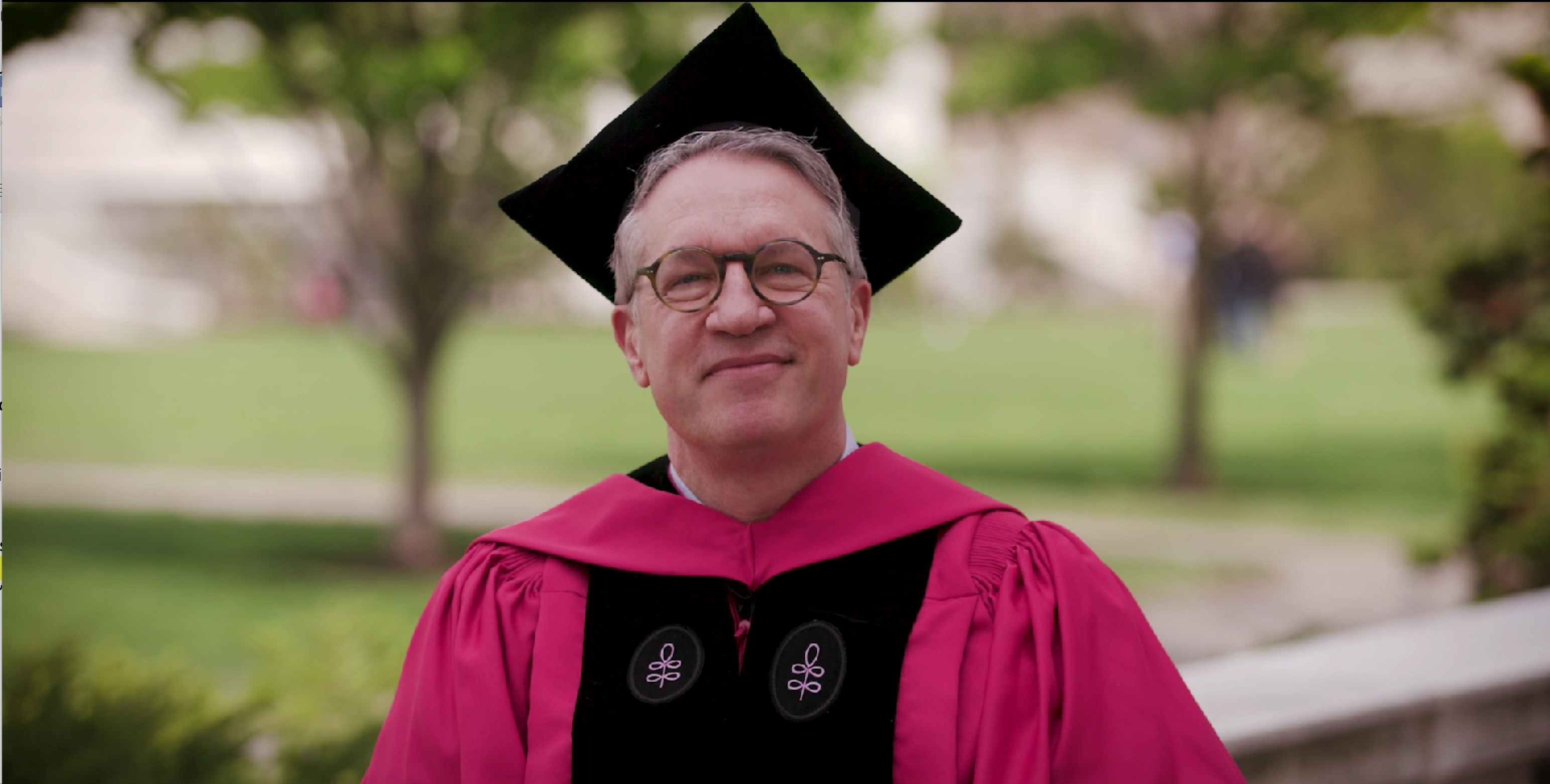 HSDM Dean William V. Giannobile's speech was prerecorded and presented at the 2021 Class Day virtual ceremony on May 27.
Congratulations, graduates! As we join you, your families, faculty, and friends here today, I want to say how immensely proud we all are of you. You've exhibited true determination and professionalism during such a challenging year. Your hard work over the past four years, and your strong dedication and experience on the frontlines of the pandemic, has shaped you into the amazing health care providers you have become, and set you on a course for a bright future ahead.
When I started my role as dean of Harvard School of Dental Medicine in September of last year, I was so eager to meet the 34 predoctoral students in the Class of 2021. I was also apprehensive...how would our students on campus recognize me behind a surgical mask and how would I get to know them by sight. In dentistry, we know how important a smile is in making a first impression. It turns out our students were not shy to approach me, and I've gotten to be pretty good at recognizing faces from the bridge of the nose up!  And we have all mastered the art of "smizing," or smiling with our eyes.
Read more about HMS/HSDM Class Day here
Masks have become an important part of our existence these days, and it's only now in an outdoor setting, physically distanced, and fully vaccinated that I appear unmasked to share today's remarks. Masks became not only necessary to mitigate the spread of COVID-19, but symbolic of our commitment to public health. As health care providers, you've worn them for the public good, to support and safely treat your patients in the delivery of care, and with the purpose of working to end this virus, eliminate pain, suffering, and promote oral and total body health. I've witnessed our students treat patients with kindness, caring, and dignity, and I admire this class for your tenacity and your true desire to help others without worrying about your own recognition.
During your tenure at HSDM, you have demonstrated your commitment to advancing health equity and diversity in dentistry. Almost a third of the individuals in the class have served as Diversity and Inclusion Fellows and have been active in pipeline programs such as the Bridge to Dental School. Others have promoted health literacy and served in outreach roles to increase access to oral health care in communities most in need. You've also shown a commitment to our environment, and inspired sustainability practices at HSDM by reducing waste in our clinical settings, organizing the Countway Community Garden, and advancing goals for a more sustainable future for our patients and our profession. And when the pandemic hit, you took action, you got involved in efforts to mobilize resources, you researched new learning models, and contributed to biomedical research on the delivery of remote dental education.
As the author of Grit, Angela Duckworth once said, "As much as talent counts, effort counts twice." You are a tremendously talented class; however, I am even more amazed by how much you have overcome to get to this day.  This year you faced so many hurdles with grace and determination, and you have become skilled clinicians and compassionate caregivers. The grit you have demonstrated over these four years has prepared you well for a critical time in our nation's health care system—a system I am confident you will contribute to and innovate.
I'm delighted to recognize our 34 individuals receiving their Doctor of Dental Medicine degree today. Many of you in the class will go on to specialty residencies across the country, others will pursue entrepreneurial plans, private practice, or work in service to our government in roles in the VA or the military. Wherever you go, I know your talents will take you far. 
You will join a distinguished group of alumni who are making a difference through leadership roles in global health, research, academia, health care, government, and business. I know you will represent your school well in everything you choose to do.
On behalf of our entire HSDM community, we all wish you the very best, and hope that you continue to stay in touch with us as you become alumni of the school. We will be watching proudly and "smizing" all the way.