Late-Night Eating Impact
New study provides experimental evidence that late eating may increase hunger, obesity risk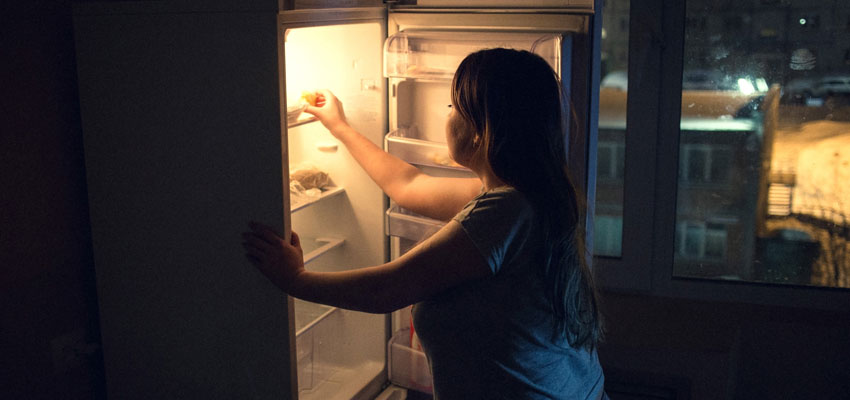 Image: ZSV3207/iStock/Getty Images Plus
Obesity afflicts approximately 42 percent of the U.S. adult population and contributes to the onset of chronic diseases, including diabetes, cancer, and other conditions.
While popular healthy diet mantras advise against midnight snacking, few studies have comprehensively investigated the simultaneous effects of late eating on the three main players in weight regulation and thus obesity risk: regulation of calorie intake, the number of calories you burn, and molecular changes in fat tissue.
A new study by Harvard Medical School investigators at Brigham and Women's Hospital found that when we eat significantly impacts our energy expenditure, appetite, and molecular pathways in adipose tissue. Their results are published in Cell Metabolism.
"We wanted to test the mechanisms that may explain why late eating increases obesity risk," explained senior author Frank Scheer, HMS professor of medicine and director of the Medical Chronobiology Program in the Division of Sleep and Circadian Disorders at Brigham and Women's.
"Previous research by us and others had shown that late eating is associated with increased obesity risk, increased body fat, and impaired weight loss success. We wanted to understand why," he said.
"In this study, we asked does the time that we eat matter when everything else is kept consistent," said first author Nina Vujović, a researcher in the Medical Chronobiology Program.
"And we found that eating four hours later makes a significant difference for our hunger levels, the way we burn calories after we eat, and the way we store fat."
Vujović, Scheer, and their team studied 16 patients with a body mass index in the overweight or obese range. Each participant completed two laboratory protocols: one with a strictly scheduled early meal schedule, and the other with the same meals, each scheduled about four hours later in the day.
Science. Medicine. Humanity.
Harvard Medicine magazine delivered to your inbox