Honoring Social Justice Efforts
Inaugural HMS awards program recognizes work done to advance equity, justice, advocacy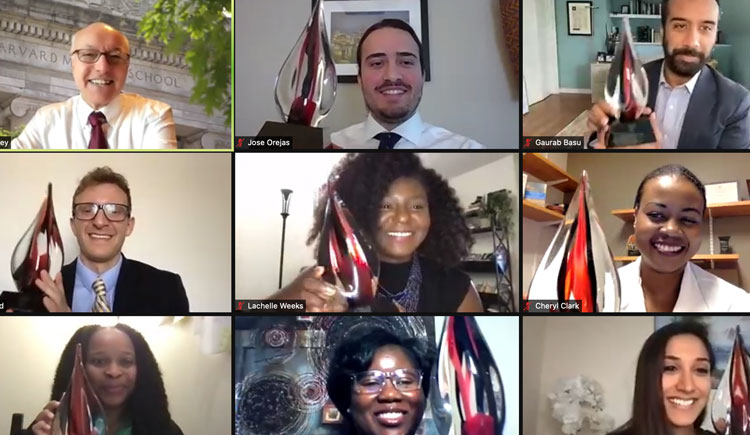 HMS Dean George Q. Daley congratulates the inaugural winners of the 2021 HMS Equity, Social Justice, and Advocacy awards during an online ceremony Nov. 30.
Eight members of the Harvard Medical School community were honored Nov. 30 during the School's inaugural Equity, Social Justice, and Advocacy award ceremony, viewed by more than 300 people.
The award was created to recognize the exemplary work done by faculty, students, and staff to advance social justice and equity within the Harvard community and other communities in Boston and beyond.
In opening the public online ceremony, HMS Dean George Q. Daley said this year's recipients, selected by a special advisory committee from among more than 100 nominees, serve as an inspiration to others across HMS.
"Not only do their efforts affirm the HMS mission, community values, diversity statement, and medical professionalism, they exemplify the change we work to see at Harvard and beyond," Daley said, adding that the award reflects the way HMS community members serve others both locally and across the globe by working to promote equity and social justice.
Joan Reede, HMS dean for diversity and community partnership, whose department oversaw the award process, said all of the nominees were impressive and should be commended for their work.
"All the nominations were compelling, and are testament to the dedicated work, respect, fairness, justice, and advocacy demonstrated by all of the nominees [whose efforts] were coming from a place of personal and professional expertise, passion, and commitment," Reede said.
Among the recipients were faculty members Gaurab Basu, an HMS instructor in medicine and co-director of the Center for Health Equity Education & Advocacy at Cambridge Health Alliance, and Cheryl Clark, an HMS assistant professor of medicine at Brigham and Women's Hospital.
Basu, Reede said, was recognized for, among other work, "a long-standing commitment to addressing structural racism and the impact of climate change on public health."
Accepting his award, Basu said, "upon becoming a primary care doctor and physician, I realized that we have to have healthy, healing structures in place in order for people to have health and health equity, and that [physicians] can play a major role in making that structural change."
Clark's work, Reede said, focuses on the impact of the social determinants of health and structural racism on health outcomes in Black and Brown communities, particularly in African American communities. Clark, she said, has also been a steadfast advocate and mentor for internal medicine residents and has led the COVID equity response team across all of Brigham's health constituencies that was formed in April 2020.
"The fact that this award exists is an affirmation that a medical school cannot be excellent unless we are making sure that research, teaching education, health promotion, everything that is done through the institution is equitably felt by everybody in society," Clark said upon receiving her award. "It's all fostering community. It's all promoting the next generation of leaders, and how we support the generations that come after us."
Other honorees included staff member Aljani Stanley, director of administration in the Office for Diversity Inclusion and Community Partnership; students Bina Kassamali and Derek Soled, both Class of '22; and trainees Lucy Ogbu-Nwobodo, HMS clinical fellow in psychiatry at Massachusetts General Hospital, Jose Orejas, HMS research fellow in pulmonary medicine at Brigham and Women's, and Lachelle Weeks, HMS instructor in medicine at Brigham and Women's.
A Moment or a Movement?
The inaugural award ceremony featured a keynote address by Michael Curry, the president and chief executive officer of the Massachusetts League of Community Health Centers.
Curry, who is an attorney, told the group that in his more than 30 years of doing racial justice and health equity work, he has never seen such a moment in the U.S., where awareness of health equity issues has grown so significantly and where so many organizations are resolving to address them.
Curry said it was clear to him that awareness has grown as the larger public came to comprehend the sacrifices being made during the pandemic by members of the health care community. He said the enormity of the change in perceptions hit him as he was returning from a cross-country business trip and saw a group of health care workers being applauded in the airport.
"I was literally brought to tears, watching how they recognized how these health care workers were likely on their way to a hospital or some other site to provide coverage and support at the height of the pandemic, risking their lives and, quite frankly, risking their families' lives," Curry said.
He spoke about the work and the challenges that remain as the medical profession and scientists strive to achieve greater equity and improve health care for all, acknowledging the mistakes made early on, when the U.S. was not adequately prepared to respond to the pandemic, and calling out the mistakes that continue to be made by the uneven distribution of vaccines.
"The reality is, it's a global crisis," Curry said.
"While we need to convince our cousin who lives down the street that he needs, or she needs, to take the vaccine, and that urgency is because of potential variants in the future, we also need to realize that there are countries that do not even have the vaccine. We need to think about India or Africa or Indonesia or Iraq or Ethiopia or Afghanistan—and many of them are communities and countries of color," he added.
Curry said health inequities and disparities extend to local communities of color, where rates of disease are high and life expectancies can be low, but he said the pandemic has taught him that, just as the awardees have demonstrated, there is strength and resolve in numbers that ignites hope for the future.
"We can do great things when we do them together," Curry said. "We can find vaccines when we do it together. We can advance technology and introduce technology and telehealth when we do it together. We can get massive amounts of vaccines into arms when we do it together."
Nominations for next year's awards will open in January 2022.