HMS Teachers, Staff Lauded
2021 Federman Awards Recognize Excellence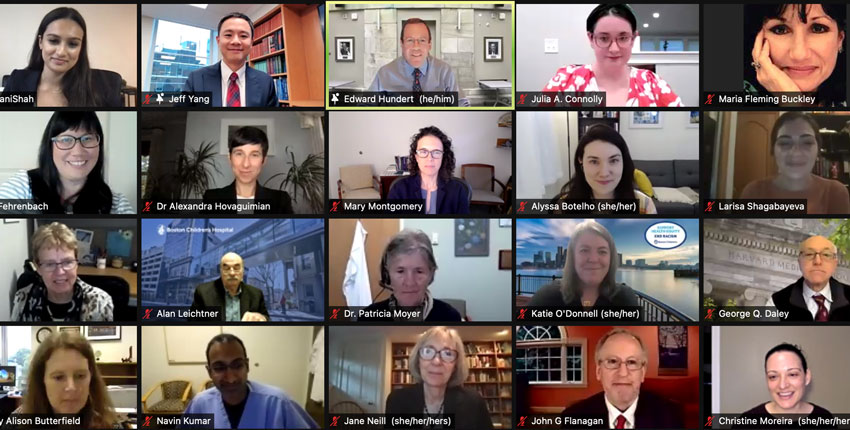 The 2021 Federman Awards on Oct. 4 honored teaching excellence at HMS
Fourteen dedicated faculty and three staff members at Harvard Medical School and its affiliated hospitals were honored for teaching and service excellence on Oct. 4 during the 2021 Daniel D. Federman Teaching Awards ceremony.
The awards recognize outstanding educators, who through their excellence in teaching, influence the professional lives of their students long after graduation. The awards are HMS' most visible recognition of the teaching accomplishments of a highly select group of the School's leading medical educators, reflecting in a tangible way how much teachers are valued by their students and by the HMS community.   
In his welcoming remarks, HMS Dean George Q. Daley acknowledged the recipients' stellar efforts, innovation, and dedication.
"In these challenging times, these extraordinary teachers were able to find the time, energy, and mental space to truly focus on innovating the delivery of medical education with new approaches that made a tremendous difference in their students' lives," Daley said.
"The pandemic has brought with it unprecedented trials for our faculty as clinicians, researchers, and teachers," he added. "But they have adapted and even pushed their teaching to the next level to make learning here at Harvard Medical School truly life-changing for their students. Many times, it can seem as if our teaching efforts stay under the radar, so we gather today to acknowledge how critical and important our medical educators are here at HMS."
Each year, students nominate candidates they believe embody the many exemplary contributions of Daniel D. Federman, an alumnus of both Harvard University and HMS. Award recipients are selected from among those nominated.
Federman served as dean for students and alumni from 1977–89, dean for medical education from 1989–2000, the HMS Carl W. Walter Professor of Medicine and Medical Education at Brigham and Women's Hospital from 1992–2000, senior dean for alumni relations and clinical teaching from 2000–2007, and the Carl W. Walter Distinguished Professor of Medicine at HMS and Brigham and Women's from 2000-2017. 
The event also recognizes the contributions of staff members both on campus and at an affiliated hospital for their support, innovation, and commitment to excellence.
In closing remarks, Dean for Medical Education Ed Hundert reminded all who attended the virtual ceremony to remember how Federman used to remind those he taught about the three keys to being a successful physician and medical educator, which were to "think out loud, stick to the basics, and be kind." Hundert said he was impressed not only by the level of excellence and dedication the recipients bring to their work, but also by the kindness they extend to each individual learner. 
The 2021 Federman award recipients are:
Donald O'Hara Faculty Prizes for Excellence in Teaching
Mohini Lutchman, lecturer on neurobiology in the Blavatnik Institute at HMS

Mary Montgomery, HMS instructor in medicine at Brigham and Women's Hospital
Charles McCabe Faculty Prizes for Excellence in Teaching
Yamini Saravanan, HMS assistant professor of medicine at Cambridge Health Alliance

Chi-Fu Jeffrey Yang, HMS assistant professor of surgery at Massachusetts General Hospital
Fariborz Maseeh Award for Innovative Medical Education
John Flanagan, professor of cell biology in the Blavatnik Institute at HMS
Special Faculty Prize for Sustained Excellence in Teaching
Clyde Crumpacker II, HMS professor of medicine at Beth Israel Deaconess Medical Center

Michael Kahn, HMS assistant professor of psychiatry at Beth Israel Deaconess Medical
Leo A. Blacklow Teaching Award
Patricia Moyer, HMS assistant professor of medicine at Mount Auburn Hospital
Stephen B. Calderwood, MD Medical Student Teaching Award
Alberto Puig, HMS associate professor of medicine at Massachusetts General Hospital
Sandra & Arnold Gold Award for Humanistic Teaching
Kate Harney, HMS assistant professor of obstetrics, gynecology, and reproductive biology at Cambridge Health Alliance
Bernard Lown Award for Excellence in Teaching
Tamara B. Kaplan, HMS assistant professor of neurology at Brigham and Women's Hospital

Navin Kumar, HMS assistant professor of medicine at Brigham and Women's Hospital
Robert P. Masland, Jr., Teaching Award
Katherine O'Donnell, HMS assistant professor of pediatrics at Boston Children's Hospital
S. Robert Stone Award for Excellence in Teaching
Alexandra Hovaguimian, HMS assistant professor of neurology at Beth Israel Deaconess Medical Center
L. James Wiczai, Jr. Award
Jean Terp, administrative operations manager at Cambridge Health Alliance
Richard A. Gills Award for Excellence in Medical Education
Agnieszka Jackson, OSCE program manager in the HMS Program in Medical Education

Rosa Soler, director of student affairs at HMS