Pioneer Passes
Federman's contributions over decades transformed medical education at HMS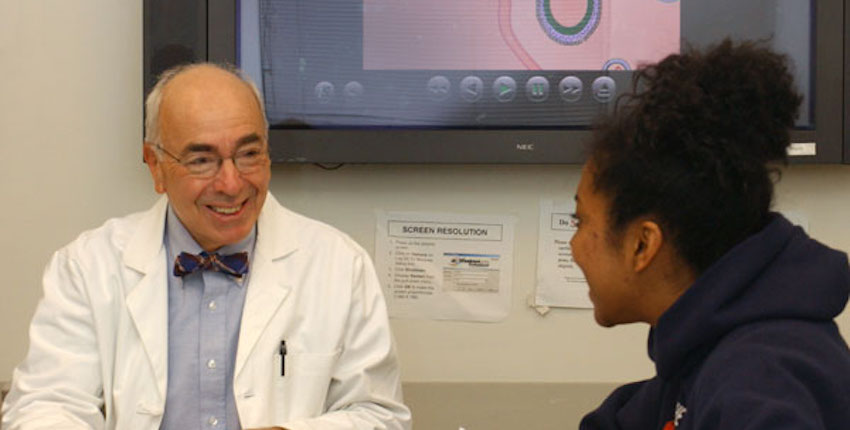 Daniel Federman was beloved by students. Image: Liza Green
Dr. Daniel Federman, who helped transform medical education at Harvard Medical School through the New Pathway curriculum, and whose groundbreaking work helped create the field of genetic endocrinology, died on Sept. 6, at the age of 89.  
Federman's last role at Harvard, as the Carl W. Walter Distinguished Professor of Medicine, capped an illustrious 63-year career at HMS. He also served as dean for students and alumni from 1977 to 1989 and as dean for medical education from 1989 to 2000. He played other key roles in labs, classrooms and offices at HMS, Massachusetts General Hospital and Brigham and Women's Hospital for many decades. 
Please click here to view a 2014 video tribute honoring Dr. Federman.
"Dan Federman was the mentor's mentor," said Edward M. Hundert, current dean for medical education and now the Daniel D. Federman M.D. Professor in Residence of Global Health and Social Medicine and Medical Education at HMS.
"His humanity, generosity of spirit and interdisciplinary eloquence helped make generations of us who we are today, with dedication to continue paying his legacy forward," Hundert added.
Federman was a member of the Institute of Medicine (now the National Academy of Medicine), past chairman of the American Board of Internal Medicine, past president of the American College of Physicians and a founding editor of Scientific American Medicine.
His many honors included the Distinguished Teacher Award and Massachusetts Physician of the Year from the American College of Physicians, the Abraham Flexner Award for Distinguished Service to Medical Education from the Association of American Medical Colleges, and the Distinguished Educator Award from the Endocrine Society. He was awarded an honorary doctorate by the Mount Sinai School of Medicine, now the Icahn School of Medicine at Mount Sinai.
"Dan Federman's life etched a high watermark on the soul of American medicine. A master teacher, a master clinician, a master rhetorician—yes, but so much more. He was without peer. His very presence bestowed an ethical ambiance on any occasion. To know him was to know a great man. To know him as a friend was to know one of life's true blessings. He was my friend," said Jordan J. Cohen, president emeritus of the American Association of Medical Colleges.
A Harvard Citizen
A son of European immigrants who settled in the Bronx, Federman spent nearly his entire adult life at Harvard, graduating summa cum laude from Harvard College in 1949 and magna cum laude from HMS in 1953. Federman's residency at Mass General led to teaching and research fellowships there and at the National Institute of Arthritis and Metabolic Diseases, where his early interest in pulmonary medicine preceded a groundbreaking career in endocrinology.
It was at Mass General that Federman met his future wife, Elizabeth (Betty) Buckley. At the time, she was the youngest head nurse in Mass General history, and she would go on to mentor generations of medical students, interns, residents and student nurses. After marrying, Federman made his first of only two departures from Harvard, taking a clinical research fellowship at University College Hospital Medical School in London. In this role, he was deeply involved in research and clinical work in early uses of radioactive iodine in the treatment of thyroid cancer.
In 1970, Federman was promoted to associate professor, the first such HMS appointment based on clinical work and teaching, rather than research. His growing renown as a medical educator was bolstered by his landmark 1967 book, Abnormal Sexual Development, which brought together genetics and endocrinology and helped give shape to a new field. The book was praised for proposing the first classification system for abnormal sexual development and for its usefulness across medical disciplines.
In a 2010 interview, Federman said that the book "did organize a set of patients and a set of explanations that hadn't been brought together before, because the techniques in use were new … and people from endocrine, from genetics, from pediatrics—almost any field—could see how it related to their daily life."
Leader in Medical Education
In 1973, Federman left HMS again, this time to serve as chair of medicine and physician-in-chief at Stanford University Medical School. There, he enthusiastically embraced his charge to remake clinical teaching to emphasize the doctor-patient relationship and to deepen connections between the hospital and the broader community.
Federman returned to HMS in 1977 as dean for students and alumni. Early in his tenure he was a leader in developing and implementing the New Pathway curriculum, the model of student-centered medical instruction that transformed the learning experience at HMS and, subsequently, at many other schools of medicine around the country and around the world
"Dan Federman represented the best of Harvard Medical School. His life by example inspired deep compassion for others and his work fueled academic excellence," said George Q. Daley, dean of HMS. "His legacy will reverberate throughout HMS for generations to come."
From 2000 to 2007, Federman also served in a role of his own design, as senior dean for alumni relations and clinical teaching at HMS. He continued to guide the evolution of medical education with such initiatives as the Resident as Teacher program, acknowledging residents' important role in the education of students in core clerkships. He was also a lover of music who brought interdisciplinary perspectives from the arts to medicine and medical education, a tradition that continues at HMS today.
Federman's wife, Elizabeth, died in 2008. The Federmans are survived by two daughters, Lise Federman of Boston and Carolyn Zaucha of Chicago; son-in-law, Albert; and three grandchildren.