Learning from the Best
HMS community honors outstanding faculty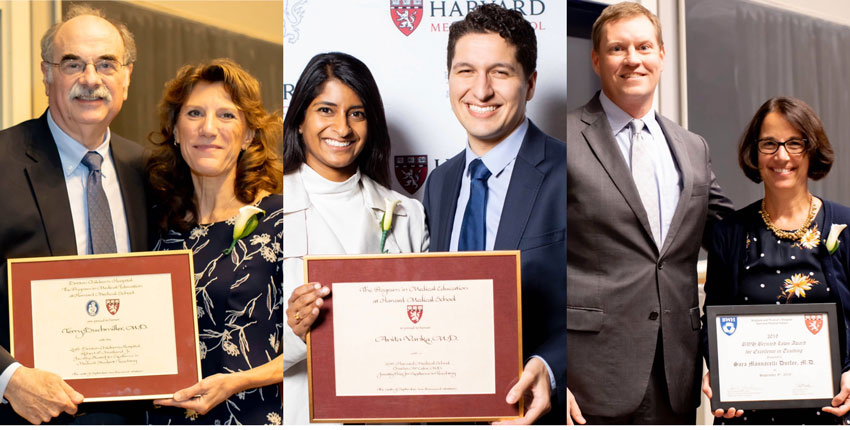 For almost 40 years the Daniel D. Federman Teaching Awards have celebrated Harvard Medical School's teachers who, through their excellence in teaching, have impacted and influenced the professional lives of students long after graduation.
The recipients of the awards, who are nominated by students, embody the contributions of Daniel D. Federman, an alumnus of both Harvard University and HMS. 
This year's honorees were fêted on September 9 at the Daniel D. Federman Teaching Award Celebration in TMEC's Carl W. Walter Amphitheatre, hosted by HMS Dean George Q. Daley and Dean for Medical Education Edward Hundert.
The awards are HMS's most visible recognition of the teaching accomplishments of a highly select group of the School's leading medical educators, and reflect, in a tangible way, how much teachers are valued by their students and the HMS community.
2019 Faculty Prizes for Excellence in Teaching
Donald O'Hara, PhD Faculty Prizes for Excellence in Teaching
John Flanagan, PhD
Professor of Cell Biology
Harvard Medical School
Robert Padera, MD, PhD
Associate Professor of Pathology
Brigham and Women's Hospital
Charles McCabe, MD Faculty Prizes for Excellence in Teaching
Collin May, MD
Instructor in Orthopedic Surgery
Boston Children's Hospital
Anita Vanka, MD
Assistant Professor in Medicine
Beth Israel Deaconess Medical Center
Special Faculty Prizes for Sustained Excellence in Teaching
Cecil (Pete) Coggins, MD
Associate Professor of Medicine
Massachusetts General Hospital
Gary Setnik, MD
Assistant Professor of Medicine
Mount Auburn Hospital
Leo A. Blacklow Teaching Award
Mount Auburn Hospital
Todd W. Thomsen, MD
Instructor in Emergency Medicine
Bulfinch Award for Undergraduate Medical Education
Massachusetts General Hospital
Daniel Restrepo, MD
Instructor in Medicine
The CHA Sandra & Arnold Gold Award for Humanistic Teaching
Cambridge Health Alliance
Jill Kasper, MD
Assistant Professor of Pediatrics
Bernard Lown Award for Excellence in Teaching
Brigham and Women's Hospital
Sara Durfee, MD
Assistant Professor of Radiology
Michael Muto, MD
Associate Professor of Obstetrics, Gynecology and Reproductive Biology
Robert P. Masland, Jr. Teaching Award
Boston Children's Hospital
Terry Buchmiller, MD
Associate Professor of Surgery
S. Robert Stone Award for Excellence in Teaching
Beth Israel Deaconess Medical Center
Stewart Lecker, MD, PhD
Assistant Professor of Medicine
L. James Wiczai Award for Leadership, Excellence, and Innovation in Medical Education
Joy Moses
Surgery Clerkship Coordinator, Department of Surgery
Massachusetts General Hospital
Richard A. Gillis Award for Excellence in Medical Education
Lillian Johnson
Financial Aid Coordinator
Office of Financial Aid
Thomas Fleenor
Data Analyst
Office of Educational Quality Improvement (OEQI)
Irving M. London Teaching Award
Anna Rutherford, MD
Assistant Professor of Medicine
Brigham and Women's Hospital
Sarah Flier, MD
Assistant Professor of Medicine
Beth Israel Deaconess Medical Center
Cynthia N. Kettyle Teaching Award in Psychiatry
Fremonta L. Meyer, MD
Psychiatry
Brigham and Women's Hospital / Dana-Farber Cancer Institute
Michael J. Mufson, MD
Psychiatry
Brigham and Women's Hospital
Jonathan F. Borus Outstanding Early Educator Award in Psychiatry
Justin A. Chen, MD, MPH
Psychiatry
Massachusetts General Hospital
Christine Wittmann, MD
Psychiatry
Beth Israel Deaconess Medical Center