Celebrating Excellence
HMS community gathers together to honor outstanding teachers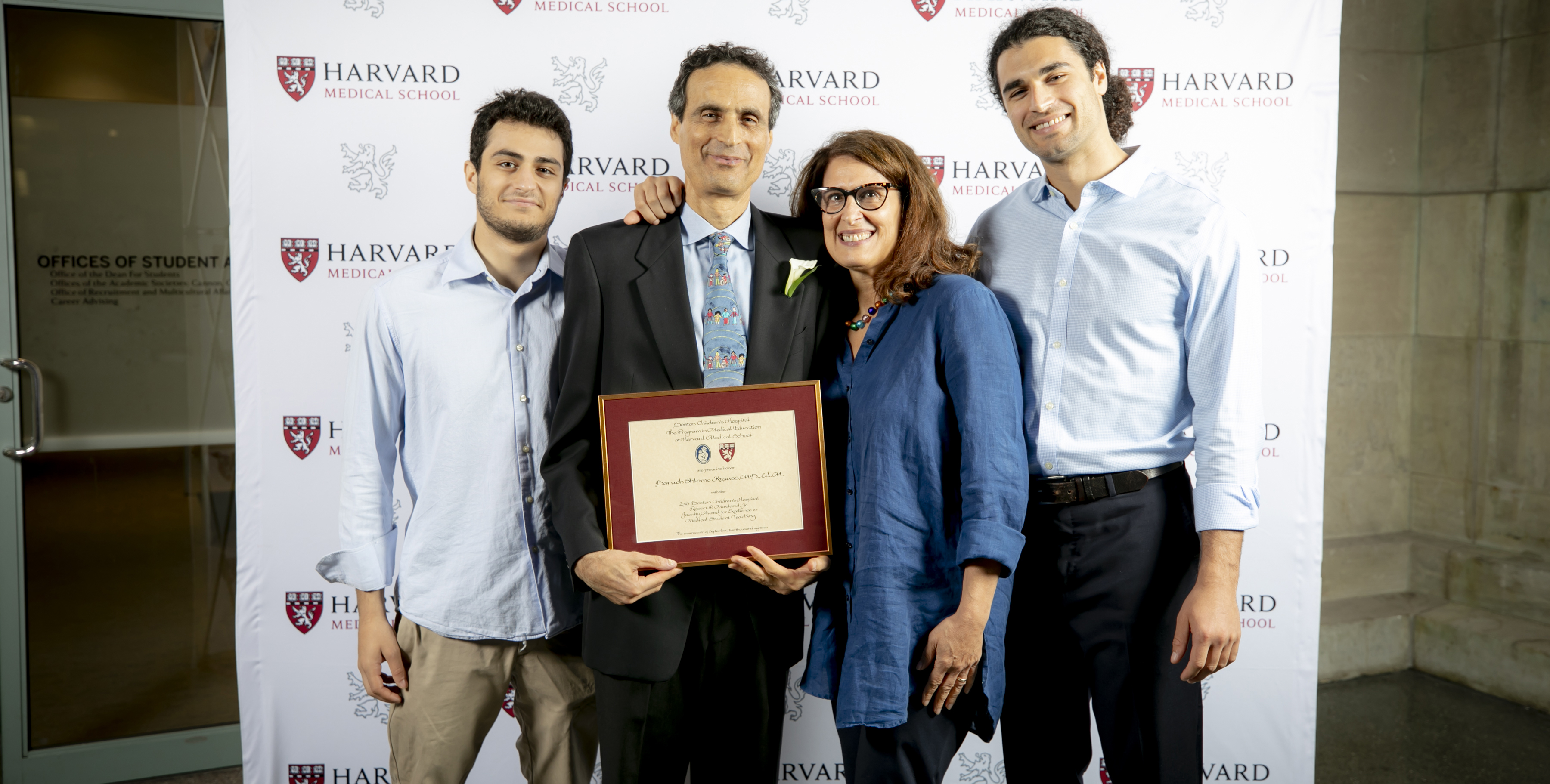 Twelve Harvard Medical School faculty members were honored for exceptional teaching at the annual Daniel D. Federman Teaching Awards ceremony held in the Carl W. Walter, M.D. Amphitheatre on September 17. Recipients ranged in disciplines and positions, but all were recognized for outstanding contributions in their fields and for leaving a lasting impact on their students.
Among the recipients was Noelle Saillant, HMS instructor in surgery at Massachusetts General Hospital. Saillant won two awards, the Bulfinch Award for Undergraduate Medical Education at Mass General and the Charles McCabe, M.D. Faculty Prize for Excellence in Teaching.
"The awards are an incredible honor," said Saillant. "It is especially impactful to have won Dr. McCabe's namesake award. I have had so many individuals and leaders in the MGH community reach out and share stories about how Dr. McCabe inspired them. It demonstrates how impactful education is on a physician's career. The ability to teach the next generation is an incredible privilege and allows each of us to 'pay forward' the debt we have to our own teachers and mentors."
Saillant is currently the site director of the surgical clerkship for the HMS Principle Clinical Experience at Mass General.
For almost 40 years the Daniel D. Federman Teaching Awards have celebrated the most outstanding teachers at the School. The recipients of the awards are nominated by students for embodying the contributions of Daniel Federman, an alumnus of both Harvard University and HMS. 
HMS Dean George Daley spoke about the lasting impact that Daniel Federman had on HMS in his speech at the awards ceremony. 
"The Federman Awards honor the memory of Daniel Federman, a mentor and a friend to many of us,… and [he was] a shining example of the very best this institution has to offer." 
Daley added that, "Through his example, he inspired students to hold a deep compassion for others … and helped fuel their drive to academic excellence. His legacy will reverberate throughout HMS for generations to come."
Federman served as dean for students and alumni from 1977–89, dean for medical education from 1989–2000, the HMS Carl W. Walter Professor of Medicine and Medical Education at Brigham and Women's Hospital from 1992–2000, and senior dean for alumni relations and clinical teaching from 2000–2010.  
The Robert P. Masland Jr. Teaching Award at Boston Children's Hospital was awarded to Baruch Krauss, HMS associate professor of pediatrics. Krauss is a pediatric emergency physician at Boston Children's, the director of the department of pediatrics sedation service and an internationally known expert on sedation in children. 
"What's most fulfilling about receiving this award is the recognition of the importance of my work among the medical students, and the feedback that what I teach them is so important and fundamental," said Krauss. 
Krauss teaches a unique learning module which focuses on building trusting relationships with children in the Transition to the Principal Clinical Experience course and in the Pediatrics clerkship at Boston Children's. 
As part of this module, students participate in a tutorial with Krauss in the emergency department where they apply concepts that they have learned in classroom sessions. Many students have deemed this to be one of the best parts of their medical school experience. 
"I'm focused on delivering a positive experience to patients and their families, and this award is reinforcement for me that my teaching is effective and that the students see the value and importance of this," Krauss said. 
In addition to this award, Krauss has also received awards from the Radcliffe Institute for Advanced Studies at Harvard University and the Harvard Initiative for Learning and Teaching, and he was the recipient of the Boston Children's Medical Student Teaching Award in 2017. 
The following HMS faculty and staff members were honored at the 2018 Daniel D. Federman Teaching Awards ceremony:
Bulfinch Award for Undergraduate Medical Education, Massachusetts General Hospital 
Noelle Saillant, HMS instructor in surgery at Massachusetts General Hospital
S. Robert Stone Award for Excellence in Teaching, Beth Israel Deaconess Medical Center
Donald O'Hara, Ph.D. Faculty Prizes for Excellence in Teaching 
Daniel Kamin, HMS assistant professor of pediatrics at Boston Children's Hospital 
Albert Lam, HMS assistant professor of medicine, part-time, at Brigham and Women's Hospital
Charles McCabe , M.D. Faculty Prizes for Excellence in Teaching 
Gaurab Basu, HMS instructor in medicine at Cambridge Health Alliance
Noelle Saillant, HMS instructor in surgery Massachusetts General Hospital
Leo A. Blacklow Teaching Award, Mount Auburn Hospital
Bernard Lown Award for Excellence in Teaching, Brigham and Women's Hospital
Raymond Mak, HMS associate professor of radiation oncology at Brigham and Women's Hospital
Robert P. Masland, Jr. Teaching Award, Boston Children's Hospital
Baruch Krauss, HMS associate professor of pediatrics at Boston Children's Hospital
L. James Wiczai Award for Leadership, Excellence and Innovation in Medical Education
Lisa Neville, associate program administrator of undergraduate medical education in the Department of Medicine at Massachusetts General Hospital
Richard A. Gillis Award for Excellence in Medical Education
Mark Coyle, instructional lab technician in the Program in Medical Education Office of Curriculum Services at HMS
Susan Zapatka, associate registrar in the Office of the Registrar at HMS