HMS Faculty Named to National Academy of Inventors
Researchers recognized for prolific spirit of innovation
Two Harvard Medical School faculty members have been named fellows of the National Academy of Inventors (NAI). Members of the 2015 class of 168 fellows are recognized by NAI for having demonstrated "a highly prolific spirit of innovation in creating or facilitating outstanding inventions that have made a tangible impact on quality of life, economic development, and the welfare of society."
HMS faculty in the new class include:

Donald Ingber, Founding Director of the Wyss Institute for Biologically Inspired Engineering at Harvard University and the Judah Folkman Professor of Vascular Biology in the HMS Department of Surgery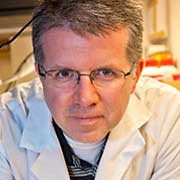 Guillermo Tearney, professor of pathology at HMS, a Mike and Sue Hazard Research Scholar, pathologist in the department of pathology and faculty member of the Wellman Center for Photomedicine at Massachusetts General Hospital
Jennifer Lewis, the Hansjörg Wyss Professor of Biologically Inspired Engineering at the Harvard John A. Paulson School of Engineering and Applied Sciences and Wyss Institute core faculty member, was also named one of this year's fellows.
All new fellows will be inducted on April 15, 2016, at the Fellows Induction Ceremony at the United States Patent and Trademark Office in Alexandria, Va.
Following their induction, the fellows will be honored at a private reception inside the National Inventors Hall of Fame Museum.
The NAI Fellows Program currently has 582 fellows worldwide, representing more than 190 universities and governmental and non-profit research institutions. The NAI fellows collectively hold more than 20,000 U.S. patents.