News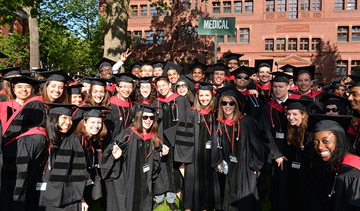 Under cerulean skies, 200 medical and dental school graduates gathered on the HMS Quad on May 29 with faculty, family and friends to celebrate the closing of one chapter of their careers and the opening of the next.
They began their new lives as doctors by taking an oath to uphold the principles of their vocation, with words inspired by the traditional and modern Hippocratic Oaths, the Declaration of Geneva and the prior class oaths of their schools, and by receiving the diplomas that many have worked for almost their entire lives.
On this Class Day, 164 students received Doctor of Medicine degrees from Harvard Medical School, including 44 students who also earned master's or doctoral degrees.
Thirty-six students received Doctor of Dental Medicine degrees from Harvard School of Dental Medicine.
In addition, HMS awarded Master of Medical Science degrees to 33 students: 12 in the Scholars in Clinical Science Program, nine in the Clinical Investigators Training Program, eight in biomedical informatics, and four in the inaugural class of the Global Health Delivery program (including one who also earned a Doctor of Medicine).
A time of transitions
With the early spring cherry blossoms faded and late-spring azaleas blooming on the quad, the day focused on transitions: students reminisced about shared experiences during their medical training with friends and classmates and talked about their plans for the future with family members.
Some of the youngest celebrants—including the children of graduates—danced in the aisles and napped in the shade.
Richard Jackson, HMS assistant professor of medicine at Joslin Diabetes Center, appearing in his role as father of Hannah Jackson, Class of 2014, admired the intellect and dedication of the graduates and said that he has enjoyed sharing the Longwood Medical Area with Hannah during her time here.
"It's closer than her high school in Brookline," he said. "It's going to be hard to lose her when she leaves Boston for residency."
Great things to come
Matthew Growdon began his studies at HMS in 2010 with this graduating class, but has taken a year off to complete a master's degree at the Harvard School of Public Health. He attended the ceremonies as a tribute to the strong bond he had forged with members of the class during their first three years of medical training.
"It's thrilling to see this new class of rock star doctors unleashed on the world," Growdon said. "There are so many amazing people in this class, and I'm excited to see the things they will achieve."
Graduation also meant a day of reflection, inspiration and good cheer as graduates, faculty and invited guests shared their happiness.
Vivek Murthy, founder of Doctors for America, HMS instructor in medicine at Brigham and Women's Hospital, and a nominee for Surgeon General of the United States, spoke to graduates about the importance of developing a personal vision and values to guide their careers, their interactions with patients, and their efforts to improve health care and the world.
Follow
HMS
Stay informed via email on the latest news, research, and media from Harvard Medical School.

Commencement 2014
Photo Gallery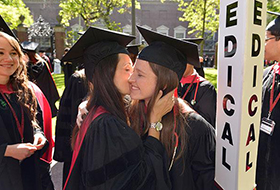 Harvard University confers degrees on HMS and HSDM graduates
Class Day 2014
Photo Gallery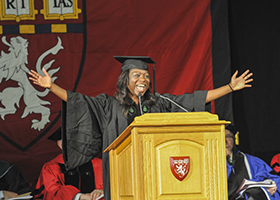 A day to remember: HMS and HSDM graduates celebrate on the Quad