Heartfelt Celebration
Tal Geva honored for advances in congenital heart disease care, imaging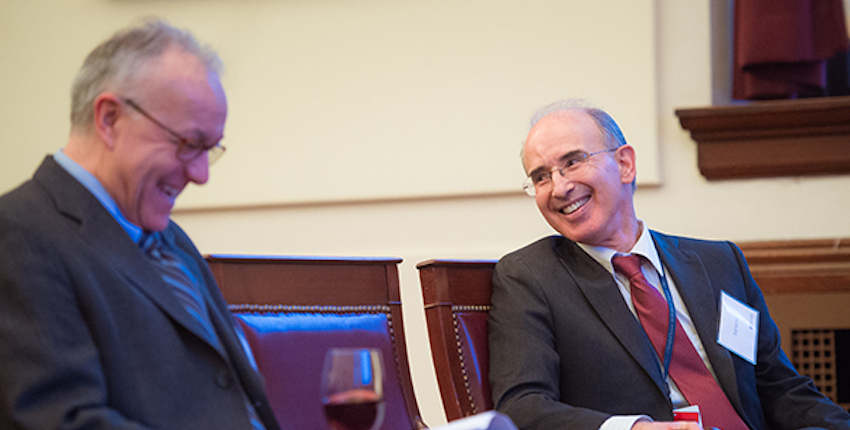 Professorship incumbent Tal Geva, right, with HMS Dean George Q. Daley. Image: Gretchen Ertl
Tal Geva was a young Israeli medical student in 1982 when, on a visit to the U.S., he observed the goings-on at the Heart Center at Boston Children's Hospital. Within a month, he knew he wanted to dedicate his career to pediatric cardiology.
Thirty-five years later, Geva is cardiologist-in-chief of that same Heart Center. A leader in improving care for congenital heart disease and advancing cardiac imaging, he has now been named the inaugural incumbent of the Farb Family Professorship in Pediatrics in the Field of Cardiology at Harvard Medical School and Boston Children's.
A celebration was held Jan. 29 in the Waterhouse Room in Gordon Hall at HMS.
Geva joined the faculty at Boston Children's in 1994, where he established, and for more than 10 years directed, a first-of-its-kind pediatric cardiovascular magnetic resonance program. His insights into congenital heart disease using noninvasive imaging have led to more accurate diagnoses and improvements in care for pediatric and adult patients, including his development of imaging-based models to predict clinical outcomes.
At the Heart Center, Geva manages a team that treats the full spectrum of cardiac disorders, including rare and complex congenital heart defects.
Colleagues and students in the Harvard medical community also appreciate Geva for his dedication to teaching and mentorship. In 2014, he received the Excellence in Teaching in Pediatrics Award, the highest teaching honor bestowed by the American Society of Echocardiography.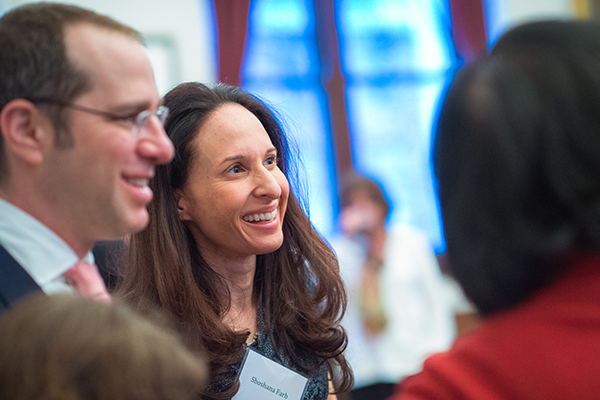 The professorship was made possible by Daniel and Shoshana Farb, founding members of the Venture Philanthropy Network and Boston Children's Heart Center Task Force. The Farbs were inspired to give back to the community after they received care at the Heart Center when Shoshana was pregnant with their first child. Daniel Farb serves on the Boston Children's Hospital Trust Board.
"Through the establishment of this professorship, the Farb family and Boston Children's Hospital are ensuring that HMS, Dr. Geva and all future incumbents continue to advance research and further progress in the field of pediatric cardiology, in particular for those patients with congenital heart disease," said HMS Dean George Q. Daley at the celebration.