Growing Talent
Fellowships help diverse junior faculty thrive
Recipients of the 2016-2018 HMS Office for Diversity Inclusion and Community Partnership Faculty Fellowship and the Harvard Catalyst Program for Faculty Development and Diversity Inclusion Faculty Fellowship were celebrated at a breakfast this spring at Harvard Medical School.
The fellows are accomplished HMS junior faculty who will spend a portion of their time over the next two years conducting individual mentored research projects at their respective HMS-affiliated institutions. They will receive $100,000 over the two-year fellowship to support their scholarly research and fellowship-related activities.
"This fellowship will allow me to launch an exciting project in which we plan to expand our research program to include Ebola and Marburg viruses," said Jonathan Abraham, HMS instructor in Biological Chemistry and Molecular Pharmacology at Brigham and Women's Hospital. "It comes at a critical time in my career and will help me translate the past decade of research I have conducted with my mentor into therapeutic applications in humans."
Harvard Medical School established several fellowships for junior faculty in order to address the recruitment, training and retention of talented diverse clinicians and scientists and to support them at a key point in their career development.
At the welcome breakfast, fellows and their mentors had an opportunity to meet and network with senior leaders from HMS and affiliated hospitals. They shared information about their research and had the opportunity to discover potential collaborations.
2016 DICP Faculty Fellows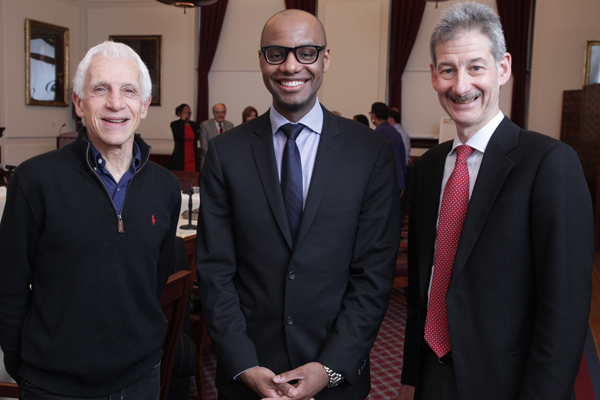 Jonathan Abraham, HMS instructor in Biological Chemistry and Molecular Pharmacology at Brigham and Women's Hospital
Project Title: "Optimized Human Monoclonal Antibody Cocktails for the Treatment of Filovirus Disease"
Mentor: Stephen C. Harrison, the Giovanni Armenise - Harvard Professor of Basic Biomedical Science at HMS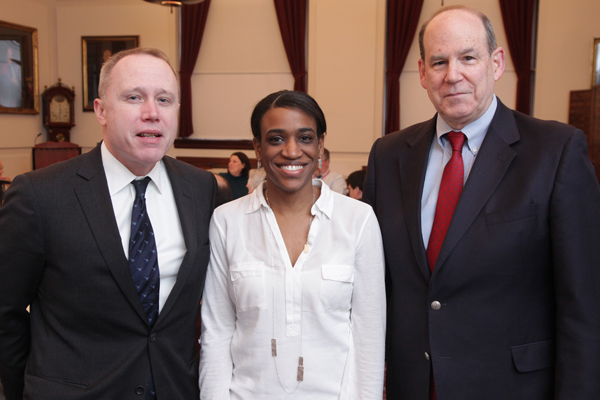 Richelle Charles, HMS assistant professor of medicine at Massachusetts General Hospital
Project Title: "Development of a Rapid Point-of-Care Diagnostic for Infectious Pathogens"
Mentor: Edward Ryan, HMS professor of medicine at Mass General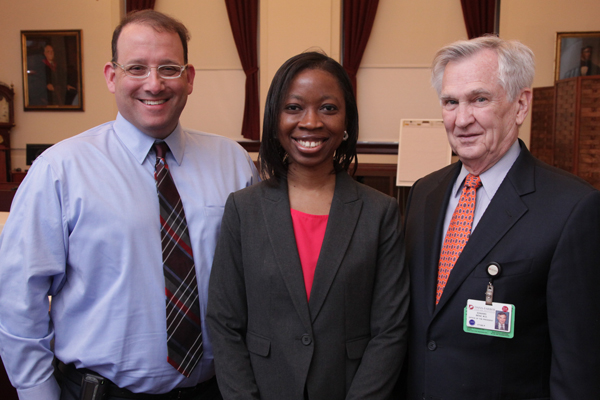 Oreofe Odejide, HMS instructor in medicine at the Dana-Farber Cancer Institute
Project Title: "Understanding and Improving End-of-Life Discussions for Blood Cancers"
Mentor: Gregory Abel, HMS assistant professor of medicine at Dana-Farber
2016 PFDD Faculty Fellow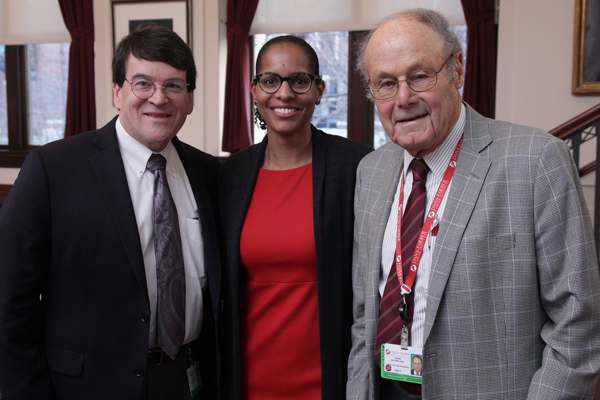 Natasha Archer, HMS instructor in pediatrics at Boston Children's Hospital
Project Title: "The Effect of Fetal Hemoglobin on Plasmodium Falciparum Invasion and Growth"
Mentor: David G. Nathan, the HMS Robert A. Stranahan Distinguished Professor of Pediatrics at Dana-Farber