Fresh Minds, Fresh Ideas
Student innovation highlights 81st annual Soma Weiss Research Day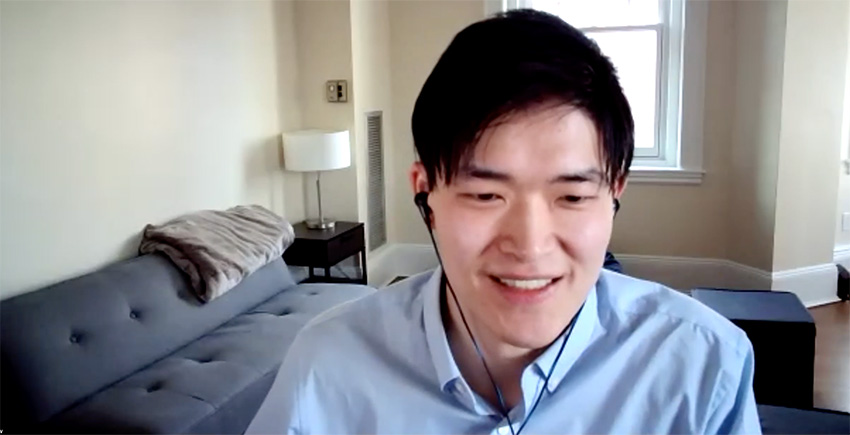 "The concert was the last 'family outing' we had together … and will forever be a fond memory of his last days with us."
The quote, from an individual whose father died in February, powerfully demonstrates the impact of Harvard Medical School student Grant Riew's research project, "Harnessing the therapeutic aspects of music to treat loneliness with virtual bedside concerts."
The project involved pairing musicians with hospitals and other health care facilities for virtual bedside concerts during the pandemic to help relieve patients' feelings of isolation and distress.
Riew is one of the more than 30 HMS students who presented their work at the 81st Soma Weiss Student Research Day on March 16.
The annual showcase, sponsored by the HMS Scholars in Medicine Office, is named in memory of Soma Weiss, a dedicated School mentor and champion for student research who helped organize the first student research day at HMS in 1940. He died unexpectedly in 1942.
"A lot of innovation is driven by fresh minds looking at the world in fresh ways," said Dean for Medical Education Edward Hundert as he welcomed viewers to the virtual event. "That's why HMS student research is such a vital part of the mission of our School."
Marquee presentations
Faculty praised Riew's project for bringing solace to patients, families, and health care workers alike. Phillip Devlin, HMS associate professor of radiation oncology at Brigham and Women's Hospital, found Riew's work particularly poignant because during the pandemic families have not been able to be with their loved ones as they die.
"That, on its own, is a prize of great worth," he said.
Riew, along with three other students, was selected to give an oral presentation to an all-event gathering before attendees broke out into smaller groups to attend individual poster sessions.