Finding Strength Together
Black Staff Caucus provides community, development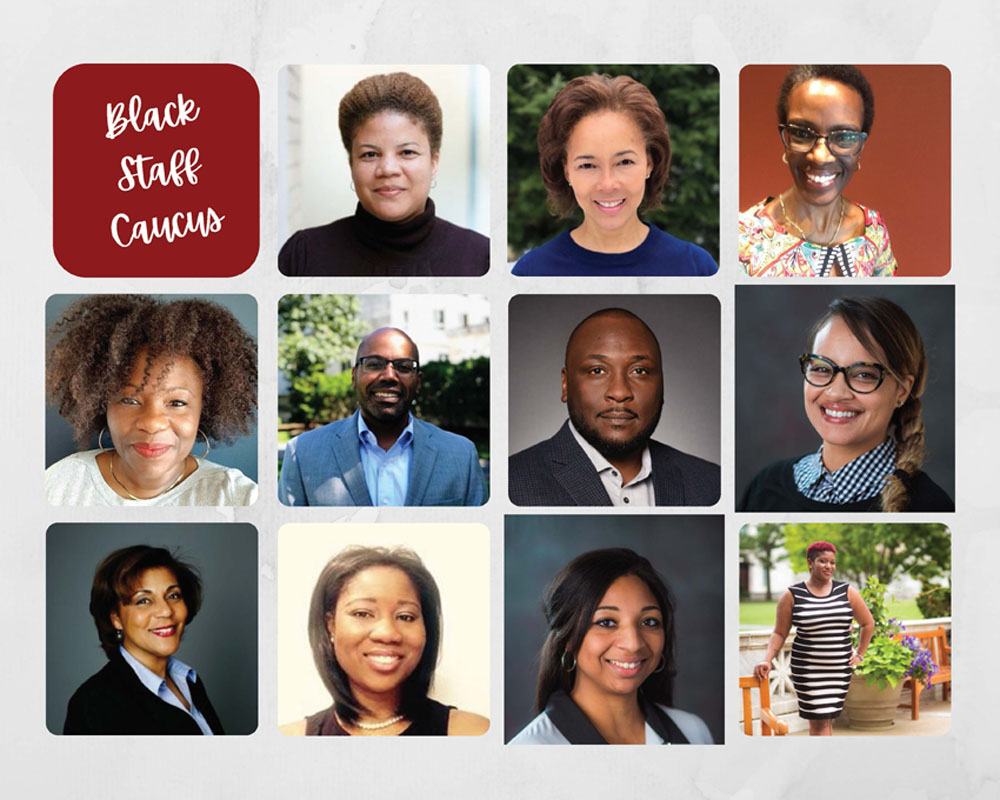 Members of the Black Staff Caucus
As protests for racial justice erupted across the U.S. this summer, Americans once again confronted the nation's history of discrimination and violence. In homes and workplaces, many individuals struggled to better understand the problem and, perhaps, formulate solutions.
At Harvard Medical School, students, faculty, leadership and staff also considered how to support anti-racism efforts.
Aljani Stanley, director of administration in the Office for Diversity Inclusion and Community Partnership, coordinated with Ahmed Mohammed, director of talent acquisition in the Office of Human Resources, to organize an open forum for Black staff at HMS, the Harvard School of Dental Medicine and the Wyss Institute for Biologically Inspired Engineering to share their concerns and frustrations and to network and build community.
The first meeting, titled the Black Community Forum: A Time for Reflection and Dialog, was hosted by Dean George Q. Daley and Dean for Diversity and Community Partnership Joan Reede and held virtually on June 19, or Juneteenth, a holiday celebrating emancipation in the United States.
Conversation at the forum focused on the discussion of racial injustice occurring at the national level and its impact on members of the HMS staff. The group reconvened in the following weeks, and attendees began discussing other topics, such as the ongoing COVID-19 pandemic and the challenges of maintaining work-life balance while working remotely and managing daily concerns.
"People started to make connections," Stanley said. "Some realized that they worked in the same building on campus and had never met."
Attendees realized there was desire for a more formal campus organization for Black HMS staff members to gather and provide mutual support.
Group members developed a proposal to submit to School leadership, which envisioned an open collective of Black employees coming together to form new and meaningful connections, to create opportunities for professional growth, and to foster mental, physical and social well-being among its members, all guided by HMS community values and a commitment to convening and nurturing a diverse community.
"Having a space to gather with other Black staff from the Longwood Medical Area—to talk, listen, and just see each other—was invaluable those first few meetings," said Terésa Carter, program coordinator in the Office for Diversity Inclusion and Community Partnership. "It was validating to learn that this gathering space for Black staff would continue and not be a singular meeting."
The proposal was presented to representatives from HMS Human Resources, Dean Daley's office and other upper-level administrators. The proposal was accepted, and the newly formed Black Staff Caucus (BSC) was officially recognized.
Because of pandemic safety restrictions, the BSC has been meeting via videoconference weekly on Thursdays from 3–4 p.m. Meetings are informal and consist of open discussion.
For many members, the BSC has provided something they didn't know was lacking.
"The BSC has given me a much-needed refuge in a time of great uncertainty. It's a place where we laugh, cry and enjoy the camaraderie I didn't think I'd find," said Juleene K-A Jackson, a staff assistant for the MD-PhD Program at HMS.
"Being a part of the BSC has provided a surprising space that allowed me to connect with people who walked in my shoes," said June Zammett, director of academic appointments data management in the Office of Faculty Affairs. "It's provided authentic and meaningful support in a way I could accept."
Members of the BSC see the group as an opportunity to advance HMS' commitment to diversity by aiding in the recruitment and retention of Black staff.
Regina Evans moved from Maryland to Boston last May to begin a job as a senior grants and contracts officer in the HMS Office of Research Administration. With the coronavirus pandemic forcing most HMS administrative staff to work remotely, the BSC helped Evans feel connected to the Harvard community.
"The BSC provided a safe space for me to share my experiences as a new employee in a new city unfiltered and unapologetically. It fostered a sense of security and inclusion, support and grounding that quickly affirmed that I belong here," Evans said.
Judith Vance, director of human resources at the Harvard School of Dental Medicine, values the new connections she's formed in the BSC.
"The BSC has been a great place for me to meet and collaborate with other staff members of color and work as a team towards ensuring inclusive environments at HMS/HSDM and the Wyss," Vance said.
In addition to providing a regular opportunity for fellowship, members of the BSC plan to provide professional and leadership development and to partner with the School's administration to make HMS an even more welcoming and inclusive place to work.
"I believe in inclusivity," said Robin Cheung, a coordinator in the Ombuds Office. "Being part of a group that represents Black staff in the Harvard Longwood Medical Area in promoting professional growth through resources, collaboration, activities and opportunities, I feel I am supporting HMS's mission even further in relation to diversity and inclusion."
"I am energized by Harvard Medical School's commitment to diversity," said Melody Forbes, associate director of development research in the Office of Alumni Affairs and Development. "Diversity is a tangible asset. It always has been. We should all invest in and build this 'portfolio' as a community."
Executive Dean for Administration Lisa Muto was invited to attend a recent meeting of the BSC and said she values the group's work.
"Despite their forming just a few months ago, the impact of the Black Staff Caucus on the experience of some of our staff is impressive and heartening," Muto said. "They have built a supportive community at a time when that support has been critical. It is obvious how dedicated members are to their mission and to each other. … Their experience may serve as a model and catalyst for other affinity groups and for the whole school in improving the work environment for staff of color and for all staff at HMS."
Overall, BSC members are excited about the community they have found and are strengthened to face the challenges they're committed to overcoming together.
"There is work to do," said Carter, "the outcome of which will benefit not only Black staff but the Longwood Medical Area and, yes, society as a whole. We truly are better when we come together for greater good."
Staff members interested in attending a meeting of the Black Staff Caucus can contact Aljani Stanley (Aljani_Stanley@hms.harvard.edu) or Ahmed Mohammed (Ahmed_Mohammed@hms.harvard.edu) for details.